What Happens To Your Hair When You Only Wash With Micellar Water?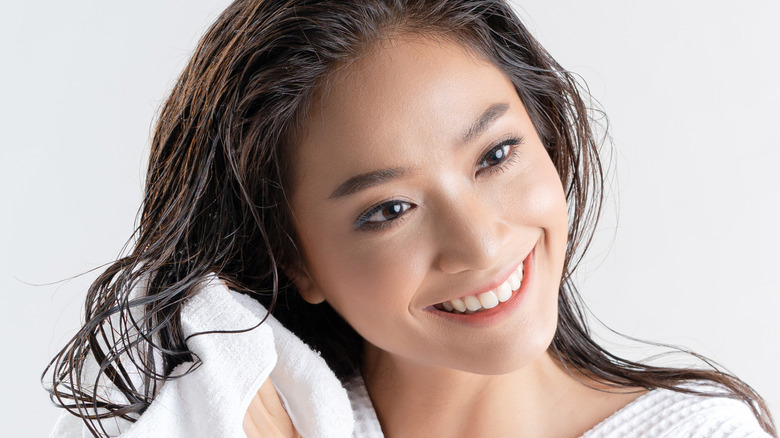 Torwaiststudio/Shutterstock
If you regularly wear makeup, chances are you might have heard of or used micellar water to remove it. According to Allure, the product looks like regular water, but it has properties that allow it to act as a cleanser, toner, and makeup remover. Cosmetic chemist Joseph Cincotta told the publication why micellar water, which contains surfactants, works the way it does. "The molecules of those mild surfactants naturally group together to form microscopic spheres called micelles, which act like magnets for dirt and oil," he explained.
If this wonder product works so well on your skin, it makes sense that it might work well on your hair. Sometimes it's great to have products that do double duty, especially if you're tight on space or cash. So does micellar water do a good job cleaning your hair? Brit + Co tried it out. Read on to find out if you can grab your favorite gentle makeup-removing product and use it to cleanse your mane. 
Here are the benefits for using micellar water in place of shampoo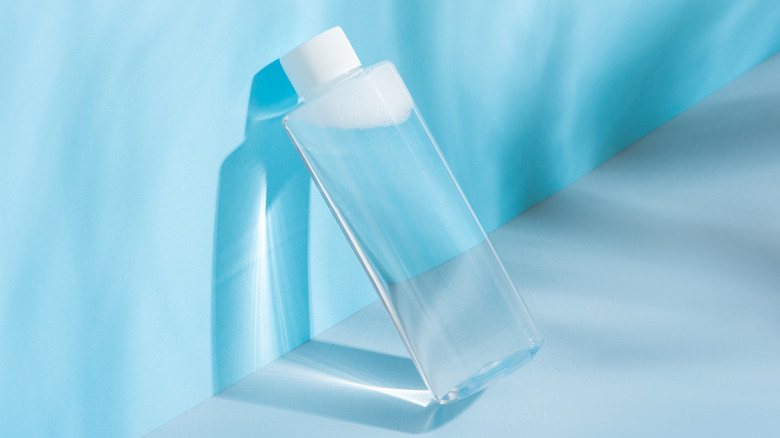 Clerik82/Shutterstock
According to Brit + Co, micellar water did work in place of shampoo. However, the person who tested it found it impractical to fully replace shampoo because it left her hair without its usual shine and softness. Another downside is that it took an entire bottle for somebody with long hair to coat it entirely. However, Real Simple suggested that using the product on your hair could work well in place of clarifying shampoo since it purifies your scalp. The best news is, it's not as harsh as other products, so it doesn't strip your hair's natural oils. 
Dereq Clark, a hairstylist and Wella Professionals Brand Ambassador, told Real Simple, "It helps to counteract minerals and heavy metals found in traditional tap water. In addition, micellar water is typically infused with mild surfactants for breaking down oils." The product can help remove hair products and sebum from your scalp and hair. When occasionally used in place of shampoo, you can reap additional benefits of micellar water. Check them out below.
Here's how micellar water can help your hair health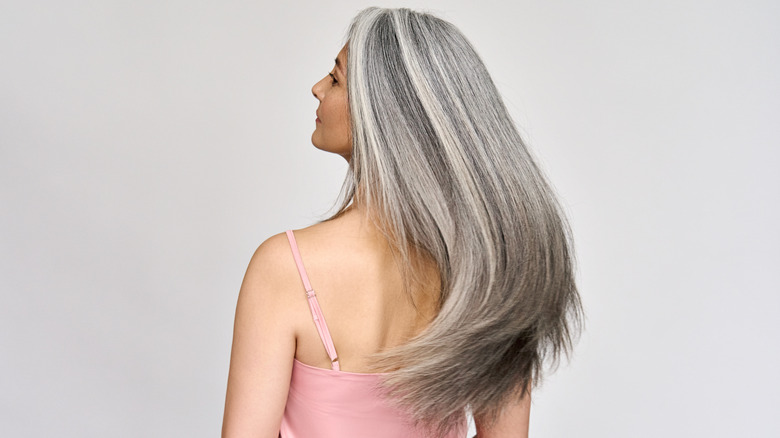 insta_photos/Shutterstock
According to Real Simple, in addition to purifying your scalp, occasionally using micellar water in place of shampoo has other benefits. The product provides a deeper clean, which can also help your hair grow faster when it's not weighed down by buildup. Healthier follicles can lead to longer hair. You might wonder if your hair type works well with micellar water. Joshua Zeichner, a board-certified dermatologist, told the publication who can benefit from it.
Since micellar water has molecules that consist of water-soluble exteriors with oil-soluble centers, it works well on hair. "When they come in contact with the hair, the oil-soluble inside attaches to dirt and residue to remove it from the hair in a gentle matter. Because they are extremely gentle, they can be used across all hair types, even in those with chemically treated, dry, or brittle hair," he said. Finally, it can hydrate and volumize if you have an oily scalp. If you'd like to give micellar water a try in the shower, use it like you'd use a clarifying shampoo to reap all these hair health benefits.