Mike Holmes Opens Up About His Toughest Project Ever - Exclusive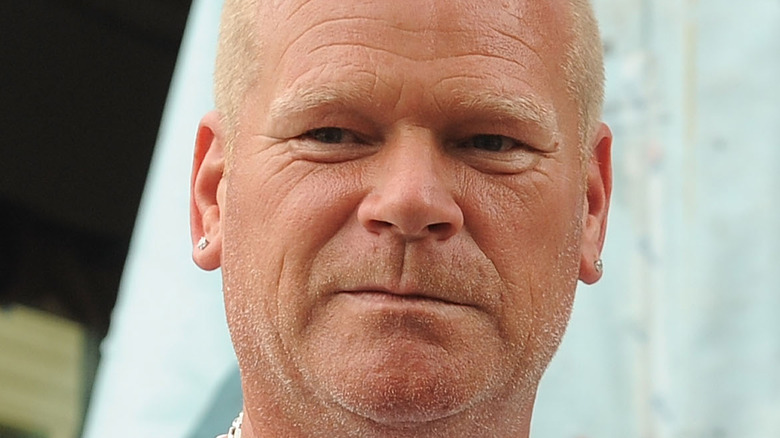 Brad Barket/Getty Images
In his three decades as a contractor and star of numerous home improvement shows, Mike Holmes has worked on some pretty gnarly projects. This is no surprise, since his personal brand is all about making things right for families whose homes have been massively botched by previous renovation attempts. And because of his years of professional experience, not much fazes him. Cavernous trenches in the basement? Fixable. Persistent leaks no other contactor could locate or repair? He's on it. And sadly, the incompetence and unscrupulous behavior of some of his fellow builders no longer surprises him.
But while Holmes is used to all this stuff, he's far from jaded. For one, he loves a challenge, not to mention the opportunity to educate laypeople about how to repair and maintain their homes (or at the very least, how to look for someone competent to do it for them.) More importantly, he also loves getting to know the families living in the homes he restores and helping them get their lives back. And out of all the projects he's worked on over the years, one stands out as his toughest — but most rewarding. In an exclusive interview, he shares all the details.
Mike Holmes' toughest project required serious personal sacrifice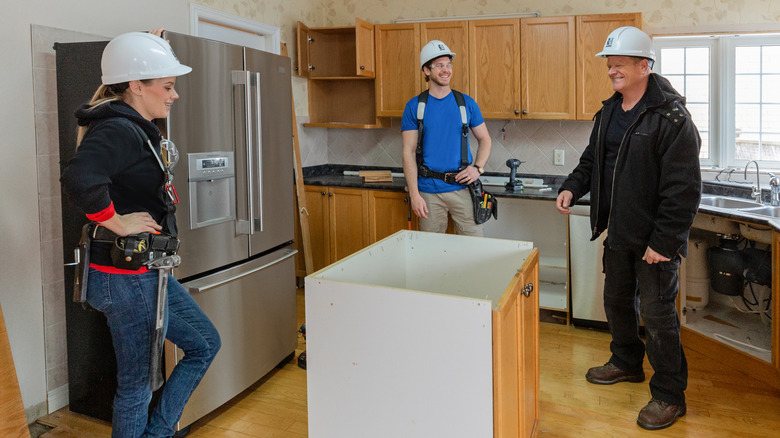 HGTV
Good contractors don't mind tough jobs because they often mean big money. But when it came to this particular project, one of the toughest challenges involved the homeowners themselves: residents of the Lower Ninth Ward of New Orleans, whose home had suffered immense damage during Hurricane Katrina. They not only had an unlivable house, but no money with which to fix it.
"The [previous] contractor took all they had and then liened their property," Holmes said. "The first thing I had to do was put them up for a year. I paid for where they lived. I paid their electrical bills. I paid their telephone bill. I paid their legal bills." And he didn't skimp on costs when it came to rebuilding their home, either. "We designed the world's strongest home because if I was going to build a home, I was going to make a testament to it. And that was a home that will withstand a hurricane, a tornado, and the test of time. I always talked about the Three Little Pigs, and that's probably the reason it was so hard because it just had every single element of pain. It was financially huge."
The work was hot, harrowing, and totally worth it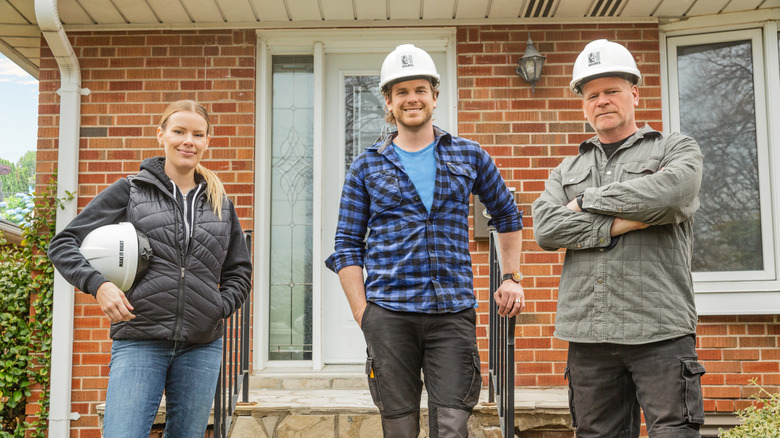 HGTV
The work on the house itself was no picnic either. The previous contractor had done such a poor job, the home had to be completely demolished and rebuilt from scratch. It was a daunting task, requiring Mike Holmes, along with his children Michael Jr. and Sherry Holmes, to work 100-hour weeks during an oppressive heat wave. "I'm telling you, I've never felt humidity like that in my life," Mike told us. "We begged for rain. And then we begged for air conditioning." But despite the challenges, they had absolutely no regrets.
"We had to do it. It still cost the company a million to save their lives. At the end of it all, it really did save their lives, and now, ironically, they're living in a home that, in the area, is probably worth about five to six million dollars," he said. "The family was wonderful, and in the long run, it's what we do." 
Mike Holmes and his kids will never forget this project, or the people of the Lower Ninth Ward. "[The project] was one of the hardest and obviously one of the favorites, because the pros and cons were great. Build a house that will withstand Category 5 hurricanes. Save the families that are down there. Tell the story at the Lower Ninth."
"Holmes For the Holidays" is currently streaming on discovery+, and new episodes of "Holmes Family Rescue" air Saturdays at 8 p.m. ET/PT on HGTV.