The Bidens Add A New Family Member In Time For The Holidays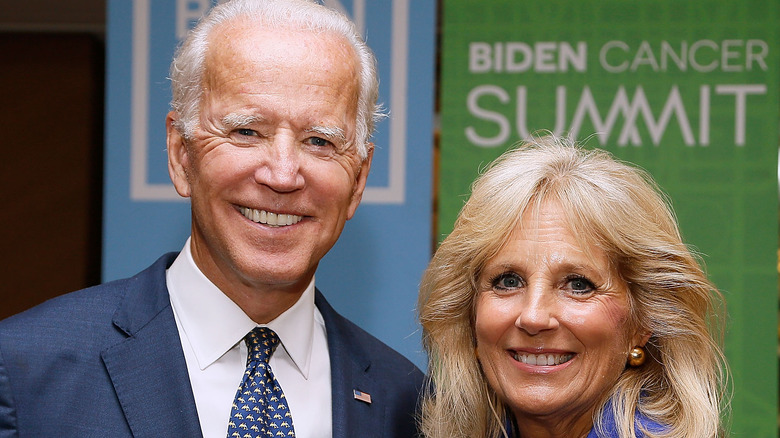 Paul Morigi/Getty Images
The first year of President Joe Biden's administration was a challenging one to say the least. In addition to inheriting the nation's problems — such as the economy, unemployment, climate change, and the COVID-19 virus — he suffered a crushing personal loss when his dog Champ died in June 2021. As Biden noted on Instagram at the time, the 13-year-old German Shepherd had been by the president's side throughout most of his political career.
"In our most joyful moments and in our most grief-stricken days, he was there with us, sensitive to our every unspoken feeling and emotion. We love our sweet, good boy and will miss him always," Biden wrote in a heartfelt tribute. 
As Christmas approached, it seemed as though the White House would be less lively than usual without Champ's presence. On top of that loss, the Biden family's second dog, Major, had also just been sent to live with family friends. According to TMZ, Major was involved in several biting incidents despite intensive training, and it was decided that he would be better off in a quieter environment. However, the Biden clan are lifelong animal lovers, and the idea of spending the holidays without a canine companion must have been unthinkable to them.
Sure enough, on December 20, the president introduced the newest, and arguably the cutest, member of the Biden family.
President Joe Biden shared some adorable news
In an Instagram post shared on Monday, December 20, President Joe Biden proudly showed a photo of his new dog, Commander, a German Shepherd puppy. "Welcome to the White House, Commander," Biden wrote. Another post included a video of the pup chasing after a tennis ball, going on a leashed walk, practicing the "sit" command, and getting a warm greeting from his famous owner. Commander was an early Christmas gift to Joe and Jill Biden from the president's brother and sister-in-law, James and Sara Biden, The Washington Post reported. 
Thousands of President Biden's Instagram followers liked his announcement that Commander would be the new first pet. Commenters called the puppy "adorable," "gorgeous," and "so much smarter than our former president." On Twitter, where the president's account also heralded the news, fans sent in photos of their own fur babies as they welcomed Commander to the first family. One follower made a suggestion: "Can he [replace] Joe Manchin in the Senate, that'll be nice!"
Lest anyone accuse the Bidens of being anti-feline, a spokesperson also told The Washington Post that the first couple has a female cat "waiting in the wings," and that she will be joining the family in January.