What To Know Before Box Dyeing Your Hair For The First Time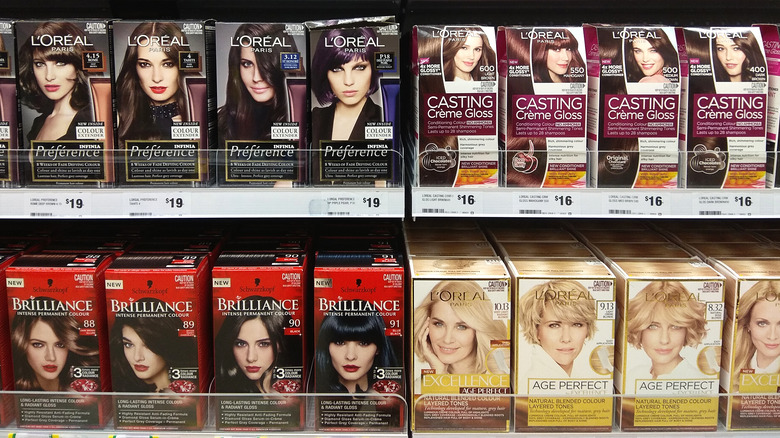 TY Lim/Shutterstock
Dyeing your hair comes with a lot of challenges, and dyeing your hair with boxed dye amplifies the struggle. "It's not safe to color or bleach your hair at home if your hair has been through a lot of processes," colorist Lauren Grummel told Glamour. "Or if it's very damaged, to begin with. Be honest with yourself — otherwise, your hair can break off."
That being said, if you've recently permed your hair or applied any type of chemical, it's best to wait at least 7 days until you dye your hair, according to Good Housekeeping. Once your hair is in the clear, Glamour recommends a patch test to determine the right shade — the thinner your hair, the less time the dye should be left in your hair.
After testing is done, you get ready to apply. "Apply dye a half-inch away from your scalp and work toward ends — the heat from your head makes the color develop faster at the root," celebrity hairstylist Kiyah Wright told Glamour. "Then, halfway through the processing time, go back and cover your roots." Follow the rest of the instructions according to the dye's box, and you should be all set to go!
How to take care of your dyed hair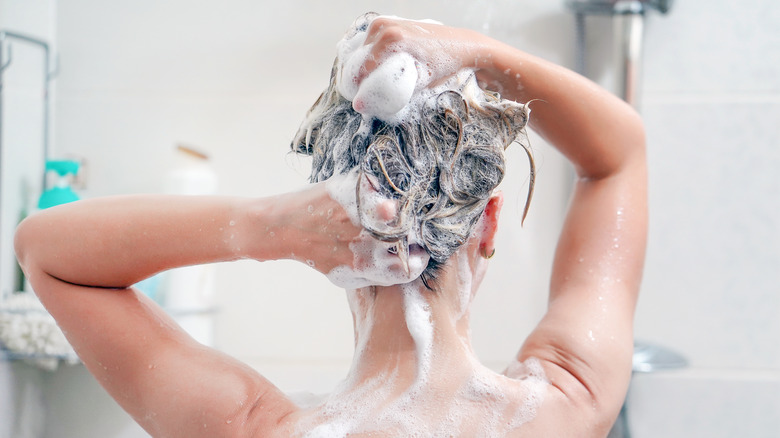 Lunopark/Shutterstock
Unfortunately, dyeing your hair at home may cost you. Not only do you need to buy the dye, but also the essentials for dyeing — a dye brush, shower cap, and a new shampoo and conditioner set.
As Good Housekeeping notes, not all shampoos are color-safe, so you may need to invest in a new one. "Though sulfate-free shampoos are thought to slow down color loss, our tests have found that they don't always perform significantly better than those with sulfates," Good Housekeeping Beauty Lab senior chemist Sabina Wizemann said. When shopping for a new shampoo, look for "color protect" and "for color" on the label.
Secondly, avoid heat products. Since dyeing your hair makes it a bit drier, adding heat can cause damage (per Style Craze). If you do have to use a straightener or a blow dryer, make sure to use a heat protectant.
Lastly, while we know you want to show off your dyed hair immediately, try to wait it out. Standing in the sun with your freshly dyed hair can cause some fading. If you find yourself outside on a hot, sunny day, apply a UV protectant.