Why Joe Biden's Dog Major Had To Leave The White House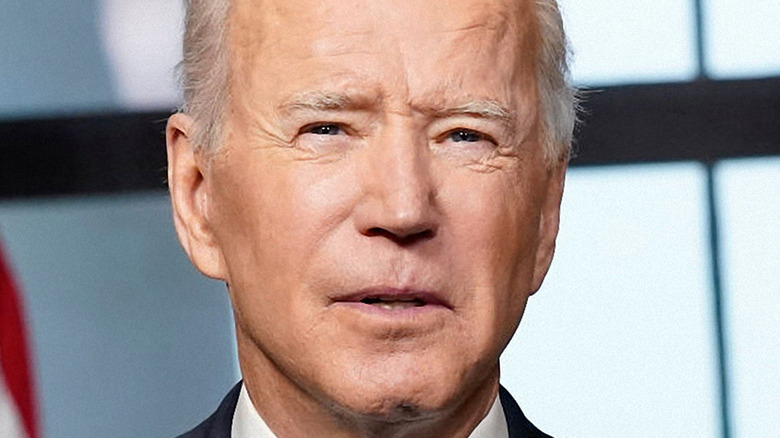 RedhoodStudios/Shutterstock
After four years of not having a dog in the White House, as the Trumps didn't have any pets, President Joe Biden's dogs have received tons of publicity and press — both good and bad — as the family's first year in The People's House draws to a close. Much was made of the arrival of Champ and Major Biden, with Champ being the older of the German Shepherds and Major being the first rescue dog to ever live in the White House (via People).
The dogs were photographed happily playing in the snow on the White House lawn, with the Washington Monument looking majestic in the background, before Biden's first two weeks in office were even over, according to a tweet from his granddaughter, Naomi. However, things didn't go well for the Biden dogs in 2021. By March, both dogs were sent back to the Biden Delaware home after Major was involved in a biting incident, but as soon as he returned, there was a second biting incident (via USA Today). By June, Major was sadly a dog on his own without his companion around, as Champ Biden passed away at the age of 13 (via NPR). Now, there has been another upheaval in Major's life and a new era for Biden dogs in Washington, D.C.
Major Biden will be living in Delaware from now on as a new dog arrives
According to CNN, animal experts have advised President Joe Biden and his wife, Jill, that it's best for Major Biden to permanently live in Delaware and away from the hustle and bustle of The White House.
"After consulting with dog trainers, animal behaviorists, and veterinarians, the first family has decided to follow the experts' collective recommendation that it would be safest for Major to live in a quieter environment with family friends," Jill's press secretary, Michael La Rosa, explained.
However, that doesn't mean America has a dog-free White House yet again. On December 20, 2021, a new German Shepherd puppy named Commander arrived, a birthday gift to the president from his brother, James Biden. CNN reports that Commander could be seen playing on the South Lawn soon after his arrival.
Not only do the Bidens have a brand-new puppy to love, they will soon also have a feline friend to love, as a cat is due to join the Biden family in January (via CNN).