Jillian Hervey's Strawberry Blonde Look That Fans Envy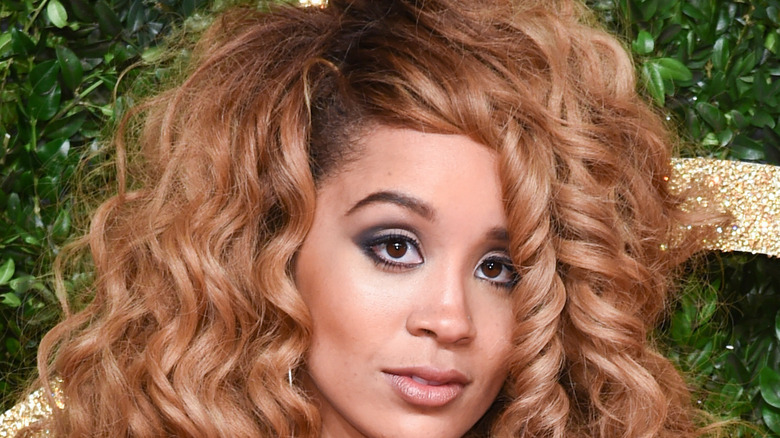 Featureflash Photo Agency/Shutterstock
There is a lot to love about Jillian Hervey. She is known for her iconic lioness-like hair, but she revealed a love-hate relationship with her hair growing up (via Vogue). We have always been envious of this actress and singer's gorgeous curls, and it seems even she was taking a break from coloring her hair during the pandemic like the rest of us. Hervey told Page Six, "I have been giving everything a rest [during] quarantine. I was questioning should I go blond again." She said she has been enjoying her natural hair and using products she already has instead of buying more. The "Treat Me Like Fire" singer keeps her stunning hair healthy by spraying a mix of essential oils, like peppermint, lavender, or tea tree oil, and water because they also make her smell and feel amazing.
Hervey's strawberry-blonde curly ponytail with a hint of orange complements her skin tone beautifully, making us wish we had her hair (via Byrdie). It is the perfect shade of blonde if you have darker skin and still want golden locks. To take care of her trademark locks, she avoids using a lot of heat on her hair, as it can fade the color. Hervey trusts Pantene Pro-V Daily Moisture Renewal Shampoo and Conditioner to strengthen and moisturize her hair (via Allure).
Jillian Hervey's acceptance of her hair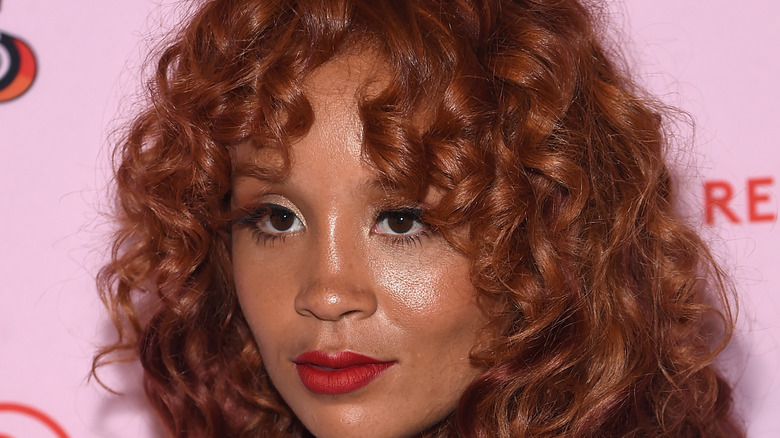 Jamie Mccarthy/Getty Images
Jillian Hervey admitted to struggling with the texture of her hair because of the frizz when she was younger. It was not until the lead singer of "Lion Babe" moved to New York City that she started to embrace and accept her individualism. She told Vogue, "I take pride in the fact that my hair can change and adapt to whatever I wish to express, or not," and she started to value her hair as a precious piece of art. Now, she loves being famous for accepting her gorgeous mane and setting an example for young girls to accept their natural curls (via People).
How did Hervey find the perfect shade of gold for her skin tone? Her go-to colorist, Carol Benn, chose the color and did the highlights so they would still look natural on her. Her curls give the color more dimension out in the sun, and she said it helps enhance those highlights (via Vogue). If you want to get Hervey's exact color, Benn told NBC, "The best way for a client to work with a colorist is to bring in photos of the hair color that she or he wants." She said that trying to describe the color may not always result in getting what you want. Hervey's blonde hair has been compared to Werther's Original Hard Candy's delicious shade (via Allure). As if we didn't already have enough reasons to want to go blonde!