Inside Jennifer Gates' Million Dollar Hobby
Fotopress/Getty Images
While everyone and their mother know who Microsoft co-founder Bill Gates and philanthropist Melinda French Gates are, far less is known about the former couple's kids. Of their three children, the Gates' eldest daughter, Jennifer, has received the most spotlight, especially after her high-profile wedding to Egyptian equestrian Nayel Nassar. In October 2021, the lovebirds shared vows in a fairytale ceremony at their farm in Westchester County, a gift bestowed to Gates by her parents after she graduated from Stanford University, as per Yonkers Times. Gates' took to Instagram to celebrate many milestone moments from the special day, with one picture of the now-married couple walking down the aisle. "My universe," Gates' captioned the post.
The young couple's love story is a tale as old as time. What started as a strong friendship eventually blossomed into romance. By January 2020, the couple was engaged after Nassar proposed to Gates on a romantic trip (via Vogue). You might be wondering, how did this dynamic duo meet? Although Nassar and Gates are both Stanford graduates, the young couple met through the equestrian circle. Like Nassar, who recently competed on Egypt's equestrian team in the Tokyo Olympics, Gates is also an avid show jumper. "Horses are just one part of our life, but we love the sport," Gates shared with CNN Sports. "He's a professional, and I do this as an amateur. So, to be able to share our love and passion for horses with each other is just incredible."
For most, horse riding is not the most affordable hobby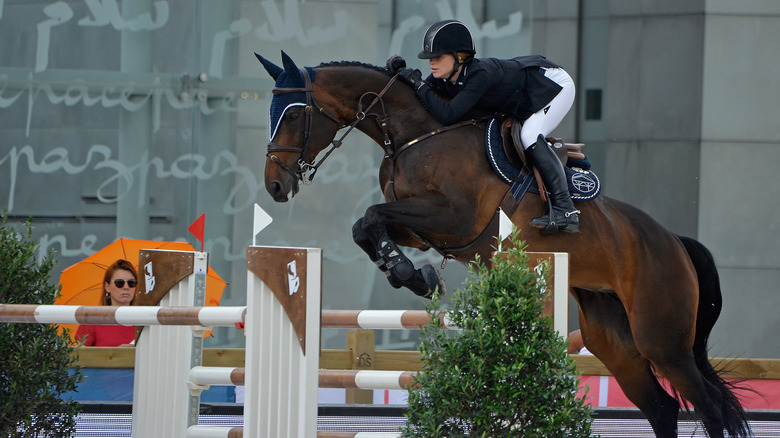 Aurelien Meunier/Shutterstock
Gates' passion for horse riding began at a young age when she was just six years old (via Insider). "I always loved horses," Gates shared with CNN Sports. "I convinced my parents to let me start taking lessons at a local barn, and things just progressed from there." The Stanford alum has since competed in various competitions, including the Grand Prix circuit, against other high profile athletes such as Steve Jobs's daughter, Eve, and Steven Spielberg's daughter, Jessica.
It's no coincidence that many of Gates' fellow show jumpers also come from wealthy backgrounds. Even Nassar, Gates' husband, was born into a millionaire household (via People). Horse riding is an expensive hobby, and the average cost of owning a horse is just under $4,000 a year (via Equestlife). To take the already pricey hobby up a notch, Bill Gates dolled out $37 million on properties located in Wellington, Florida, a famed equestrian destination, to support his daughter's equestrian passion. While Gates' will always be devoted to horses and riding, right now she has her hands busy as a medical student at Icahn School of Medicine at Mount Sinai. "I absolutely love the sport, but have always felt that I wanted to do something else as a primary career," she shared with Horse Network. "Horses will always be a part of my life, but medical school will be my priority."