Drugstore Nail Polish That Is Least Likely To Chip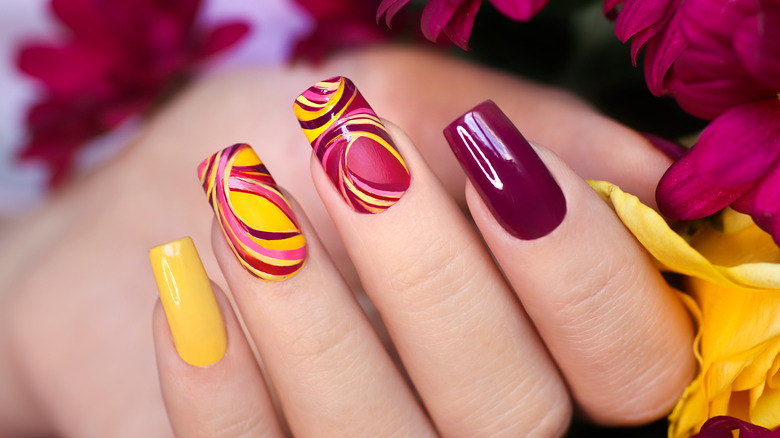 marigo20/Shutterstock
Nails are expensive, but getting them done is one of those luxuries that many of us love to indulge in. One woman even told The Fiscal Times, "It is the one luxury that is really a necessity." But, what if you can't afford it? Sure, you can teach yourself how to do acrylic nails, but that'll take a lot of money and patience, something not every person has. So, what's the next option? Be prepared to bust out the drug store nail polish. Now, sure, there have been some bad reviews when it pertains to drug store nail polish, but not all polishes are created equally. You just need to sort between the bad and the amazing. And, luckily, we have the list that'll help you do just that!
Byrdie says the best non-chip drugstore nail polish is Essie Gel Couture Nail Polish. Not only is this gel polish affordable—it's less than $20—but it also doesn't require a UV lamp to dry. Simply use the Gel Couture Topcoat, and you're all set. InStyle also cosigned this choice, adding that their top drugstore nail polish pick is the Essie Gel Couture line. No matter the color, the quality remains consistent!
Sally Hansen, L.A. Colors, and Ella + Mia are the best drugstore brands for long-lasting nail polish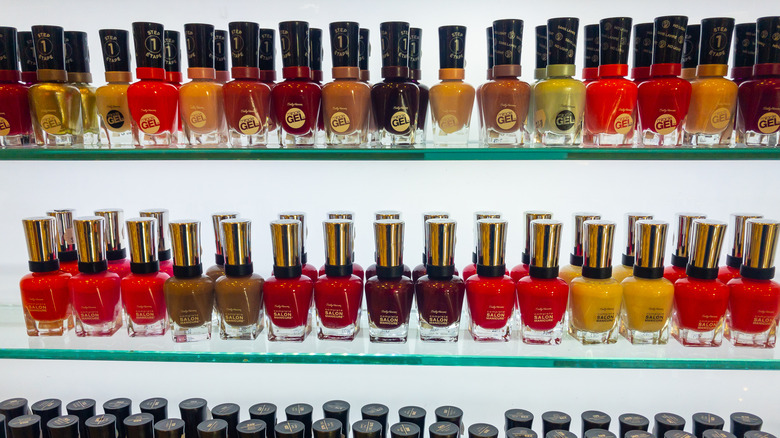 Loren Zecena/Shutterstock
Coming in a close second is the acclaimed drugstore brand, Sally Hansen. Honestly, who hasn't bought a Sally Hansen polish? It's the drugstore nail polish. That's why Sally Hansen's Insta-Dri Nail Color ranks the best for quick drying and long-lasting polishes, as per Byrdie. Drying takes less than 30 minutes, and it's a two-in-one, meaning the polish ingredients contain both the base and topcoat. Talk about a deal.
Both InStyle and Byrdie ranked Ella + Mia as one the best nail polishes available in drugstores. Not only is it non-toxic, but it's also cruelty-free (via Glamour). You'd think the lack of toxic chemicals found in other polishes would affect the durability of this polish, but it doesn't! Who said you couldn't get a clean manicure? Lastly, you can't talk about best the polishes on the market without mentioning L.A. Colors. Byrdie ranks this brand as the best budget pick, adding that its $2 price plus 10-day durability is the perfect at-home manicure for anyone unable to spend more than a few dollars and some cents!