The Family Tragedy That Led To Trump Swearing Off Coffee Forever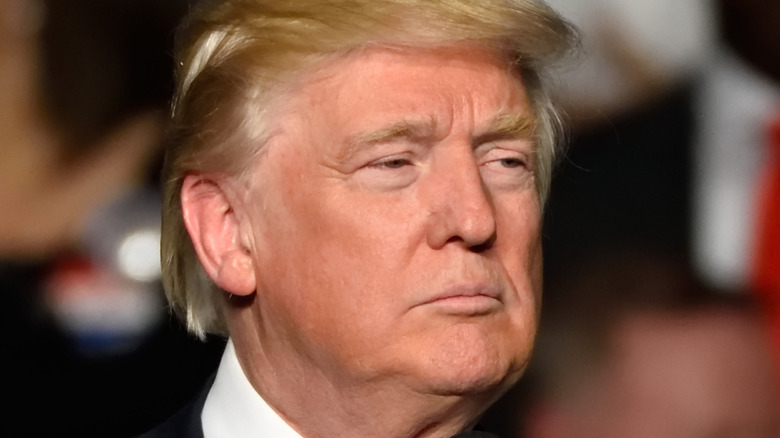 Evan El-Amin/Shutterstock
Former President Donald Trump doesn't talk much about his family, although Americans learned a lot via his niece Mary Trump and her best-selling 2020 book "Too Much and Never Enough: How My Family Created the World's Most Dangerous Man." Through Mary, a psychologist, voters were offered an inside window into what makes Trump tick and how his personality was formed by his experiences in a dysfunctional family led by a domineering father who both expected and demanded too much from all of his children.
It also seems that some of Trump's habits and quirks developed thanks to family history and experiences and he even revealed some of them in his 2000 book titled "The America We Deserve." He further elaborated on them in later interviews where he would recall his oldest sibling and the things that happened to him that influenced his later everyday life choices — including his choice not to indulge in coffee (via Business Insider).
Donald Trump has regrets about how his family treated his brother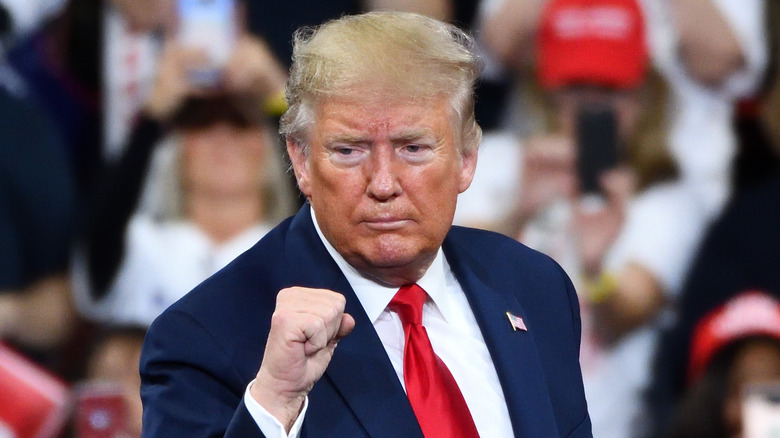 Evan El-Amin/Shutterstock
Not only did Mary Trump's book look into the psyche of Donald Trump and how it formed, but she also delved into the life of her own father, the former president's oldest brother, Fred Trump Jr, also known as Freddie. Although Freddie was the oldest, Fred Trump Sr. often called him a failure for not wanting to join the family business, pinning all his hopes on his youngest son, Donald. Freddie would later develop alcoholism which contributed to an early death in 1981 at the age of just 42 (via Town and Country).
In a 2019 interview with The Washington Post, Trump even explained how he had regrets regarding how both he and his father treated Freddie for how he chose to live his life and how they treated him. "I do regret having put pressure on him," Trump said, adding that joining the family real estate business "was just something he was never going to want ... It was just not his thing. . . . I think the mistake that we made was we assumed that everybody would like it. That would be the biggest mistake. . . . There was sort of a double pressure put on him."
That pressure was something Trump never forgot — while also never forgetting advice his brother once gave him.
Freddie Trump's words resonated with Donald Trump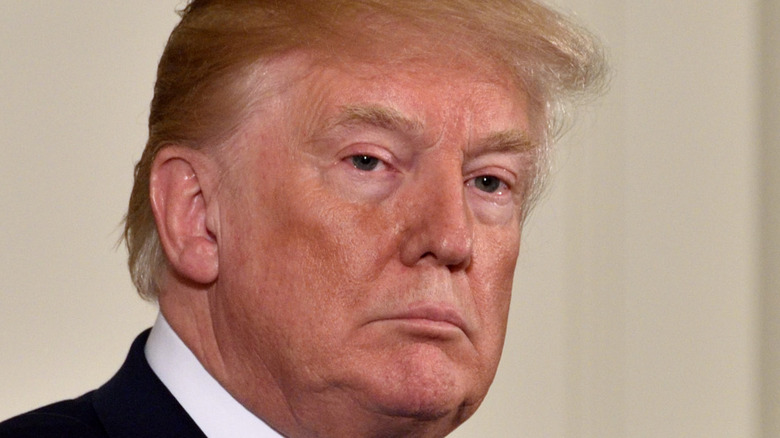 Evan El-Amin/Shutterstock
Donald Trump admitted in "The America We Deserve" that he never indulged in coffee (via Business Insider) and further elaborated on that surprise choice in an interview with Esquire.
"He was a great-looking guy. He had the best personality. He had everything," Trump said of his brother, Freddie Trump. "But he had a problem with alcohol and cigarettes. He knew he had the problem, and it's a tough problem to have. He was ten years older than me, and he would always tell me not to drink or smoke. And to this day I've never had a cigarette. I've never had a glass of alcohol. I won't even drink a cup of coffee. I just stay away from those things because he had such a tremendous problem. Fred did me a great favor. It's one of the greatest favors anyone's ever done for me."
While Trump might stay away from the coffee, it doesn't mean he doesn't indulge in a vice here and there — or even regularly. When he was president, The Washington Post reported that he couldn't stay away from fast food and would drink about 12 Diet Cokes each day. So, while Trump might not have his morning cup of joe, he isn't 100% vice-free.
If you or anyone you know is struggling with addiction issues, help is available. Visit the Substance Abuse and Mental Health Services Administration website or contact SAMHSA's National Helpline at 1-800-662-HELP (4357).