Why Donald Trump Got Booed By His Supporters On Tour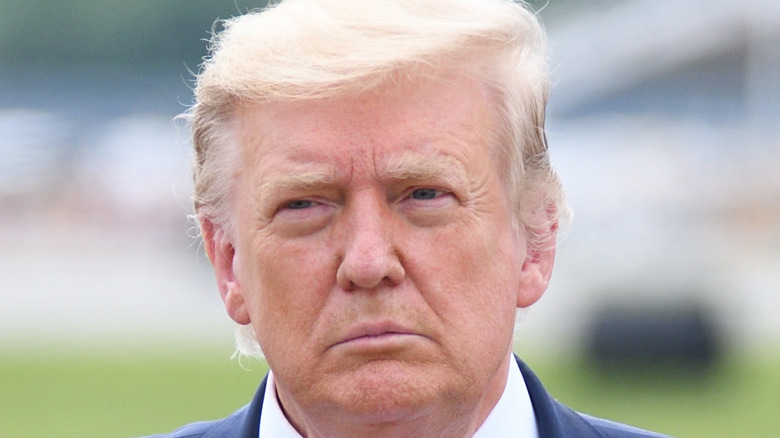 Evan El-Amin/Shutterstock
Donald Trump's followers are nothing if not loyal. Despite his controversial policies, his relentless self-promotion, his two impeachments, and his failed re-election bid, the former president still has a large fan base. They've proven that they'll do just about anything to show their support — including storming the Capitol to demand an overturning of the vote. They're even willing to split their own party: A month after the insurrection, a poll of Republicans found that nearly 50% would leave the GOP to join a separate Trump political party if he ever formed one (via USA Today).
Given this strong allegiance, it seems unimaginable that the MAGA set would ever disapprove of anything Trump said or did. And yet it just happened, and in the unlikeliest of places: his own "History Tour," co-hosted by conservative journalist Bill O'Reilly.
The four-city tour took place over several days in December and was touted as a review of the former president's accomplishments and a look ahead to the 2024 elections. It wasn't a smooth go; the Daily Mail reports that the third show in Dallas started two hours late and that the attendance was anything but a sell-out.
As he chatted onstage with O'Reilly, Trump revisited his pet topics: the "rigged" election and President Biden's "failures." But he got an unexpected reaction in Dallas when he turned the discussion to COVID-19. After Trump claimed credit for helping save millions of lives with the vaccine, O'Reilly asked him if he'd been vaccinated. Trump confirmed that he'd gotten both the initial doses and the booster. That revelation was met with jeering and boos, according to Newsweek.
Bill O'Reilly told Donald Trump to be proud of telling the truth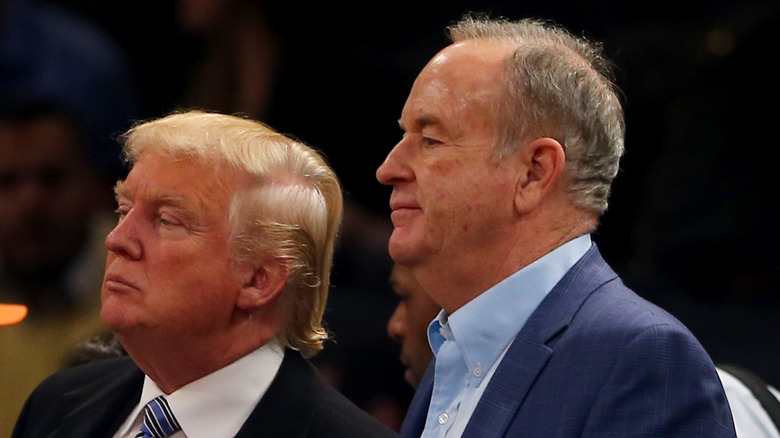 Elsa/Getty Images
This was the first time Trump had revealed he had gotten the booster in addition to the initial shot. As seen in a clip from the event provided by NewsNation, Donald Trump tried to downplay the outburst by saying only "a very tiny group" in the crowd was objecting. He later expressed a view that was more to the audience's liking: "If you don't want to take it, you shouldn't be forced to — no mandates."
In an interview with NewsNation's Dan Abrams, Bill O'Reilly explained that the former president was unaware he'd be asked about getting the vaccine. The pundit went on to back up Trump's observation that only a small portion of the crowd was booing, and blamed "the corrupt media" for blowing the incident out of proportion. 
Trump called O'Reilly after the show, apparently having second thoughts about making his vaccination status public. O'Reilly replied, "I said 'This is good for you, this is good that people see another side of you, not a political side, you told the truth, you believe in the vax, your administration did it, and you should take credit for it, because it did save, I don't know, hundreds of thousands of lives'" (via Political Flare).
The former president's decision to get the booster was apparently a recent one. Per USA Today, Trump gave an interview in September saying he felt he was healthy enough not to need an extra dose. He said, "I'm not against it, but it's probably not for me."