Why This Photo Of Alice Cooper Has Twitter Talking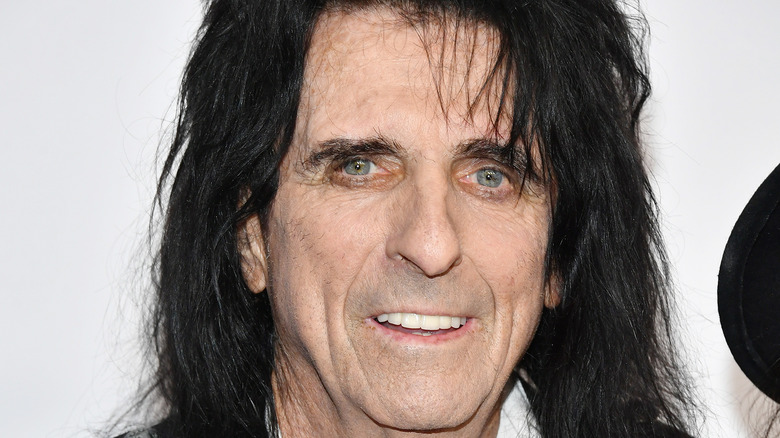 Amy Sussman/Getty Images
Alice Cooper earned the title "Godfather of Shock Rock" for his creepy makeup and over-the-top stage performances (via Tone Deaf). The rock star is known for stunts including bringing a guillotine on-stage, wearing boa constrictors, tossing a live chicken into the crowd, and decapitating baby dolls. Cooper's music is likewise outrageous, with "School's Out," "Welcome 2 My Nightmare," and "Hey Stoopid" among some of his biggest hits.
But as it turns out, the guy who sings "No More Mr. Nice Guy" is actually quite a decent fellow off-stage. According to Biography, Cooper was born in Vincent Damon Furnier, Detroit, in 1948. He formed his first rock group while in high school, which was originally known as the Earwigs and then later renamed the Spiders. 
In 1969, the band began performing under the name Alice Cooper until 1974, when the band broke up and Cooper adopted the name as a solo artist. In the '80s, Cooper's career really took off and he became known for his eccentric rockstar persona. However, a recent photo of Cooper came as a surprise to many fans of the performer and Twitter has a lot to say about it. 
A surprising photo of Alice Cooper went viral
Per American Songwriter, a photograph of Alice Cooper serving food to a group of children at what appears to be a shelter or food kitchen recently went viral on social media. As some fans pointed out, the image in question is a couple of years old. However, that didn't stop fans from praising the rocker for his charitable efforts. 
"Alice Cooper is an incredibly caring person. He does a lot for the community," one Twitter user commented, while others used it as an opportunity to contrast the shock rocker with other well-known figures who have been somewhat less than charitable lately. "Alice Cooper doing more for needy people than @SenJoeManchin," observed another fan. 
Fans also noted that Cooper is "walking the walk" of his Christian beliefs. "When I was a teenager, Alice Cooper was one of the rock stars whose music was supposedly dangerous in message according to the church," wrote another Twitter user. "Here he is serving others. I wonder who is acting more like Jesus now?"