Dr. Fauci Reveals His True Feelings About How Trump Handled The Pandemic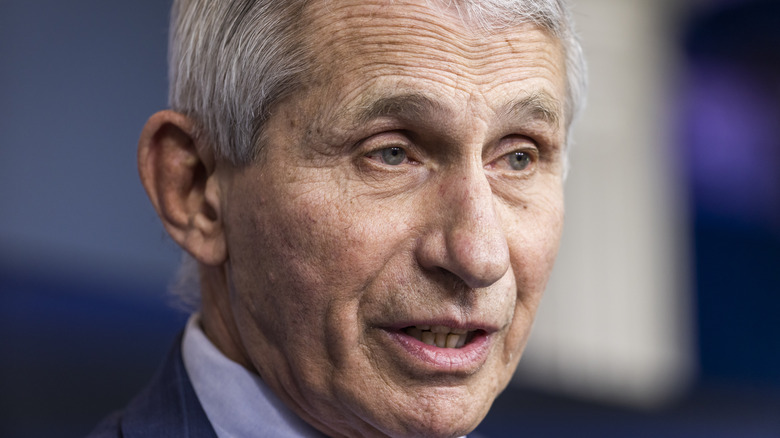 Bloomberg/Getty Images
Dr. Anthony Fauci has become inseparable from COVID-19 in the minds of many Americans. As the director of the National Institute of Allergy and Infectious Diseases, he's been the leading member of the Coronavirus Task Force under former President Trump and now under President Biden, and his advice and updates on the disease are generally well-trusted, with over 68% of Americans believing in him (from The NY Times).
While he's been front and center through the pandemic with press conferences and media appearances, Fauci has worked with the White House under presidents since Reagan, and President George W. Bush awarded him the Presidential Medal of Freedom in 2008 for "for his determined and aggressive efforts to help others live longer and healthier lives" (via CNN).
The relationship between Fauci and Trump, however, had its ups and downs made more public than any interactions between him and any other president. When describing his challenges with the Trump White House and adhering to COVID-19 best practices, he told Science "when you're dealing with the White House, sometimes you have to say things one, two, three, four times, and then it happens. So, I'm going to keep pushing." And while Fauci kept at it with the Trump administration, he's got his opinions as to how things went.
Dr. Fauci sees science as the forefront of the Biden COVID-19 response, as compared to Trump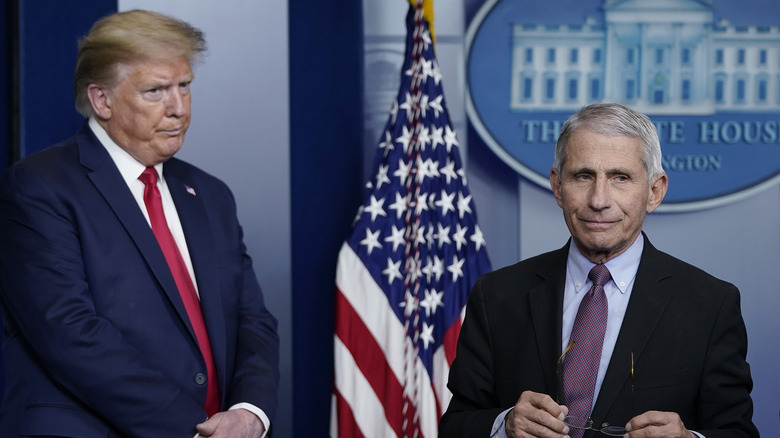 Drew Angerer/Getty Images
Fauci has continued as a COVID-19 advisor for President Biden, and when asked by The Atlantic as to how the pandemic response differed between the two administrations, Fauci's response seems to be a revelation as to what he thought of how Trump handled the situation: he laughed.
Then he outlined more clearly what it was like under Trump to try and deal with the pandemic effectively: "When you look at it historically, there were many aspects of what came out of the Trump-administration response that really were not aligned with scientific principles."
This isn't the first time Fauci has called out the discrepancy between Trump and science, telling The New York Times that it seemed like Trump based some of his outlook on anecdotes, on hearing that something might work, as compared to science. "I would try to, you know, calmly explain that you find out if something works by doing an appropriate clinical trial; you get the information, you give it a peer review. And he'd say, 'Oh, no, no, no, no, no, no, no, this stuff really works.'"
Fauci compared that to the current presidency, saying "Absolutely, the underlying core basis of what we do is all science. And we have a very competent team of people with multiple areas of expertise and interest who every single day struggle together with how we can make things better" (per The Atlantic).