The Truth About Tarte's Sugar Rush Poreless Tinted Moisturizer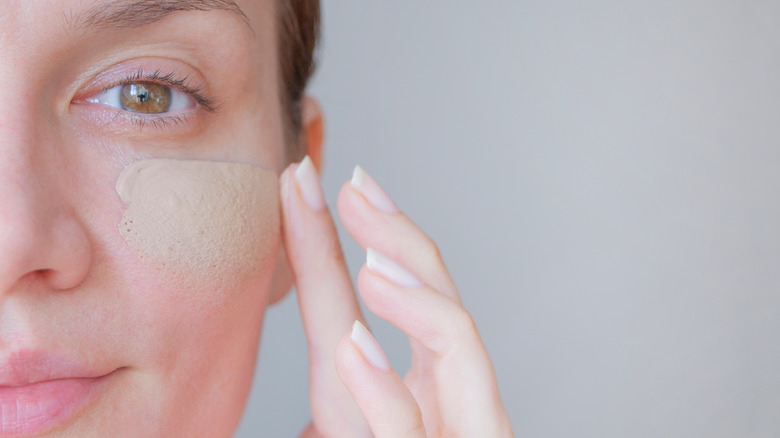 Geinz Angelina/Shutterstock
We may receive a commission on purchases made from links.
Nowadays, it is impossible to scroll through TikTok or Instagram without finding a product you want to buy, especially when they promise you flawless skin. Similarly, it is hard not to give in when you find a tinted moisturizer that claims to provide coverage like a foundation without the heavy feeling. There is nothing wrong in wanting to look pretty, right? Initially tinted moisturizers were made for people with oily skin with buildable coverage and a mattifying finish (via People). Most come with SPF, so they also protect your skin from the sun. And now, depending on your preference, you can choose from natural, radiant, or matte finishes (via Byrdie). Tinted moisturizers are excellent because they help you achieve the no-makeup makeup look because it provides more hydration than a foundation and more coverage than just a moisturizer (via Self).
Tarte's Sugar Rush Skin Treat Poreless Tinted Moisturizer is also meant to blur your pores and conceal your post-acne hyperpigmentation as well (via Allure). When YouTube influencer Casey Holmes shared that this tinted moisturizer can also cover rosacea and make you appear poreless, it was only a matter of time till beauty editors and makeup enthusiasts tested this product out for themselves.
Tarte Sugar Rush Poreless Tinted Moisturizer makes you look airbrushed
The Tarte Sugar Rush Skin Treat Poreless Tinted Moisturizer Broad Spectrum SPF 20 has a mousse-like texture that can even your skin tone, and makes it appear like you are wearing a full-coverage foundation (via Tarte). Still, it feels very light, according to Allure. The tinted moisturizer makes your skin appear poreless and airbrushed while covering all redness. It's also perfect for you if you have oily skin and want longer-lasting buildable coverage. Since it is non-comedogenic, it won't clog your pores for potential breakouts (via Healthline). 
Powered by lipoamino acids to plump your skin, it also has SPF 20. The Sugar Rush tinted moisturizer also retails for just $32, but if you're not ready to commit, try their travel size for just $10. The only issue with this product is that it is only available in nine shades, so it can be challenging to find a color that matches you perfectly.
Suppose you are looking for a tinted moisturizer that provides hydration instead, try their Maracuja Hydrating Tinted Moisturizer with hyaluronic acid (via HelloGiggles). If you want lighter coverage with a natural finish, your best bet is their Amazonian Clay BB Tinted Moisturizer SPF 20 because it hydrates and brightens your skin with minimal coverage (via Byrdie).