If You Have Oily Skin, These Are The Best Makeup Remover Wipes For You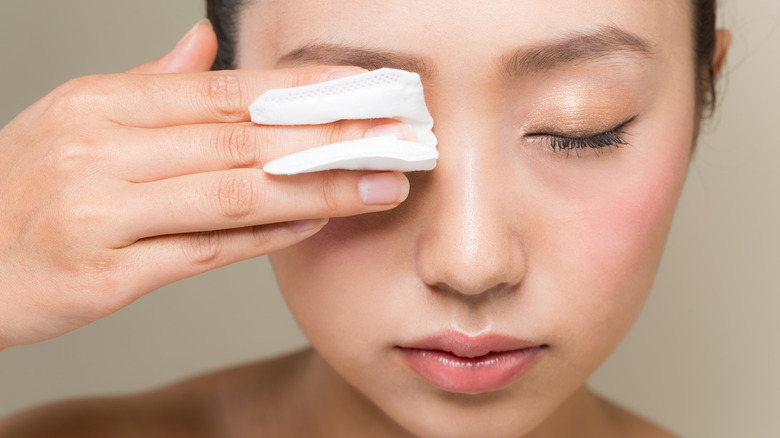 kei907/Shutterstock
It seemed too good to be true when facial wipes rose to popularity seemingly overnight. All you needed to do was rub around a botanical-infused pre-moistened towelette, and voila, clean skin — sounds questionable. It turns out it was too good because nowadays, skincare connoisseurs and consumers are wary of the makeup wipe's ways.
Doctors suggest proceeding with caution. "Face wipes should never be a substitution for skin cleansing," Maryam Zamani, MD, told Byrdie. "The face should be rinsed after wipes are used as they contain makeup remover, detergents, alcohol, and other ingredients that can leave a residue on the skin, which can cause irritation and sensitization."
But you don't need to toss the convenient wipes completely. Instead, just be choosy about when you use them because they certainly serve their purpose in emergencies when washing your face isn't an option. They come in handy in times like traveling, after a workout, or when you need to quickly remove pollutants, grime, and makeup on the go.
However, every skin type has its needs, and oily skin is no exception. According to Bioré, other than lifestyle factors, the two leading causes of slick skin are over-washing your face and skipping moisturizer. When your skin gets too dry, it reacts by overproducing oil to protect it from further dehydration. The best makeup remover wipes for oily skin are hydrating and gently balance oil production. Keep reading to discover our top picks for facial wipes that target shine.
Oily skin requires a certain type of makeup wipe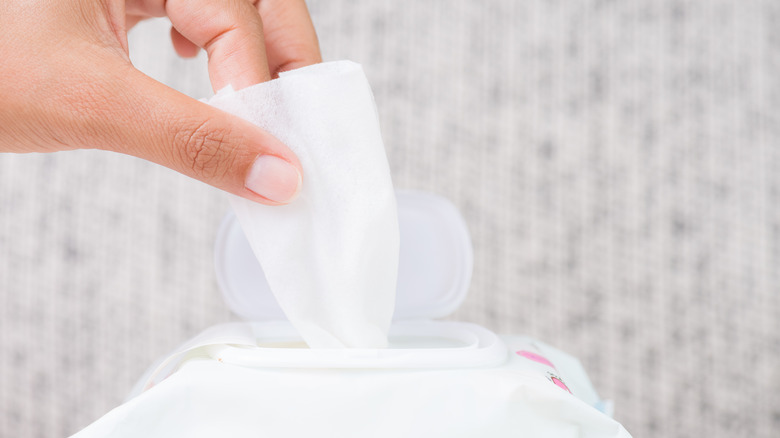 siam.pukkato/Shutterstock
When you have oily skin, the last thing you want is to incorporate a new product into your routine that makes it worse. So, you must choose wisely. Cleansing wipes are a refreshing pick-me-up to have on hand, and if they are formulated with the right ingredients, they can even help combat shiny skin.
After a workout, T.N. Dickinson's Witch Hazel Cleansing Cloths would be a great choice. The 100% witch hazel formula tightens pores and gently cleanses skin of excess oil. An editor at Byrdie even called them "the most refreshing beauty product" she's ever found.
Earth lovers will appreciate the 100% biodegradable and compostable Vitamin Cleanse wipes from Kaia Naturals made from bamboo and packed with vitamins C, E, and B12. They are also soaked in honey (sans stickiness), which nourishes and hydrates sensitive skin, per Refinery29.
Our last pick is by trusty clean skincare brand, Burt's Bees. Their Pink Grapefruit Cleansing Towelettes won't irritate skin with synthetic ingredients; instead, you'll find citrus extracts, tea tree oil, and witch hazel, which are excellent additions to acne and oily prone skin routines.