How To Choose Which Clothing Rental Service Is Best For You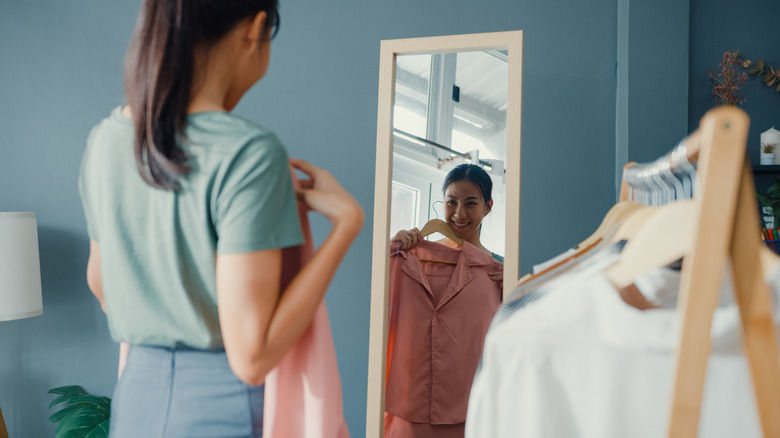 Tirachard Kumtanom/Shutterstock
In recent years, fashion-forward and environmentally-conscious people have been taking advantage of the growing clothing rental market. Back in 2019, the global online clothing rental market was valued at around $1.26 billion, according to a report published in Business Wire. If you're unfamiliar with the concept of the clothing rental service, it essentially allows you to rent used clothing and accessories from both high-end and fast fashion brands (like Urban Outfitters).
Even if you're not familiar with clothing and accessories rental services, you might have heard of Rent the Runway. As Byrdie noted, Rent the Runway was one of the first clothing rental services to emerge from the clothing rental market boom. The clothing rental service offers one-time rentals for specific items in four and eight-day increments and other items per month. Rent the Runway is specifically geared toward people who like to wear clothing by high-end fashion brands like Donna Karan New York, Marni, Jason Wu, Proenza Schouler, and more. Given the high-end nature of the clothing, monthly rentals range from $69 to $199.
For those with limited clothing budgets, Nuuly might be the best bet. The clothing rental service is perfect for those who adore brands like Urban Outfitters, Free People, Levi's, Avec Les Filles, Anthropologie, and smaller boutique brands. Customers can rent any clothing they like from the site for $88 per month. As an added bonus, there are no hidden fees for accidental stains or tears in the clothing.
Clothing rental services exist for every sort of fashion fiend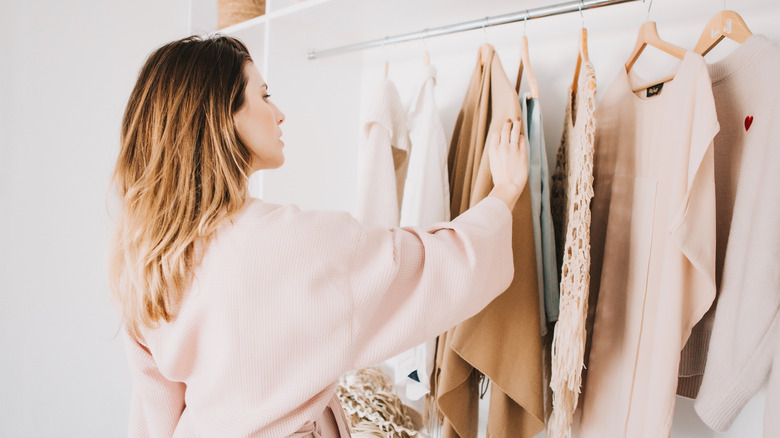 Kokulina/Shutterstock
If you're in need of some help in the fashion department, perhaps you should try out the Armoire clothing rental service. As Vogue noted, Armoire customers will take a style quiz and then professional stylists and a special algorithm will create a custom closet. Similar to other clothing rental services, customers have an option of renting four items, seven items, or an unlimited number of items for price points between $79 and $249. The clothing rental service Fashion to Figure caters to those women who wear sizes 12 to 28 and XL to 4XL. According to Elle, Fashion to Figure offers a plethora of plus-size options for every sort of style. Customers can rent three styles for $54.95 per month.
Stitch Fix is a unique clothing service in that it offers rental options for women, men, and children. According to Refinery29, the family-friendly service, which also offers petite and maternity sizing, features brands like Kate Spade, Madewell, The North Face, and Eloquii. What's more, the clothing service, which is curated by a stylist from a simple style quiz, will only set you back $20 per box. If you're more of an accessories fiend, Vivrelle is the rental service for you. Vivrelle allows customers to rent high-end handbags, from brands like Bottega Veneta, for low price points (like $99 per month!) and high-end jewelry from designers like Cartier and Van Cleef & Arpels, per Vogue. The monthly rates for the luxury accessories rental service range from $99 to $279.