How To Protect Your Manicure While Wearing Winter Gloves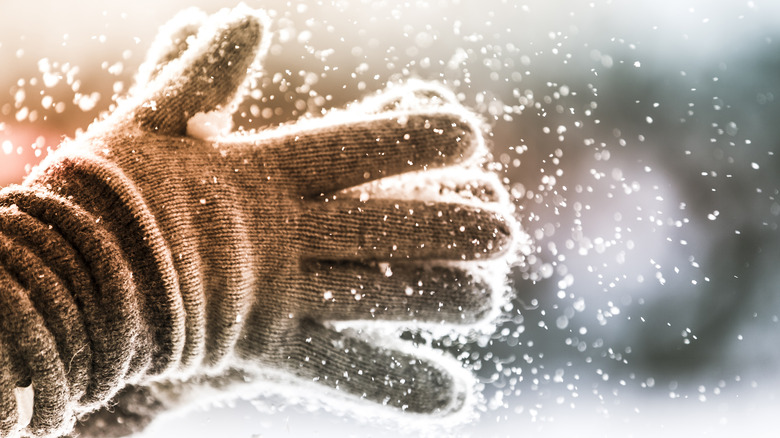 Mitja Mithans/Shutterstock
It's that time of the year again when there's a chill in the air and protecting yourself from the harshness of the weather becomes one of the most paramount thoughts on your mind, especially when you need to go outdoors. Layering clothes, as well as wearing other protective pieces of clothing are imperative in order to ward off the cold, prevent adverse health conditions like frostbite, cold and hypothermia (via Real Simple).
Frostbite in particular may ruin your manicure, and cause your hands and fingers to suffer severe damage in just a short period of exposure to extreme weather. There is also a risk of suffering some permanent damage to the skin, muscle, and other tissue due to frostbite, per Mayo Clinic. Frostbite has actually been described as the "the most common injury" you can get from exposure to extremely cold weather, per the National Safety Council.
Of course, to avoid frostbite-induced blisters, numbness, and stiffness in your fingers, it becomes important to wear protective gear like water-resistant and wind-repellent winter gloves, per North Star Fur. But what happens when you've got well manicured nails that need to be preserved? How do you keep your hands warm without ruining your impeccably-done manicure?
This simple trick helps you protect your manicure while wearing winter gloves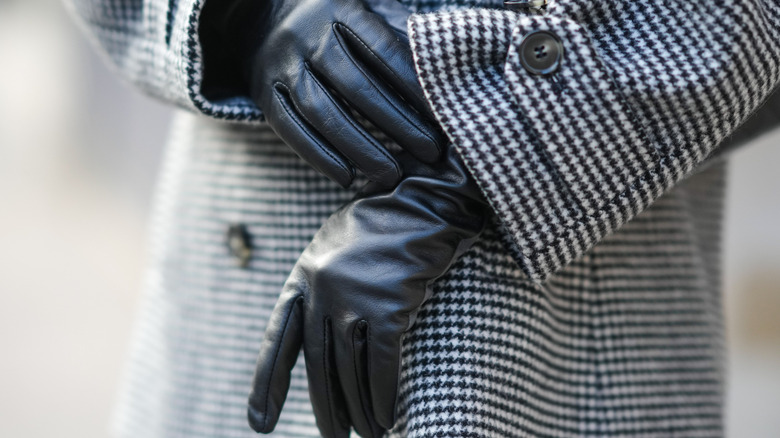 Edward Berthelot/Getty Images
To ward off frostbite without messing up your manicure, one of the best things to do is to continually hydrate your hands very well all through the season, per Spas.ie. One way to do this is by moisturizing daily. By keeping your hand hydrated, your fingers will not dry up, you can prevent brittle nails, and the elements will not cause breakage or chipping of your nails. However, take note to use a heavy-duty hand cream, and to reapply up to three or four times in the course of the day. It is actually advisable to reapply the hand cream for moisture, after every hand wash you do as well, per Beauty Junkees.
You must also not abandon your cuticles in this necessary hydration procedure all season long. Cuticle oils are one sure bet to ensure that this is done. "Invest in a good cuticle oil and use this regularly," advises Daisy Kalnina, who is the founder and CEO of Peacci, a beauty and lifestyle brand, per Savoir Flair.
But above all, it is important to keep your nails at a short and reasonable length till after the winter months are gone. The longer the nails are, the more they will be prone to brittling and breakage, per Beauty Junkees. Wearing those important winter gloves may also become tricky when you've got longer nails.