Dr. Fauci Offers Scary Warning About Omicron
Anna Moneymaker/Getty Images
It was in March 2020 that the World Health Organization (WHO) officially declared COVID-19 a global pandemic (via Yale Medicine). Who can forget those first uncertain weeks and months with lockdowns, working from home, sewing face masks, and clapping for healthcare workers? Now, almost two years later, the pandemic still isn't over.
Over those two years, COVID-19 has mutated and there are new variants of the virus, per the CDC. The Delta variant was identified in late 2020 and was found to be more easily spread and pose a greater threat of severe illness. According to Yale Medicine, it wasn't long before Delta became the most dominant strain in the United States. That is, however, until the arrival of the Omicron variant — which according to AP News, is now the most dominant COVID-19 strain.
The Omicron variant spreads twice as fast as Delta and about four times faster than the original COVID-19 variant (via NPR). While Omicron is definitively more contagious than previous variants, some data has shown that this variant results in fewer hospitalizations compared to others. And while that is a good thing, ​​the President's Chief Medical Advisor, Dr. Anthony Fauci, doesn't want people to let their guard down.
The speed of Omicron transmission could overwhelm hospitals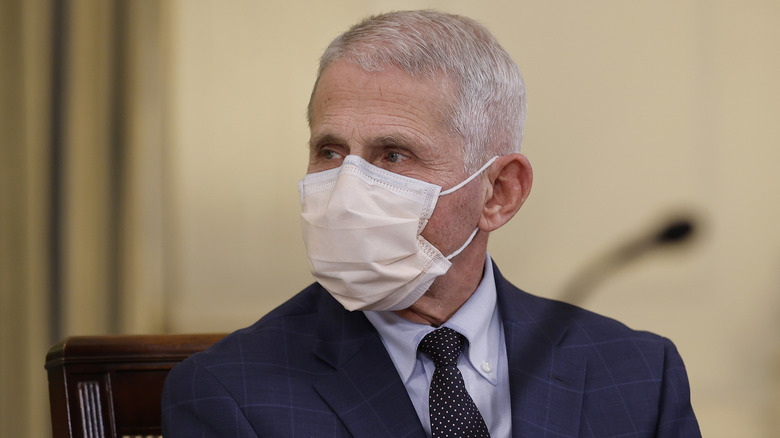 Chip Somodevilla/Getty Images
With the rapidly spreading Omicron variant, COVID-19 cases across the United States keep going up. "The last weekly average was about 150,000," Dr. Fauci said on ABC News, adding, "it likely will go much higher." Fauci continued on to explain, "when you have such a high volume of new infections, it might override a real diminution in severity so that if you have many, many, many more people with less level of severity, that might kind of neutralize the positive effect of having less severity when you have so many more people."
Speaking on ABC News, Fauci went on to say that he is concerned that hospitals might get "overrun," and "particularly in those regions in which you have a larger proportion of unvaccinated individuals."
With so much time since the pandemic started, it makes sense that many Americans are suffering from burnout and COVID-19 fatigue. In a recent Monmouth University Poll, 60% of Americans said they "feel worn out" with all of the adjustments to everyday life amid the pandemic. But Fauci confirmed the importance of continuing to wear masks, getting vaccinated, and getting their booster shot if they haven't yet done so to help slow this latest outbreak (via ABC News).
According to the BBC, just over 60% of Americans were fully vaccinated against COVID-19 as of December 2021.