Meghan And Harry Reveal Their Personal Connection To The Late Desmond Tutu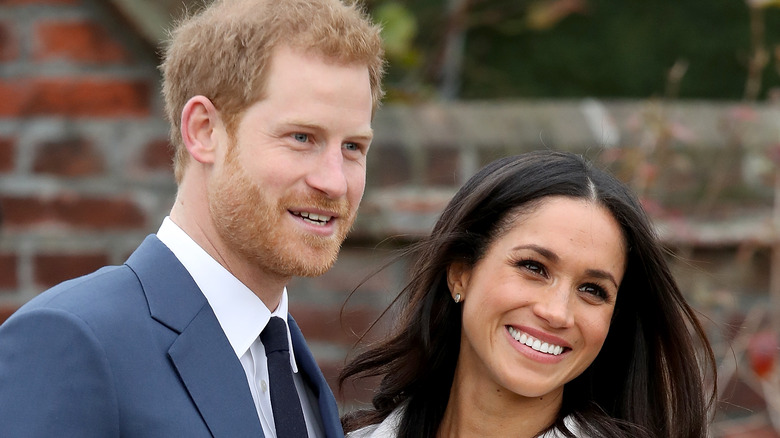 Chris Jackson/Getty Images
When Prince Harry and Meghan Markle took a ten day royal tour of South Africa in 2019, their young son Archie, then four months old, came along too (per Harper's Bazaar). Archie was generally behind the scenes during the trip, but on the third day, he made what could be considered his first royal appearance when the couple visited Archbishop Desmond Tutu at Cape Town's Desmond and Leah Tutu Legacy Foundation, per the BBC. 
According to Town & Country, Tutu gave the couple a gift basket that included children's books by Archbishop Tutu, such as "Children's Bible Stories" and "Desmond and the Very Mean Word," as well as two framed photographs of Princess Diana's 1997 meeting with Nelson Mandela.
After the visit, the Duke and Duchess of Sussex posted a picture of Archie and Archbishop Tutu on Instagram, with a caption that read, "Thank you Archbishop Tutu for your incredibly warm hospitality, Archie loved meeting you! — The Duke and Duchess" (via People).
Prince Harry and Meghan Markle paid tribute to Desmond Tutu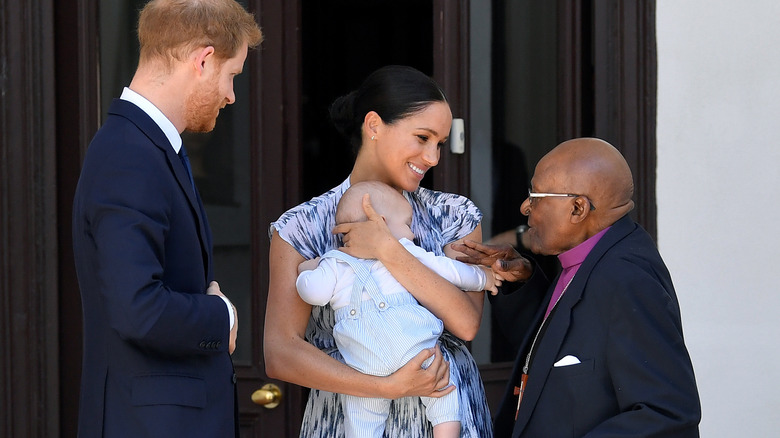 Pool/Getty Images
Upon Archbishop Desmond Tutu's death at the age of 90 on December 26, 2021, Prince Harry and Meghan Markle released a statement, People reported. 
"Archbishop Tutu will be remembered for his optimism, his moral clarity, and his joyful spirit. He was an icon for racial justice and beloved across the world. It was only two years ago that he held our son, Archie, while we were in South Africa — 'Arch and The Arch' he had joked, his infectious laughter ringing through the room, relaxing anyone in his presence. He remained a friend and will be sorely missed by all," the statement read. 
This wasn't the first time that they have discussed Archie meeting the legendary human rights activist. In the ITV documentary "Harry & Meghan: An African Journey," Markle talked about the impact of Archie having a chance to meet Archbishop Tutu. "I think Archie will look back at that in so many years and understand that right at the beginning of his life he was fortunate enough to have this moment with one of the best and most impactful leaders of our times... It's really special," the Duchess said (via Town & Country).