Doctors Say You Shouldn't Combine Your COVID Booster And Facial Fillers. Here's Why
dimid_86/Shutterstock
As the holiday season is upon us, keeping ourselves and our loved ones safe amidst the rising COVID rate is a top priority for many people. As such, taking necessary safety and hygiene precautions as well as getting fully vaccinated is on many folks' holiday to-do-lists. Another thing that proves important to many of us during the holidays, when we tend to see and be seen, is looking our best. As such, you might have scheduled an appointment with a dermatologist or aesthetician to get a little bit of lip or cheek or forehead filler in order to look your best. 
But there is a connection between these two things that you might not be aware of; if you are scheduled to get a booster for your COVID vaccine soon, you should probably put off getting BOTOX and other cosmetic fillers for several weeks surrounding your booster appointment. The reason? Recent research has shown that mRNA vaccines have been linked to an inflammatory reaction to substances like hyaluronic acid-based dermal fillers (via The Wall Street Journal). 
Why you should wait on the lip filler if you need a booster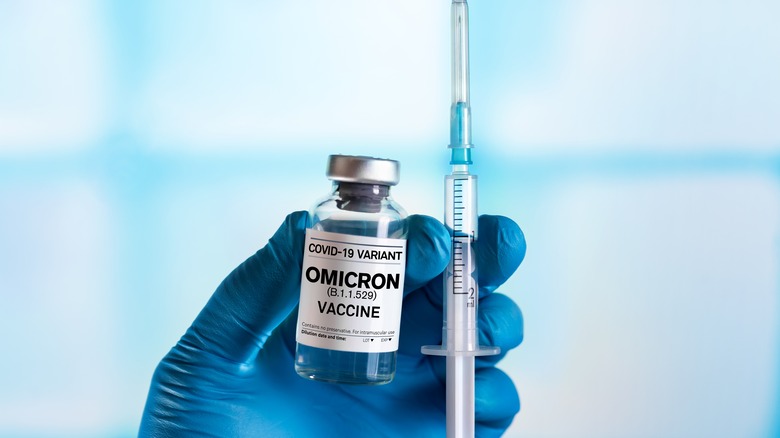 angellodeco/Shutterstock
What does that mean? Well, the good news is it isn't likely to result in a seriously-dangerous inflammatory response in your body (via PubMed), but it absolutely can cause unsightly and uncomfortable swelling and inflammation at the sight of injection (more so than the very mild and temporary you swelling you might normally experience from the injection itself). 
The studies showed that this only applied to common fillers like hyaluronic acid-based dermal fillers, not Botox or other "freezing" agents, but doctors are still cautioning people to avoid any type of cosmetic dermal injection for two weeks before and two weeks after the COVID vaccine (via Wall Street Journal). While the chances of this type of reaction are small, they are still highly unpleasant and should be avoided. 
Medical professionals also want to make it clear that no one should be forgoing the vaccine in favor of their regularly-scheduled dermal fillers. Rather, they would prefer their patients prioritize their health and wellness over aesthetics by simply pushing their filler appointments by a couple of weeks.