Is This How Republicans Really Feel About Mitch McConnell?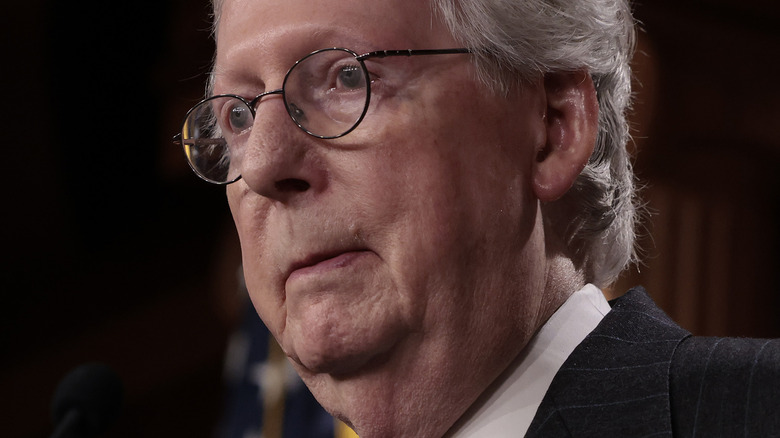 Anna Moneymaker/Getty Images
In 2014, Kentucky Senator Mitch McConnell finally realized his dream of becoming Senate minority leader when the Republicans were able to flip just enough Democratic seats to give the GOP a slight majority in Congress' upper chamber (via Biography). McConnell used his position to make sure that former President Barack Obama couldn't seat a Supreme Court justice, which it was within the president's right to do even with under a year left on his presidency. McConnell also made sure former President Donald Trump got a third Supreme Court nominee through with just weeks left on his presidency, according to The Nation.
These perceived accomplishments for the Republican party gave McConnell an easy reelection win in 2020, when he beat Democratic candidate Amy McGrath by 20 points, solidifying his place as Kentucky's longest-serving senator, according to the Courier-Journal. However, things have changed in the last year and his approval numbers seem to be reflecting that.
A new Republican poll shows Mitch McConnell under water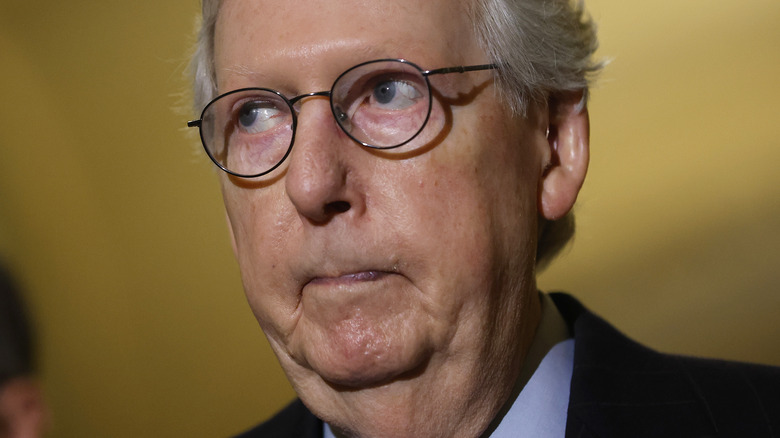 Chip Somodevilla/Getty Images
A new poll by Gallup shows that among Republicans, Mitch McConnell, who is now minority leader again, has an approval rating of 46%, with 52% of GOP voters disapproving of him, along with 64% of Independent voters. McConnell is the only major Republican politician to receive a negative approval number from his own voters.
McConnell's numbers were also in stark contrast to the Republican Minority Leader in the House of Representatives, Kevin McCarthy, who had a whopping 71% of Republicans approving of his performance. Perhaps Republicans remain more loyal to McCarthy than they do McConnell because McCarthy remains loyal to former president Donald Trump. That was something McConnell did not do at the end of Trump's second impeachment trial, when he put full blame on Trump for the January 6 Capitol riot.
"The mob was fed lies," McConnell said. "They were provoked by the president and other powerful people, and they tried to use fear and violence to stop a specific proceeding of the first branch of the federal government which they did not like," (via The Associated Press).