Keratin Lash Lift Vs Regular Lash Lift: What's The Difference?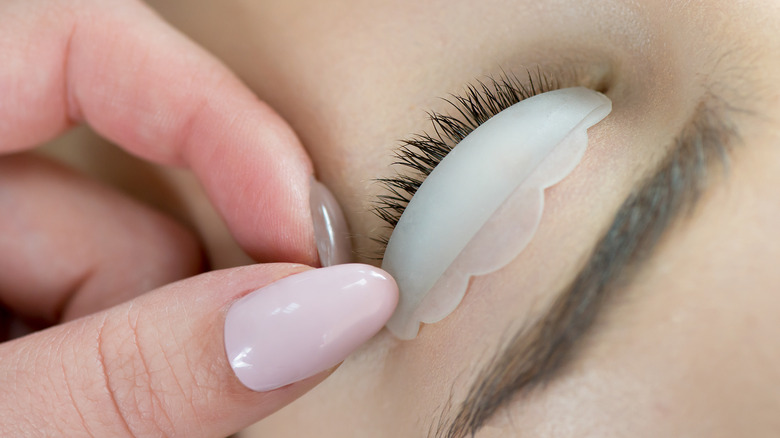 Juta/Shutterstock
If you're trying to keep your beauty routine as roll-out-of-bed ready as possible, booking an eyelash lift is something you're definitely going to want to do. Before you confirm your appointment, however, you're going to want to know what type of eyelash lift you're going to want: a regular or keratin lash lift.
Unlike eyelash extensions, lash lifts are supposed to be less damaging; Byrdie reports one woman's experience with extensions leaving her without most of her eyelashes. The lashes the woman had left when she was done with her extensions were "brittle and broken." Lash lifts, though, are way less invasive, less time-consuming, and less expensive. After all, they're only helping you show off what you already naturally have. Needing only 45-60 minutes for application, lash lifts also only need to be retouched every 4-6 weeks (versus eyelash extension maintenance every 2 weeks), according to Refinery29.
Another great thing about lash lifts? Many lash studios offer to add a lash tint to your lift, giving you the option of darkening your lashes. The result? Longer-looking, darker eyelashes without the need for mascara or extensions.
This lash lift is healthier for you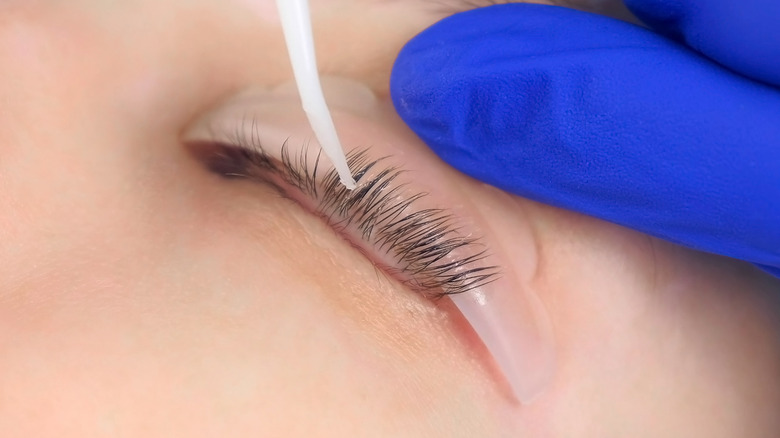 Evgeniia Zakharishcheva/Shutterstock
If the option is available, you should definitely opt for a keratin lash lift over a regular one. The Brow Fixx explains that non-keratin lash lifts are using the same chemicals as you would in a perm to keep your lashes looking bigger and fuller. The problem? This method can cause damage to your lashes. Clementina Richardson, founder of Envious Lashes, explained to Refinery29 that regular eyelash lifts use an "alkaline solution" to curl the eyelash.
In both types of lash lifts, Richardson explained to Refinery29 that the lashes spread out over silicon rods, and a solution is brushed onto the lash from root to tip. During a keratin lash lift, this solution is (obviously) keratin-based. "In the same way that keratin serves as a building block to healthy hair for the strands on your head," Refinery29 explains. "This protein works to smooth out and strengthen your lashes while giving them semi-permanent shape."
According to Byrdie, most lash studios don't even offer the "lash perm" type of lash lift anymore — but you're still going to want to double-check when you book.