The Truth About Bret Baier's Wife, Amy Baier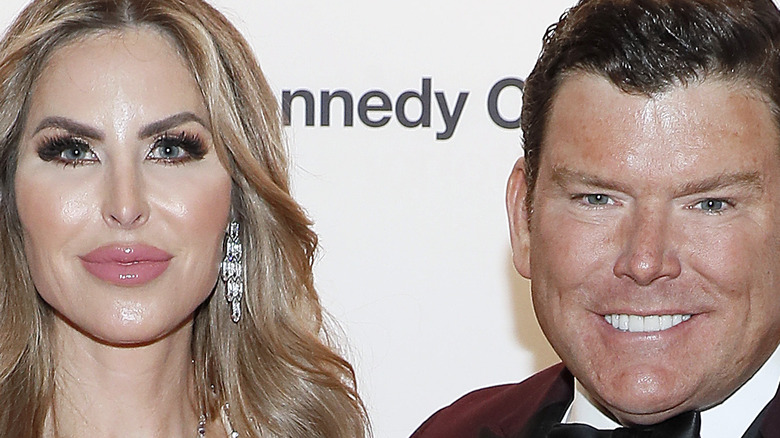 Paul Morigi/Getty Images
We may receive a commission on purchases made from links.
Bret Baier is known for covering difficult topics as the chief political correspondent for Fox News. Over the course of his career,  he's traveled to Afghanistan and Iraq, and also reported on the 9/11 terrorist attacks, per The U.S. Sun. But what is not in the public eye is his off-camera life as a father and husband to wife Amy Baier to whom he dedicated the book, "Special Heart: A Journey of Faith, Hope, and Courage and Love."
In the book that details his eldest son's heart condition, Baier wrote (via Amazon), "For Amy—the most amazing wife and mother to our children and my co-anchor in life." Talk about cute! Supporting each other through their son Paul's diagnosis of five congenital heart defects, and multiple surgeries could only have strengthened the couple's bond.
Amy and Bret Baier have been inseparable for over a decade thanks to a blind date set up by friends who knew they would hit it off, per Naples Illustrated. Although Bret is in the public eye, his wife keeps a lower profile — here's what you should know about her.
Amy Baier is a children's health advocate
Amy Baier is a Chicago native who grew up in the suburb of Barrington with her two brothers, Timothy and John Paul, and twin brother, Daniel (via Information Cradle). For this reason, Baier refers to herself as a midwesterner who values family over anything else.
According to Country, Baier planned to work and raise a family in Chicago, but all that changed when she met Baier after 9/11. Amy Baier, who worked for Calvin Klein as a media planner in New York City before moving to Chicago, eventually relocated to D.C. in support of Baier's career, according to the outlet.
Despite the face-paced life of D.C. and all that comes with being married to a news anchor, the mother to sons, Paul and Daniel, remains focused on keeping her family grounded by not getting caught up in her husband's celebrityhood. When she is not shuttling her boys from sport to sport, the philanthropist is focused on raising money for the hospital Children's National which they credit with saving Paul's life. In fact, her work with the foundation was recognized in 2014 when the Children's National Health System lauded Amy and Bret Baier with the Joseph E. Robert Jr. Prize in Philationtrophy for their advocacy for improving the lives of children (via Children's National).
Baier may not be a public figure like her husband, but it's evident that she's doing important work behind the scenes.