Sustainable And Ethical Jewelry Brands You Need To Shop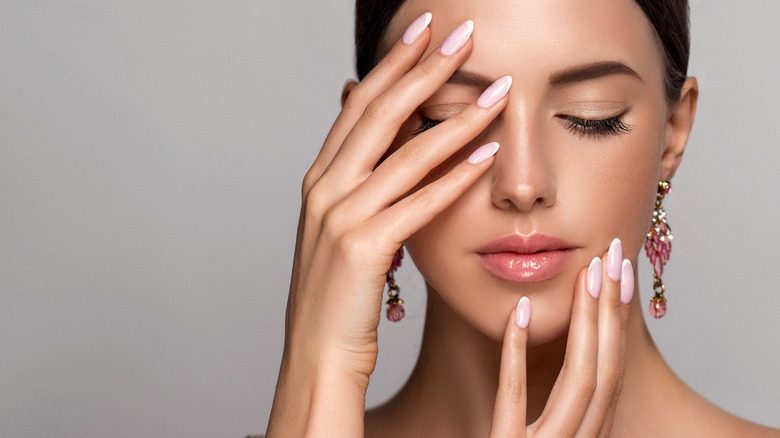 Sofia Zhuravetc/Shutterstock
When shopping for jewelry, you might not be simultaneously thinking about protecting people and the planet. In the same way that we have "fast fashion," aka trendy clothes that often don't last and aren't well-made, there is "fast fashion jewelry." However, many businesses and buyers are realizing the environmental and ethical benefits of sustainable fashion. Similarly, we're also understanding that the jewelry industry is another way in which we can use our purchasing power to help make the world a better place.
But what defines sustainable and ethical jewelry? Broadly speaking, it is jewelry that's made in a way to have a minimal impact on the planet, as Sustainable Jungle explains. Furthermore, it ensures workers are paid fair wages and treated well. Keeping this in mind, Mind Body Green prompts buyers with questions to ask themselves (in terms of ethics and sustainability) when purchasing jewelry. For example, does the product use lab-grown vs. mined diamonds? Are the materials recycled? Was it made in a way that pollutes the environment? Was the item made to last? For anyone feeling unsure about what to buy, here are a few great sustainable and ethical jewelry brands that will leave you feeling just as good on the inside as you'll look on the outside.
Sustainable jewelry uses upcycled materials whenever possible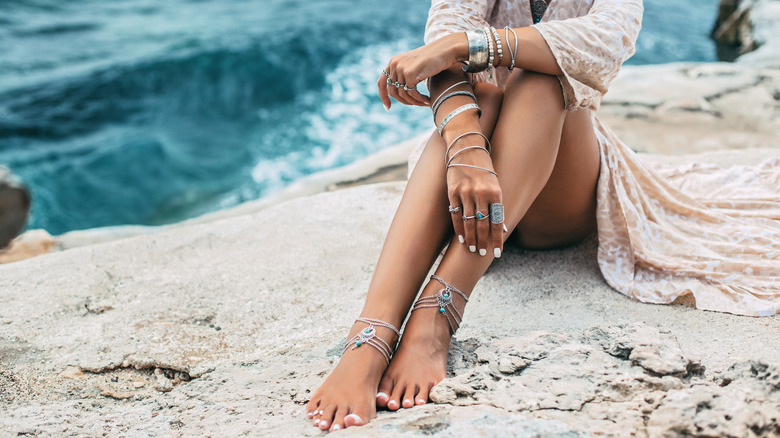 Alena Ozerova/Shutterstock
Seattle-based jewelry company Baleen was founded by a husband and wife team who sought to create a line that was affordable, sustainable, and beautiful. As the site details, their studio is zero-waste and their team buys carbon offsets for all shipping. They only work with recycled metals and any scrap pieces are sent back to be recycled once more.
Another jewelry company known for upcycling materials is Washed Ashore. This is a particularly good fit for anyone who's a fan of healing crystals, pearls, diamonds, and abalone, since the site has a line of healing crystal jewelry — including their "Nile necklace," which is made with upcycled lapis, as well as the "Ishtar earrings," which feature upcycled Tiger's Eye. "I believe that objects carry energy," founder Larada Lamsam explains of the brand's philosophy on Washed Ashore. "All throughout history, jewelry has been said to hold blessings and curses from their origin and their making, the elements and the people." Therefore, Lamsam ensures she exclusively uses recycled materials. Per Positive Luxury, her team also works with ocean conservations, as the company is rooted in a mission to preserve marine resources.
Meghan Markle is a fan of sustainable jewelry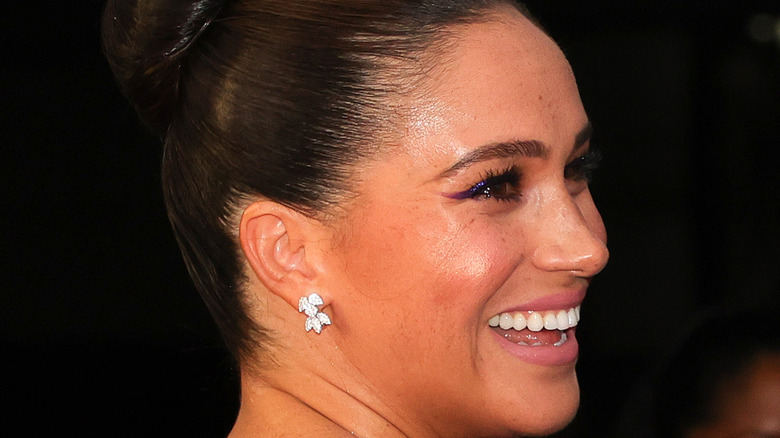 Dia Dipasupil/Getty Images
In addition to using upcycled materials, other sustainable jewelry brands partner with independent artisans to further a higher quality of life for their workers. Consumers might know Nisolo for their shoes, but the brand also regularly collaborates with workers from Kenya, Peru, and Mexico to create jewelry, according to Nisolo. Thanks to the partnership, producers in Peru earn 47% more (on average) than what they might otherwise make, as the site explains. Per B-Corps, they are also a certified B Corporation, which is a certification awarded to businesses who prioritize social and environmental good.
Another jewelry brand worth looking into is Alohi Kai, which draws inspiration from the natural beauty of the Hawaiian Islands. The jewelry is handmade in Oahu, where the team embraces a slow fashion ethic that includes non-toxic processing. Per the website, they use factory-made gemstones and employ local materials whenever possible, in order to create timeless — not trendy — products. 
Though there are plenty of A-listers who gravitate towards ethically-made jewelry, Meghan Markle might be one of the most outspoken celebs when it comes to her love of sustainable accessories, per Insider. According to Marie Claire, Markle especially favors the minimalist style of Catbird jewelry. According to Catbird, the delicate pieces are made almost entirely from recycled gold and diamonds. Each year, the company donates 1% of all sales to non-profit organizations, and thus far, Catbird has given over $1 million in donations.