How To Style Your Hair To Withstand Rainy Days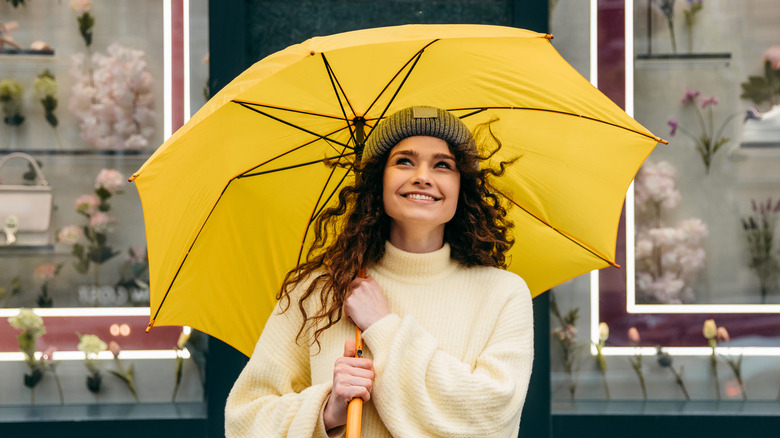 Anton Kor/Shutterstock
We've all been there before — getting ready for a workday commute with freshly blow-dried hair, only to step outside and find that the weather has other plans. Unfortunately, there's nothing like a sudden downpour in the forecast to ruin what could have otherwise been a good hair day. That's because moisture in the air helps create hydrogen bonds with strands, making them stick together, creating frizz.
This is even truer for damaged hair, explains New York dermatologist Dr. Joshua Zeichner in an interview with Self. While it may feel like all hope is gone in combatting frizz and humidity, there are a few tricks to help hair look its best. Not sure where to start? We've rounded up some of the best ways to keep your strands in check and wick away moisture. The best part is that these looks are heatless and embrace hair in all its messy glory while still keeping things stylish.
Opt for updos and frizz-fighting styling products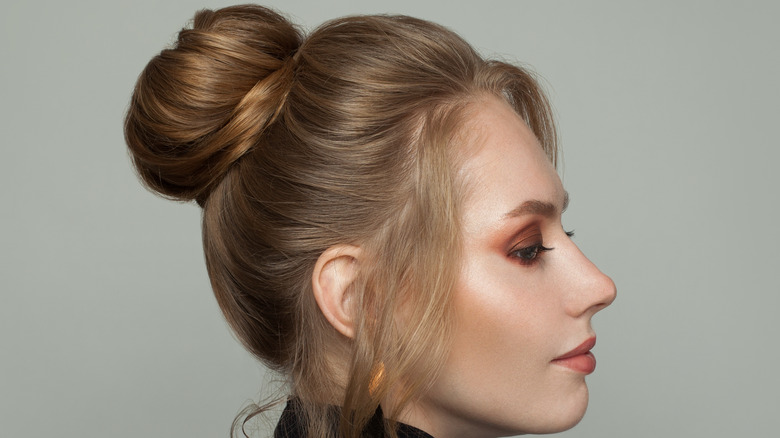 MillaF/Shutterstock
If you know that the weather is going to be less than favorable, going for a wet look could be a solid option. As noted by Byrdie, running mousse through strands and pomade to hold down flyaways can give your hair a sleek appearance that's been trendy on red carpets. A bun is also a safe bet, and it's easy to pull off in a pinch when all else fails. To ramp the look up a notch, gather hair into a ponytail using a hair tie, then weave a piece into a fishtail braid. Shape the ponytail into a messy bun and wrap the fishtail braid around the elastic (via L'Oreal Paris USA). Since it's intended to be a messy look, the more texture, the better, so it's perfect for an unforeseen storm.
Prepping with the right products is one of the best insurances you can give hair before hitting the town on a rainy day. Key styling tools, like dry shampoo, can help provide some oomph to flat, limp roots (via Harper's Bazaar). It's also important to regularly smooth stubborn strands with a mask to keep frizzy hair at bay, like L'Oreal's Cream Silk Triple Keratin Rescue (via All Things Hair). Even when the weather calls for showers, it's nice to know that it's still entirely possible to look polished from head to toe with a few techniques under your belt.