What Does It Mean When Your Skin Is Congested?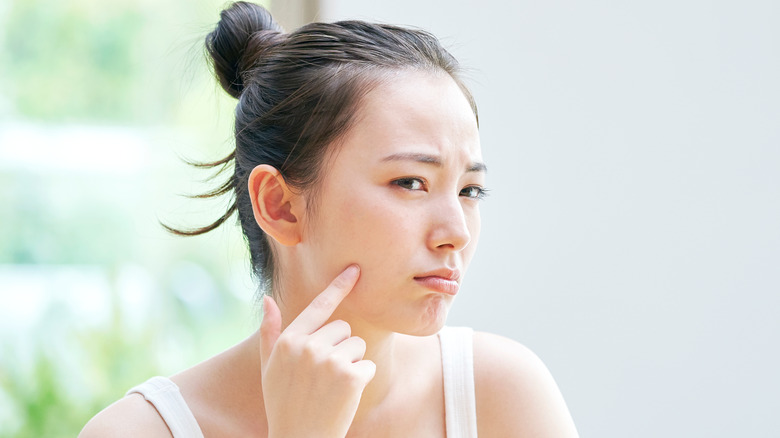 siro46/Shutterstock
Our skin has to deal with humidity, sweat, environmental aggressors, and dead skin cells all the time, so if it is not one, it is another factor affecting our pores and clogging them. Clogged pores can lead to whiteheads, blackheads, and acne breakouts, and they are all signs of congested skin. Mumbai-based dermatologist Dr. Jamuna Pai told Vogue, "Congested skin is characterized by its appearance which is rough in texture and has multiple open pores and comedones." Dr. Pai added that comedones are caused by dead skin buildup and lack of lymphatic drainage.
Congested skin looks and feels rough and bumpy, but there is no clinical term to describe a specific skin type since it can mean many things (via Healthline). However, if you mention "congested skin" to dermatologists or estheticians, they will know what you are talking about. Typically, congested skin has clogged pores, so it is prone to more acne, and the cause could be anything from dead skin buildup to an allergic reaction to skincare or makeup. Depending on the person, congested skin can be accompanied by redness, cystic acne, or a dull appearance. It can mean bumpy, rough, or acne-prone skin, and a treatment that works for your friend may not work for you. But don't give up because there is definitely a way to breathe life into your congested skin.
How to treat congested skin for a flawless complexion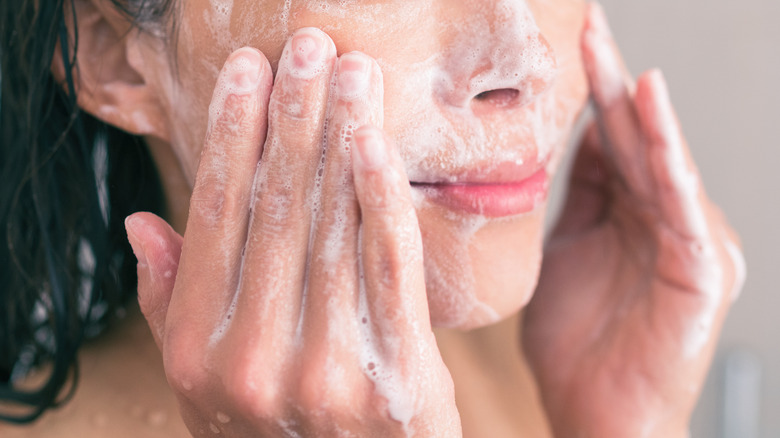 Maridav/Shutterstock
Emma Hobson, Education Manager for the International Dermal Institute and Dermalogica, told Beauty Crew, "The impaction is a combination of oil, dead skin cells, tiny hairs, dirt and debris at the surface, and sometimes bacteria." So basically anything that impacts the skin pore (follicle) can cause congested skin. Thankfully, we have ways to treat it.
Hinaa Khan, education head at Dermalogica India, told Vogue that regular cleansing and exfoliation with AHA products (alpha-hydroxy acids) and salicylic acid could gently remove the impurities and excess oil on the face to clear clogged follicles. According to Vogue, a great option is Drunk Elephant T.L.C. Sukari Babyfacial to gently exfoliate your skin without causing redness. Those with congested skin are also prone to acne and can benefit significantly from double-cleansing. Beauty Crew recommends getting a Lumiskin Kasi Thermal Care Silicone Cleansing Device because it can clean surface dust and dead skin buildup.
If you like masks, clay and charcoal masks are great for decongesting skin. Adore Beauty recommends trying the Innisfree Pore Clearing Clay Mask because it has Jeju Super Volcanic Clusters to absorb excess sebum and lactic acid to exfoliate dead skin.