How Ghislaine Maxwell's Conviction Could Affect Prince Andrew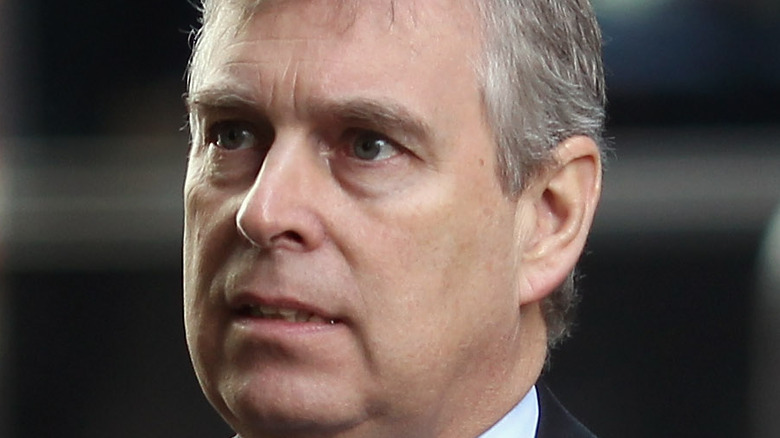 Dan Kitwood/Getty Images
Britain's Prince Andrew may not have been in the Manhattan Courtroom where Ghislaine Maxwell was found guilty of sex trafficking minors, but he may as well have been, as legal experts say the verdict is most likely to have an impact on him too.
Immediately after Maxwell's guilty verdict was handed down, Reuters reported that a 2009 settlement between Maxwell's late partner Jeffrey Epstein and Prince Andrew's accuser Virginia Giuffre would be made public early next week, because there was no reason to keep it under wraps. Epstein was a registered sex offender, and it is through him that Prince Andrew is said to have met Giuffre. She is accusing Queen Elizabeth's second son of forcing her to have sex with him over twenty years ago, when she was seventeen, and whilst he knew "that she was a sex-trafficking victim," per the BBC.
The incident is said to have taken place at Maxwell's home, and Giuffre is seeking unspecified damages in a civil suit against him.
If you or anyone you know has been a victim of sexual assault, help is available. Visit the Rape, Abuse & Incest National Network website or contact RAINN's National Helpline at 1-800-656-HOPE (4673).
Prince Andrew's lawyers have been asking for a specific document to be unsealed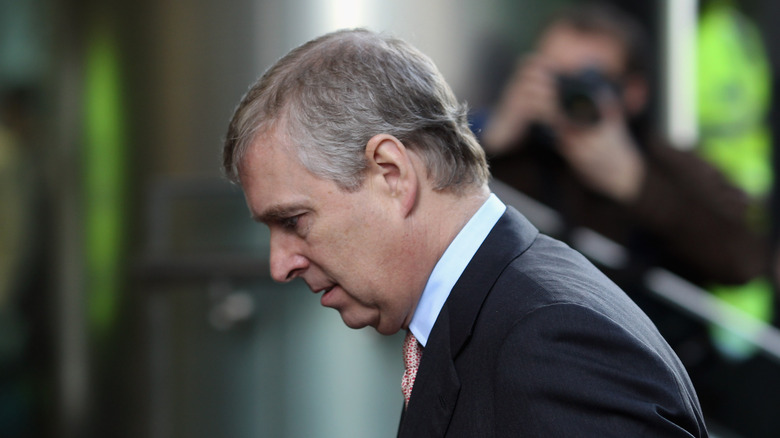 Dan Kitwood/Getty Images
Prince Andrew's lawyers have been asking for the document to be unsealed, because they believe the contents will be enough to protect the prince from any liability (via The Independent). But its release could also have the opposite effect, since Maxwell had also tried to use the same agreement to try and get out of her indictments, but with little success (via Law and Crime). Giuffre's lawyers have already said they think the document not have any bearing on their civil case against the disgraced British royal.
Prince Andrew and Ghislaine Maxwell aren't the only two high-profile people who sought to use that agreement to get them out of trouble. Harvard Law School's Professor Emeritus Alan Dershowitz has cited the agreement too, as Giuffre says he was one of the people that Maxwell and Epstein had made her sleep with. Giuffre and Derschowitz are currently suing each other for defamation (via Newsweek). 
Prince Andrew is forever linked to a sex offender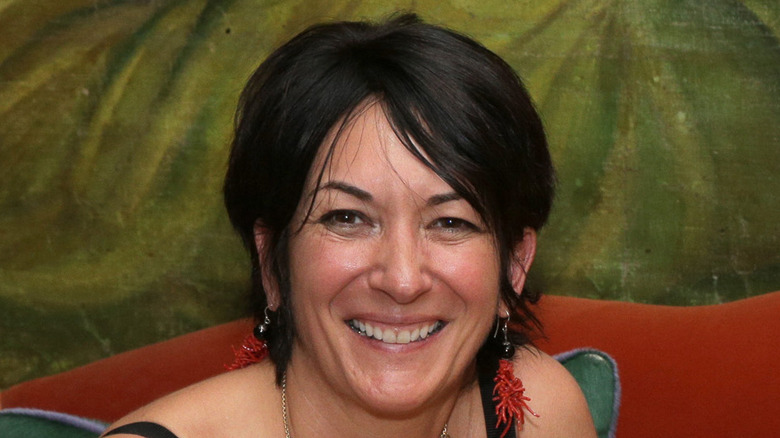 Andrew Toth/Getty Images
A supporter of Prince Andrew's accuser believes the Maxwell verdict is bad for the prince, because "His argument is essentially the same as Maxwell's — that these young women made it all up for money, and they were all just friends and there wasn't any sex trafficking and the girls who are making these claims are liars and gold diggers. It's all the same, blame-the-victim defense. This verdict demonstrates that you can't obscure the overwhelming amount of evidence by these smokescreens, and that jurors are not prepared to blame the victim" (via The Daily Beast).
But even if Prince Andrew eventually gets out of his legal problems scot-free, the BBC points out that he will be forever linked to a convicted sex offender. As the prince mentioned during his ill-advised Newsnight interview, his connection with the late sex offender, Jeffrey Epstein, came about because he was friends with Ghislaine Maxwell. But thanks to the trial, the BBC says that we now know that Maxwell wasn't, in fact, an "unwitting helper, but a woman who was central to his plans to commit abuse." Prosecutors even showed images of Maxwell and Epstein at Queen Elizabeth's estate in Balmoral, and they presented testimony from eyewitnesses who say Andrew had traveled on Epstein's jet, to prove how close the couple were to the prince, and that connection cannot be good for Andrew.