Is Christian Dior Eyelash Primer Worth It?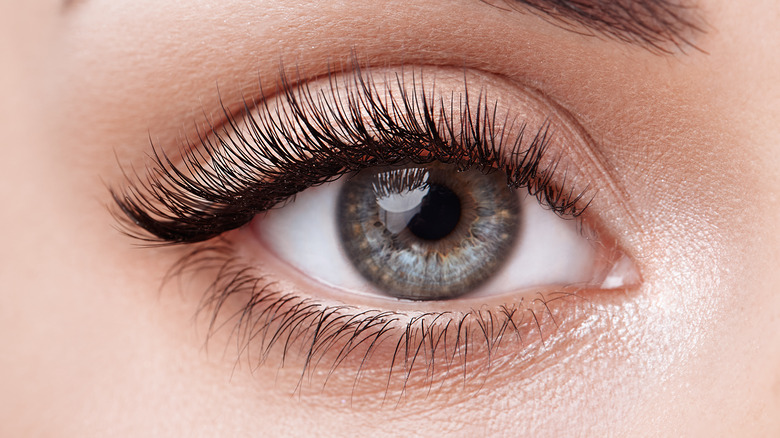 Oleg Gekman/Shutterstock
Do you like long and fluttery lashes like Bambi? If you haven't heard of eyelash primer, you are lucky. Those with tiny, short eyelashes use this beauty product on their lashes before mascara. It coats the eyelash and creates more surface area, so when you apply mascara, your lashes look longer and have more volume (via Beauty Answered). Eyelash primers aren't always necessary, but they make smaller lashes look more extended. If you already have long lashes, a layer of eyelash primer can make them look like false lashes (via Beauty Mag).
"These primers now come with is properties to condition the lashes for growth and to prevent them from breaking," New York City-based makeup artist Joseph Carrillo told Byrdie. He added they usually come in white to help you see where you have applied them. If you haven't tried eyelash or mascara primer before, it is time you give it a shot, and we have one of the best Christian Dior eyelash primers for you. Adding length, curl, and volume to your lashes is a sure way to make your eyes look bigger and brighter. If you aren't quite ready to invest in fake lashes, you should give lash primers a shot because they also help nourish your lashes (via Beauty Hows). The Beauty Insiders recommend trying the L'Oréal Paris Voluminous Mascara Primer for a drugstore option, also available at Ulta.
Diorshow Maximizer 3D Triple Volume Plumping Lash Primer makes your lashes longer
The Diorshow Maximizer 3D Triple Volume Plumping Lash Primer is a triple threat because it can volumize, curl and lengthen your lashes. This long-wearing primer has cotton nectar to soften and protect your lashes. It also includes cornflower floral water to enhance the intensity and shine of the mascara you wear. It is perfect for sensitive eyes and retails for $29.50 for a 0.33 oz at Sephora. It is pricier than other lash primers, but the brand name, quality, and benefits justify the cost.
Byrdie picked this lash primer as the best overall primer because it has an oil serum-infused concentrate that improves the thickness and curl of your lashes after one coat. People reported 80% more curl in their lashes than bare ones. One con is that it is not cruelty-free. Stylist called this primer effective and beneficial because you can also use it on its own overnight as a conditioning treatment for your lashes. It is also considered a must-have for professional makeup artists. Beauty Mag selected it because it gives you feathery lashes, and it has artemia extract to protect them from UV rays and environmental pollutants. People noticed a difference in the softness of their lashes in just 4 weeks. Classically Contemporary gave this primer a 10/10 because the "air-pumped texture" coats each individual lash with a solid layer to exaggerate the effect of the mascara you apply.