Is This Really How Melania And Donald Trump Will Celebrate New Year's Eve?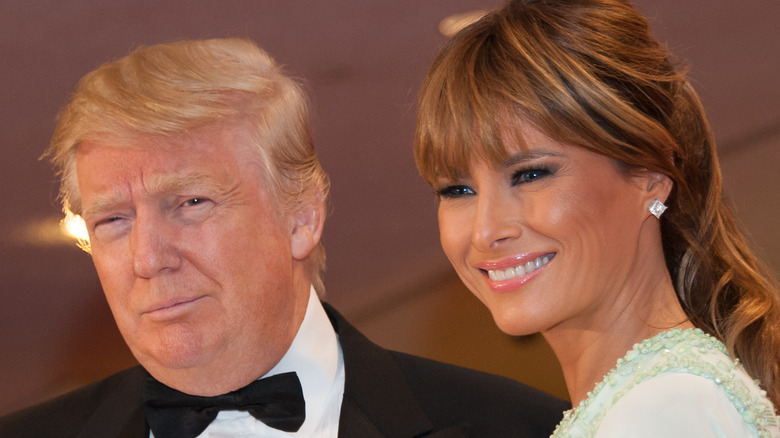 Rena Schild/Shutterstock
During the Trump presidency, Donald Trump would typically take himself and his family to his Mar-a-Lago golf resort in Palm Beach, Florida, where he now resides permanently. Dubbing it the Winter White House, Trump would invite his rich and famous friends, as well as conservative donors, to celebrate in style — or at least Trump style, with opulent golden furniture and looming chandeliers above.
As 2020 turned into 2021, Trump knew his presidency was coming to an end unless he could somehow stop the certification of electoral votes on January 6, which was attempted in a bloody insurrection at the Capitol. Both the president and his first lady decided to ditch his planned New Year's Eve party at Mar-a-Lago just as guests began arriving. The couple suddenly flew back to Washington D.C. on the afternoon of December 31 with no explanation, leaving their guests, who spent as much as four figures on tickets for the shindig, to party maskless with Rudy Giuliani, Donald Trump, Jr., and Eric Trump, according to CNN. This year, with Trump no longer president and spending much of his days at Mar-a-Lago, it looks like the Trumps will be returning to his New Year's Eve tradition.
It's back to a lavish New Year's Eve for Donald and Melania Trump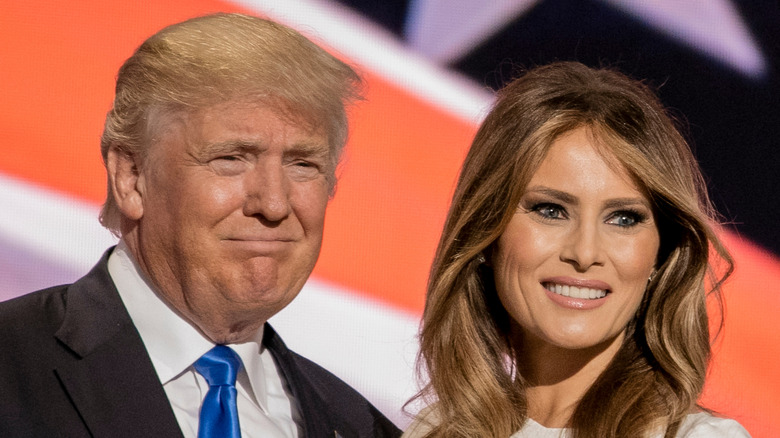 mark reinstein/Shutterstock
On December 31, 2021, Donald and Melania Trump will be at Mar-a-Lago for a lavish New Year's Eve party, and have no plans to ditch it at the last minute this year, according to The Daily Mail. Partying at Mar-a-Lago into the night was a New Year's Eve tradition before Trump was elected the leader of the free world.
The Trumps also spent a quiet Christmas Eve together in the main Mar-a-Lago dining room with just his daughter Ivanka Trump and her husband, Jared Kushner, as the former first family dined alone at the new Trump Florida home/golf resort. The Daily Mail reports that the Trumps ate like regular (albeit wealthy) American citizens rather than as a presidential family, with their table not roped off from the rest of the guests in the resort's dining room.
While the Trumps did skip out on last year's event to return to the White House, odds are Donald and Melania will be in attendance at their own black-tie party, welcoming a new year.