This Cleaning Sponge Is An Affordable Dupe For The Magic Eraser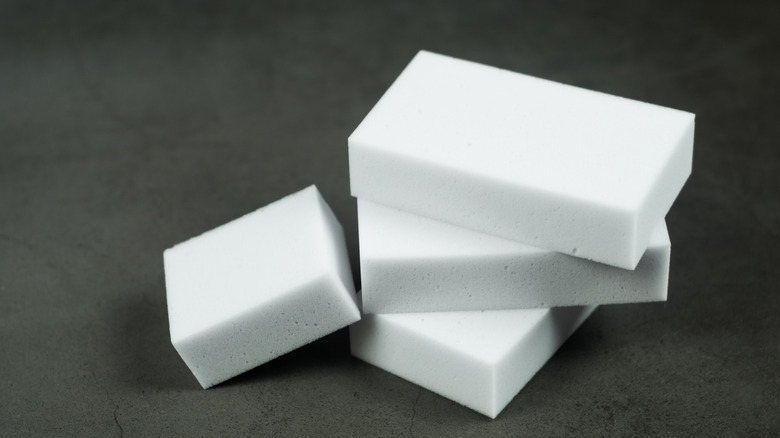 szmuli/Shutterstock
We may receive a commission on purchases made from links.
Magic Eraser devotees will tell you that there are practically endless uses for this handy cleaning product. From removing pen or crayon from walls to getting that pesky price tag residue off of dishes, the Magic Eraser can be a lifesaver (via Apartment Therapy). Other uses include polishing jewelry and scrubbing coffee stains from mugs.
But here's the thing: A pack of ten Mr. Clean Magic Erasers costs $11.99 on Amazon. That's affordable, admittedly, and yet, what if we told you we found a similar product that costs half as much? A pack of Oh My Clean erasers contains 20 sponges and costs the same amount as the Magic Erasers (via Amazon). Better yet, this dupe is extremely well-reviewed by over 10,000 satisfied customers. Indeed, 70 percent of folks who tried the Oh My Clean version of this must-have cleaning sponge awarded the product five stars.
As one very happy cleaner said, "For me, these hold up better than a Mr. Clean magic eraser. They got stains out of my kitchen countertops, out of my bathroom sink, and even cleaned the shower so well it looked like I had bleached the whole thing! Very happy and will continue to buy in the future. I've even given some to my family to convince them how great they are."
The dupe offers one benefit Magic Eraser doesn't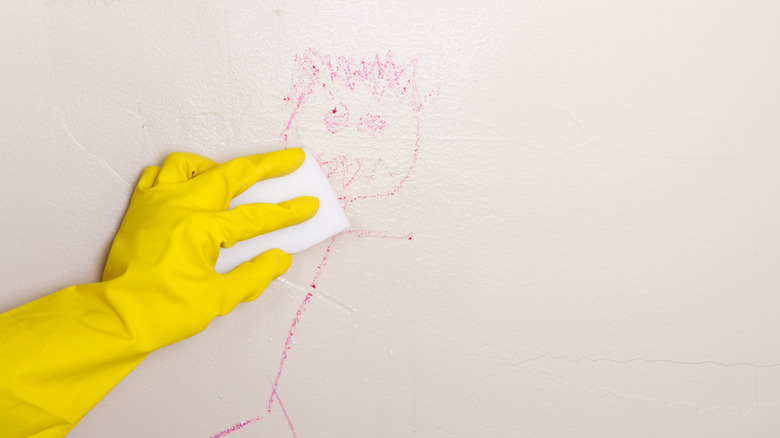 Jenn Huls/Shutterstock
To be fair, not everyone who reviewed Oh My Clean eraser sponges felt they held up to the Magic Eraser. As one dissatisfied customer wrote on Amazon, "I'm sorry but these do not even come close to Mr. Clean Magic Erasers. They fall apart really easy, don't last long at all and leave a white residue behind. I've been using magic erasers for years and never had this problem."
But not everyone is a fan of Mr. Clean Magic Erasers in the first place, with some Amazon reviewers expressing disappointment about the original's cleaning prowess as well. Overall, the Mr. Clean version is extremely well-reviewed, however.
Ultimately, the Oh My Clean version seems to satisfy people who use the product to remove stains on kitchen pots and pans and sinks and bathtubs, as well as a range of smaller household jobs. Reviewers say the dupe is thicker than Magic Eraser, with some folks recommending cutting the sponges into smaller pieces, depending on the job. "Much thicker than regular magic erasers in terms of dimensions," noted one person, which was a sentiment repeated again and again in the comments.
One reviewer summed up what many people feel about this dupe: "For the price, this is pretty hard to beat."