The Real Reason Zendaya Dyed Her Hair Auburn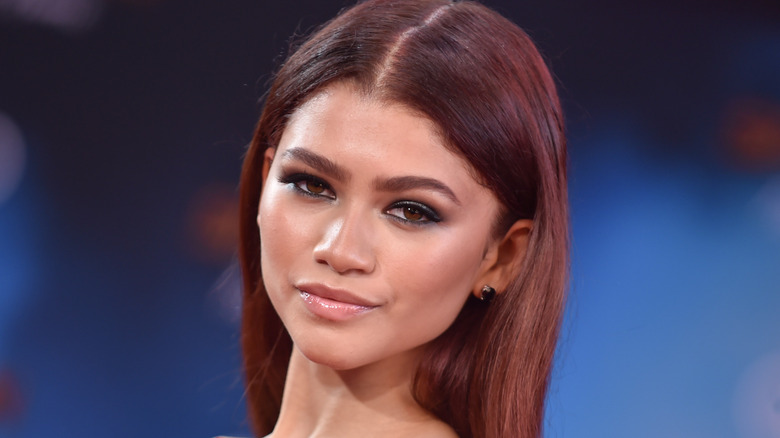 DFree/Shutterstock
Let's admit it, we love Zendaya. She is a talented actress who has mesmerized us in every role. Whether she's playing the recovering teenage drug addict in "Euphoria" or under-appreciated girlfriend in "Malcolm & Marie," she gives us the feels (LA Times). She is also a style icon because she slays every single look on the red carpet — I mean, look at her at the press tours. She can wear anything and look like a million bucks (via Vogue). She crushes it every time with her fashion, makeup, and hair. And, we are always excited to see what she will do next. Remember when she walked the red carpet for the Emmys in 2019 in her green Vera Wang dress with reddish hair (via POPSUGAR)? We could not stop staring at her because she looked perfect.
Shared recently on Instagram was a mirror selfie with her brand new cut and color captioned, "IT WAS TIME FOR A CHANGE." Hairstylist Sarah Shears is responsible for this blunt shoulder-length hair in a hue of red mahogany (via Nylon). And, as usual, she looks fantastic. But why was it time for a change?
Zendaya's auburn hair embodies the spirit of MJ from the Spider-Man series
This is not the first time, Zendaya has colored her hair red. In fact, she colored her hair a burgundy red in June 2019 for the press tour of "Spider-Man: Far From Home" (via Bustle). She responded to Twitter, saying it was a semi-permanent dye job as an "MJ Homage." It seems whoever portrays MJ in the movies likes to keep the true essence of MJ based on the comic books by sporting the beautiful red locks. Kirsten Dunst, who played Mary Jane Watson in the Tobey Maguire Spider-Man movies, also had auburn hair because Mary Jane is a redhead in the comics (via Hindustan Times). And, Zendaya continued the tradition by going red before the release of the latest Spider-Man movie.
For the third installment of her Spider-Man movie, this Golden Globe winner's new auburn tresses were parted down the middle in a very Gen Z fashion. Though it wasn't as red as the typical MJ hair, Zendaya made it deeper and more auburn by putting her own little spin on it (via Bustle). And, she looks absolutely beautiful. This beautiful actress has tried every look, and she can literally pull anything off. Whether it is braids or bangs, she manages to look equally breathtakingly stunning in every single look she chooses. Wonder what she will do next?