This Affordable Phone Case Is A Perfect Dupe For Apple's $40 Leather Case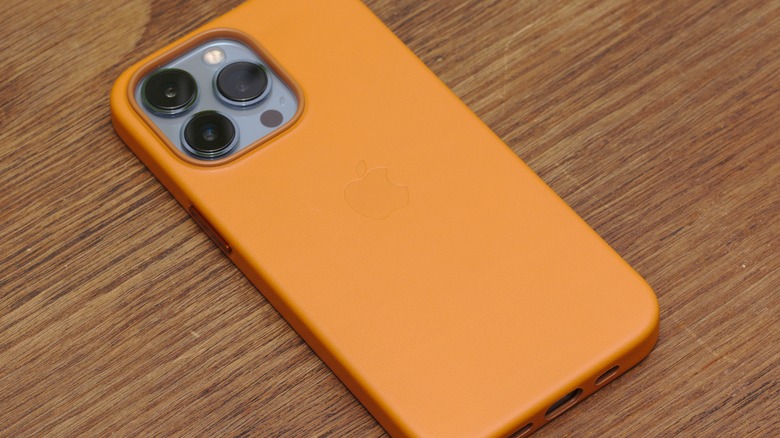 Carl-hampus Lundberg/Shutterstock
We may receive a commission on purchases made from links.
Eating an apple a day keeps the doctor away, but an Apple product a day is a little harder to sustain. Apple products, such as iPhones, Macbooks, and iPads, are known are their high power, versatility, and longevity — Macs can live upwards of a decade if maintained, but 5-8 years is the norm, per Macworld — but they also come with hefty price tags. Macs and Macbooks can cost, at minimum, $1,000 but reach well over $2,000 depending on the model's specs and abilities (via The New York Times). Prices for lower-end products, such as Apple's iPhone cases, are also higher than the majority of other cases on the market.
Because of these prices, the market has been flooded with more affordable options of classic Apple products, though they don't always compare. There are cheaper alternatives to Apple Watches, and some companies have begun manufacturing cheaper alternatives to AirPods. Some of these alternatives aren't always of the highest quality, but sometimes some of them stick out for the right reasons. Such is the case for one perfect dupe for Apple's $40 leather iPhone case.
No one will know this case isn't from Apple
Buying iPhone cases from Apple may seem like the smartest move because they're the same makers of the phone and can be potentially purchased in one fell swoop; however, that's how they get you. Cases of similar protection and design quality can be found for a considerably smaller price tag. One such dupe for Apple's $40 leather iPhone case comes from the brand Smartish.
Smartish's Gripmunk [Lightweight + Protective] Thin Cover iPhone case retails for just $11.99 on Amazon, and it comes in several style options, including solid black, a floral design, and a customizable option where purchasers can add their own text to be printed on the case. This Amazon page only offers cases for iPhone 7 and 8 models, but Smartish's website carries this case for newer iPhones as well.
Amazon's page for this case describes it as being incredibly lightweight yet protective due to its innovative technology. Moreover, it apparently has excellent gripping, meaning you'll drop it less. This automatically protects it even when not considering the case's other protective technology. The portions of the case that cover the iPhone's buttons also click more easily and smoother than other cases, and each case purchase comes with a free screen protector so your entire phone can be shielded from potential drops.
Ultimately, this phone case is too good of a deal to pass by if you're in the market for one similar to Apple's leather case.