Betty White's Thoughts On Turning 100 Are Now Bittersweet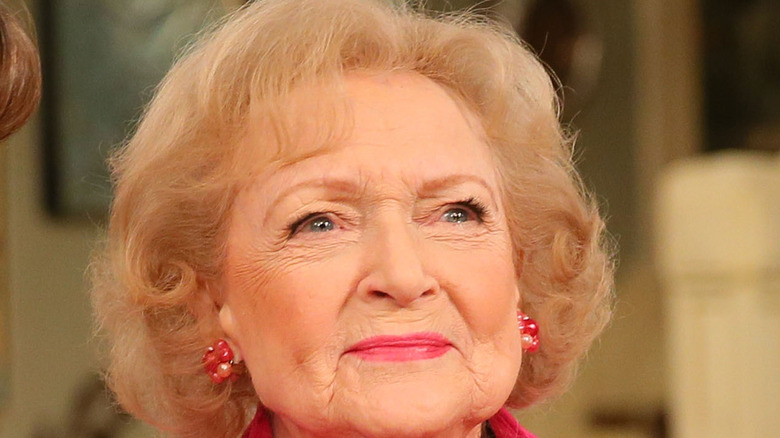 Mark Davis/Getty Images
Betty White would have turned 100 on January 17th, 2022. Instead this beloved cultural icon has died at 99, just weeks shy of this milestone and with hours left in an already emotion-filled 2021 (via TMZ). Days prior to this event, White was looking forward to her milestone birthday and feeling wonderful as she described in interviews, "I'm so lucky to be in such good health and feel so good at this age," said White, "It's amazing" (via People).
Fans can be comforted to know that this Golden Girl was in high spirits, and a source from TMZ reports that she was not suffering from any sudden illness nor specific ailment. Instead, White's outlook on her long life and imminent birthday can be taken as the bittersweet wit and wisdom that it is. Joking to People about her diet, the icon quipped that, "I try to avoid anything green. I think it's working." 
Continuing on with her eternal optimism, White made headlines just this week with a jab at fellow actor and comedian Ryan Reynolds sharing, "I've heard Ryan can't get over his thing for me, but Robert Redford is The One" (via People). Reynolds quickly snapped back with humor on December 29th sharing, "I'm absolutely sick of the media exploiting past relationships just to drive clicks" (via Twitter). 
Today, that last memory takes on new meaning.
We just can't get over Betty White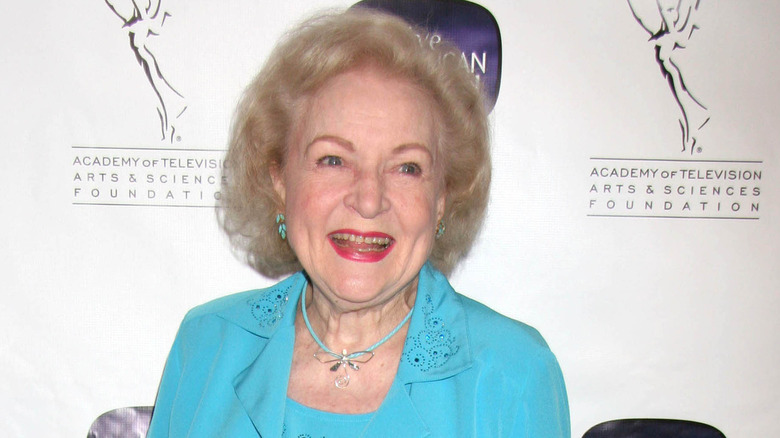 s_bukley/Shutterstock
Shares Reynolds with the perspective of such recent interaction, "The world looks different now. She was great at defying expectation. She managed to grow very old and somehow, not old enough. We'll miss you, Betty. Now you know the secret" (via Twitter).
It might be White's humor and optimize that get us through, however. Discussing previous milestone birthdays, White told People in 2013, "Best thing about being in your 90s is you're spoiled rotten. Everybody spoils you like mad and they treat you with such respect because you're old. Little do they know, you haven't changed. You haven't changed in [the brain]. You're just 90 every place else" (via Newsweek).
According to White in her last pre-birthday interview, she was "born a cockeyed optimist," a trait she got from her mother to always find the positive (via People). As we mourn Betty White, we should also be sure to look on with optimism to the future. We are so happy she shared her joy with us yet she will be missed.