The Sad Reason Impractical Jokers' Joe Gatto Is Leaving The Group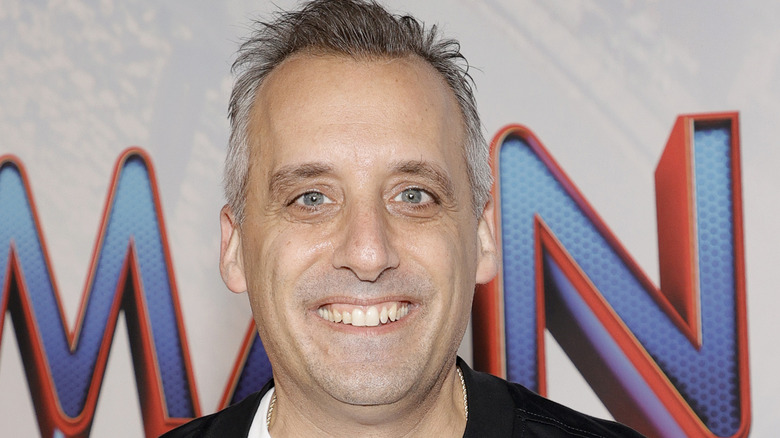 Amy Sussman/Getty Images
"Impractical Jokers" has been delighting TV viewers with its hilarious, outrageous antics for years. Airing on TruTV, the comedy show features four childhood friends who challenge one another to do embarrassing stunts. The "loser" in each episode is made to undergo a punishment, which can range from the terrifying — lying in a box with tarantulas — to the mortifying — being the billboard spokesperson for "My Shiny Hiney," per TruTV — to the just plain weird — wearing a wig made from another Joker's hair. 
Over the last 10 years, "Jokers" has gone from a low-budget cable show into a phenomenon that has spawned international tours, a movie, and even a comedy cruise (via Entertainment Weekly). The show was picked up for a 10th season in February, according to Deadline, and fans were eager to see what new and crazy pranks the four pals from Staten Island would create. Then, on New Year's Eve, Joe Gatto delivered shocking news on his Instagram account: "I just wanted to let you all know that I will no longer be involved with 'Impractical Jokers.'"
Gatto went on to explain that he and his wife, Bessy, are separating, "so now I need to focus on being the best father and co-parent to our two incredible kids." The couple married in 2013 and share daughter Milana, 6, and son Remington, 4, together (via The Sun). He offered heartfelt thanks to his costars and friends, the "Jokers" crew, along with the fans: "Seeing you laugh has been my own medicine, particularly in these weird and difficult times we find ourselves." 
He concluded, "As I work through the challenges I am facing, I hope to and am excited to create new ways to entertain you. Much love, Joe."
Murr, Q, and Sal offered love and support to their fellow Joker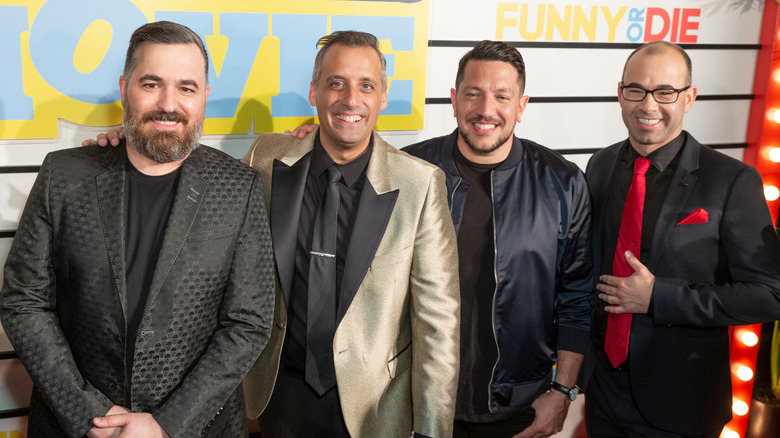 lev radin/Shutterstock
Of all the "Impractical Jokers," Joe Gatto is known as the most shameless. Over the years, he's dressed as a belly dancer, flung "scoopski potatoes!" on diners' plates, and imitated Johnny from Cobra Kai. Viewers thought at first that his announcement was just a goofy way to end 2021, but it became clear that there are some things even "Captain Fatbelly" won't joke about. Nearly half a million followers offered their likes and support on Instagram, including one special fan. Actress Danica McKellar, who guested on the show as part of an embarrassing punishment, according to Showbiz Cheat Sheet, wrote, "We are all with you," adding heart emojis.
The other Jokers — Sal Vulcano, Brian "Q" Quinn, and James "Murr" Murray — have been friends with Gatto for more than 30 years, and began their career as a stand-up troupe called The Tenderloins (via Entertainment Weekly).  They simultaneously posted a reaction to their Instagram feeds. "Hi everyone, so here we are ... After all these years, we never imagined making 'Impractical Jokers' without Joe," they wrote. "While we are saddened to see him go, we want to keep making people laugh, keep our relationship with the 'Impractical Jokers' fans going, and keep working with the members of our team that we consider family." 
"Jokers" will resume filming in January with Murr, Sal, and Q. There has been no word yet on the status of any future movies or projects; however, the group's upcoming "Scoopski Potatoes Tour" has been canceled.