Winter Concealer Mistakes You Need To Quit Making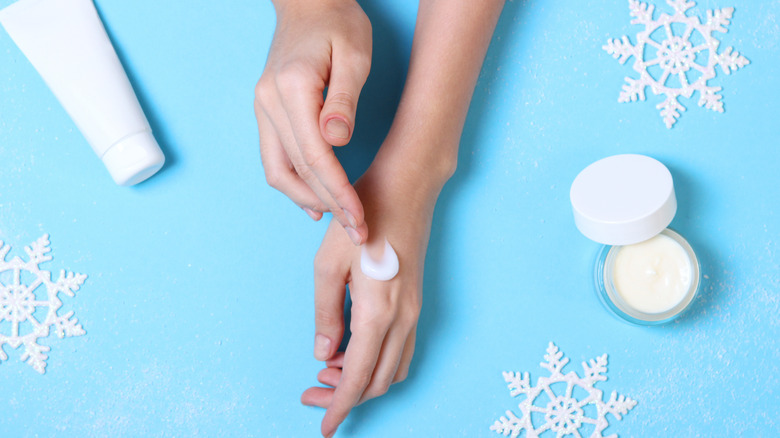 White bear studio/Shutterstock
When there is a chill in the air and we're craving hot cocoa instead of our usual iced brews, it can only mean one thing: Winter is in the air! Along with our beverage choices, there are a few other swaps we should be making in our daily routines ... with one of the most important changes taking place in our makeup bags. Specifically, we're talking about concealers.
As the seasons change, many people still continue to pick cover-up colors that match their sun-kissed summer tan, and not their natural, paler complexions. "The most common mistake most people make when choosing a foundation is finding the perfect color match for your skin," celebrity makeup artist Chauntal Lewis (of West Hollywood's Nine Zero One Salon) told Byrdie. "Some people think they want to look more bronzed and tan than their actual skin tone, so they'll choose a foundation that's way too warm or dark." If this is you, there's no need to raise a hand in admission. Many of us have tried to fake a tan during the winter season by applying a cover-up that's darker than our natural skin tones. And while this is one of the most common wintertime concealer mistakes, it's far from the only one.
Skin prep is key during the dry, cold winter months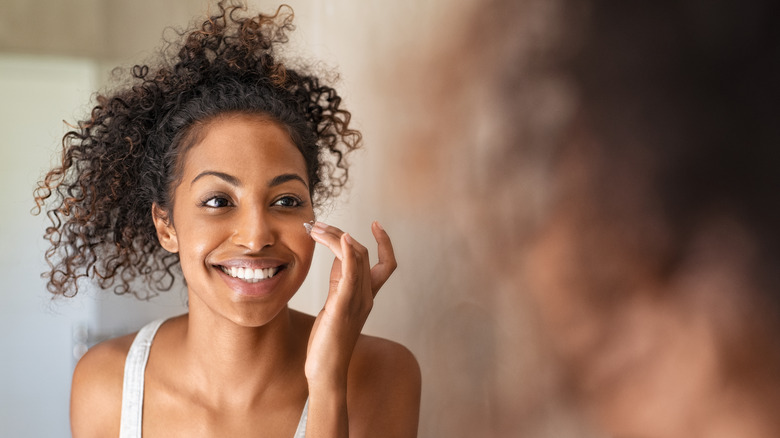 Rido/Shutterstock
Concealer and foundation are meant to cover blemishes, fine lines, and dark circles under our eyes. Depending on what type of climate you're living in, the harsh winter weather can make these imperfections stand out on our skin, leading us to overcompensate by caking on the concealer. Too much of anything is hardly ever a good thing, and this rule applies to our cover-up as well. For anyone who's noticed that their winter makeup is looking more like cake batter than a complexion booster, blogger Ivy Boyd suggests removing excess product by dabbing your face with a damp sponge, via Ivy Boyd Makeup.
However, even if you have picked the right shade, and used an appropriate amount of concealer, you still might be skipping a major must-do. We mentioned the drying effects that winter weather can wreak on your skin, so it's extra important to prep your skin before applying makeup. Whether your skin is tight, dry, or chapped, makeup experts suggest readying skin with moisturizer to avoid a flakey, cakey mess. For cosmetics pro Chauntal Lewis, this means "hydrating and priming with an elixir or oil which will allow the foundation to set like the natural texture of your skin," as she told Byrdie. Be sure to avoid these common concealer mistakes in order to keep your skin looking ever-so-fresh, so that you can fully enjoy the activities of a chillier season.