Meghan And Harry's Ratings Have Taken A Huge Turn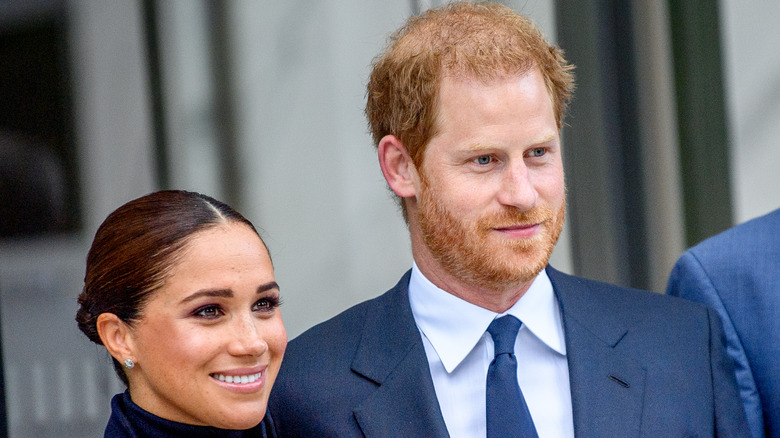 Roy Rochlin/Getty Images
It's no secret that Prince Harry and Meghan Markle have caused quite a stir within and outside of the royal family since leaving their royal duties behind and moving to Montecito, California. In their tell-all interview with Oprah Winfrey in March 2021, Prince Harry and his wife made several shocking claims about the royal family. Perhaps the most shocking of these claims was that the British monarchy was concerned about the color of their first child's skin prior to his birth, per the Daily Mail. When Prince Harry joined the interview, he spoke about the fractured relationship that he now shares with his father, Prince Charles, and brother, Prince William, according to CNN. This interview has sparked a debate about the ethics of the royal family and Prince Harry and Markle that still makes headlines months later. Subsequent news reports that alleged that this interview had caused major rifts in the royal family did not help the public view the couple favorably.
As BBC reported, a YouGov report shows that, while 40% of the people polled in the United Kingdom viewed Markle favorably in the autumn of 2020, this approval rating dropped to just 28% in autumn of 2021. The polls also revealed that Markle, who has been an outspoken advocate for many social justice causes, is viewed more favorably by younger people. Another poll conducted recently has further illustrated the plummeting of Prince Harry and Markle's approval ratings.
The royal couple's approval rating has taken a steep nosedive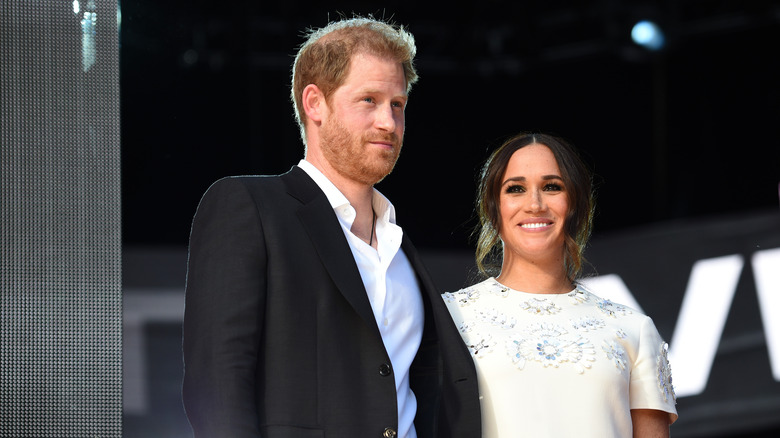 Kevin Mazur/Getty Images
In the most recent poll outlining the popularity of members of the royal family in the United Kingdom, the public opinion of Prince Harry and Meghan Markle took a steep nosedive to zero and -17 net approval, respectively. According to Express, the survey, conducted by Mail on Sunday and carried out by Deltapoll, consisted of 1,567 British adults. Unsurprisingly, other perhaps less controversial members of the royal family — like Prince William, Kate Middleton, and Queen Elizabeth — scored much higher in the popularity poll. Prince William scored a +55 rating, while his wife, Middleton, scored a +47 rating and his grandmother, reigning monarch Queen Elizabeth, earned an approval rating of +60.
Several members of the royal family seemed to score nearly as low (or lower) than Prince Harry and Markle, including Prince Charles, who earned an approval rating of +25, and his wife, Camilla Parker-Bowles, who earned an approval rating of +5. Prince Andrew scored an incredibly low approval rating of -50. This is likely due to the fact that, earlier this year, Virginia Roberts Giuffre launched legal action against the royal, whom she accused of sexually assaulting her when she was only 17 years old in 2001, per the Daily Mail.
"Interestingly, Harry and Meghan are on zero and -17 respectively," former royal editor of The Sun, Charlie Rae, told Express. "Not a surprise. But Charles is only on 25, and Camilla is only on 5. Charles is behind Anne, Kate, William and the Queen and yet he is the heir to the throne. Is that a cause for concern?"
American and British opinions were divided on the interview with Oprah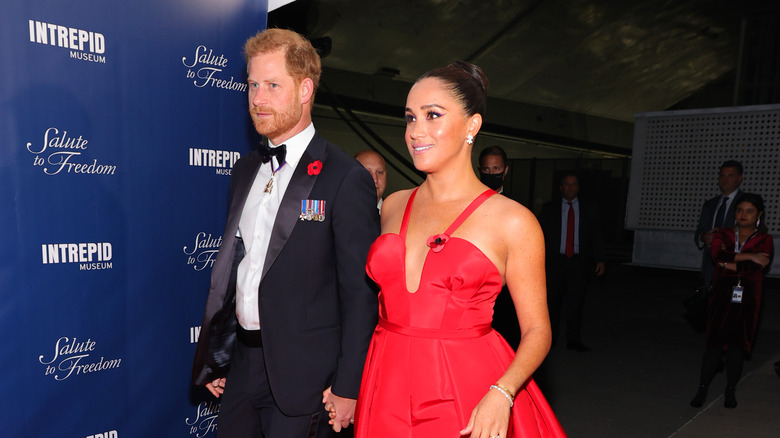 Theo Wargo/Getty Images
Prince Harry and Meghan Markle's interview with Oprah Winfrey in March 2021 showcased the steep divide between Great Britain and America in terms of the public opinion of the royal family. For example, after the interview aired, headlines about the interview in Great Britain were mostly negative, containing terms like "selfish" and "nauseating" to describe the royal couple, according to NBC News. Across the pond, though, the royal couple received a mostly favorable reception from the public, celebrities (former First Lady Michelle Obama and Beyoncé were just a few celebrities who had positive things to say about the couple post-Winfrey interview), and major mainstream publications. "It seems to me that the U.S. is far more open to discussing important issues relating to mental health and racism. Britain has a tendency to look the other way," British author and biographer Sean Smith told NBC News.
A YouGov poll published shortly after the interview found that 35% of its participants had "a lot" of sympathy for the royal couple after watching their interview with Winfrey, while only 12% of those in the United Kingdom had a lot of sympathy for them, according to a similar poll conducted in the country, per Page Six. As you might expect, the poll in the United Kingdom found that 33% of its participants had no sympathy at all for Markle and Prince Harry.