Donald Trump's Latest Political Endorsement Has Twitter In A Tizzy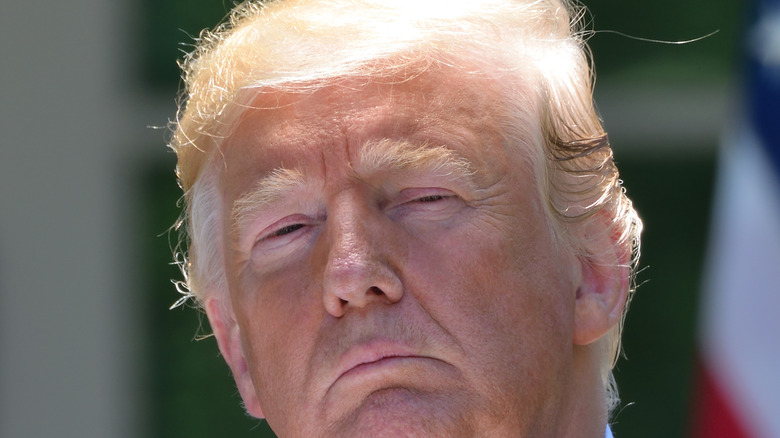 Evan El-Amin/Shutterstock
While Donald Trump was president, almost all of the candidates he endorsed won their primary elections in 2018 and 2020 (via FiveThirtyEight). Now, he's already endorsed a number of candidates across the country for the 2022 midterms: 8 governors, 14 Senate seats, and 17 for the House (per Time). He's even gone so far as to get involved in local races, like for state attorneys general, land commissioner in Texas, and mayor in a town in Florida (via Time). Trump's also given his endorsements with conditions to some, including Mike Dunleavy for Alaska governor, but only if Dunleavy doesn't endorse Senator Lisa Murkowski (from MSNBC).
However, Trump's latest endorsement goes beyond the U.S. In a now-deleted statement, he voiced an opinion on the next Prime Minister of Hungary: "Viktor Orbán of Hungary truly loves his Country and wants safety for his people. He has done a powerful and wonderful job in protecting Hungary, stopping illegal immigration, creating jobs, trade, and should be allowed to continue to do so in the upcoming Election. He is a strong leader and respected by all. He has my Complete support and Endorsement for reelection as Prime Minister!"
This is problematic for many; according to Politico, Orbán is a nationalist far-right leader who has worked to silence independent media and control the appointment and promotion of judges. Orbán also endorsed Trump for president back in 2016 (per The New York Times).
People aren't surprised that Trump would endorse Orbán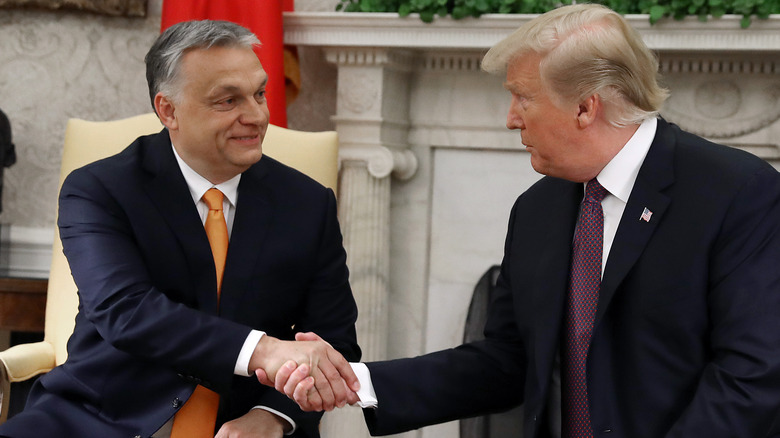 Mark Wilson/Getty Images
Twitter users are now voicing their displeasure for Trump's endorsement of Orbán. One user tweeted: "Is anyone surprised that a twice impeached former president who plotted a coup against the US government because he lost a fair and free election is supporting a dictatorial far-right leader?"
Senator Bernie Sanders chimed in with, "Trump wants to do here what Orban has done in Hungary: weaken democratic institutions, curb press freedom, and rewrite election laws to entrench his own party's power. The threat to our democracy could not be clearer, and we must act boldly to protect it."
Others saw it as not all that relevant. One person tweeted, "Is this an old post? Why would it matter if DT endorsed a Prime Rib. Much less a Prime Minister of a country?"
Yet another person seemed to highlight the somewhat inexplicable capitalization in Trump's announcement, tweeting, "He has the writing skills of your average 3rd or 4th grader."