What Does It Mean To Reverse Wash Your Hair?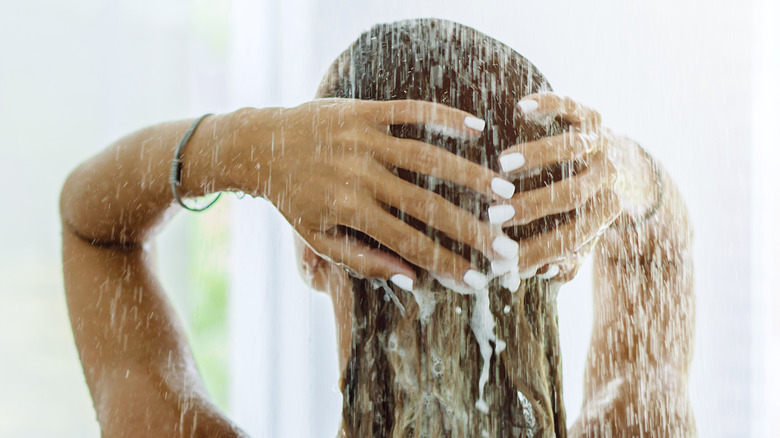 Alena Ozerova/Shutterstock
To keep your hair healthy and looking its best, washing is an essential task. According to Guy Parsons, a hairdresser and certified trichologist, your scalp and hair follicles need to be clean and clear of obstructions like sebum or dead skin for you to experience optimum hair growth (per Harper's Bazaar).
When it comes to how often you should wash your hair, it really depends on your hair type. All Things Hair suggests washing every other day as a general rule. Drier hair needs to be washed less often. Coarse curly hair is often drier than straight hair, and longer hair can be drier at the ends (per Cleveland Clinic).
No matter what time of day you jump in the shower, you may have a million different thoughts in your mind. While you breeze through your cleansing routine, it can feel like you're going through each step on autopilot. But what if you switched things up a bit with your hair?
Go backwards for moisture and volume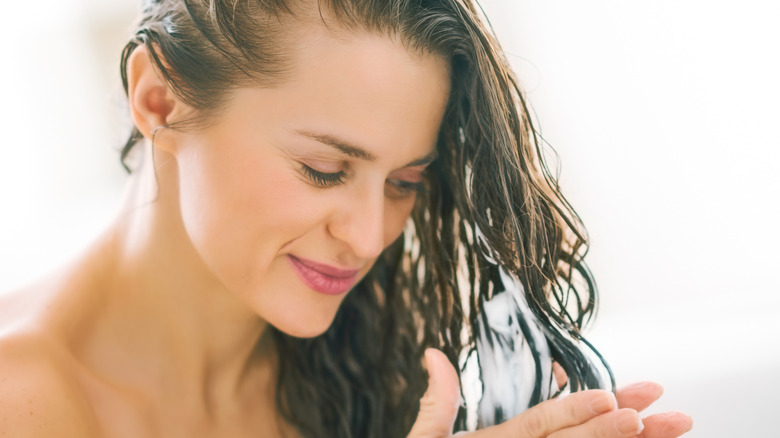 Alliance Images/Shutterstock
Reverse washing is what its name implies — conditioner first, shampoo second. According to Craig Ziering, DO, a board-certified dermatologist, using conditioner first makes it easier for hair cuticles to soak up moisture. The diameter of each hair will increase, making it "feel and appear larger" (per Byrdie).
Extra moisturizing from this conditioner-first approach is particularly helpful for hair that is dry or damaged, says Travis Valdez, a senior stylist at Salon Thalia and artistic team member with Shu Uemura. If you frequently heat style or have color-treated hair, this technique can be beneficial (per Self). Schwarzkopf also recommends reverse washing for people with fine hair for added volume and curly hair for added bounce.
Letting conditioner go first also benefits your scalp, board-certified dermatologist Purvisha Patel told Byrdie. Shampooing second cleans the scalp, leaving it residue free. Ziering also points out that hair may look cleaner and less greasy when conditioner is shampooed away, rather than rinsed with water.
Writer Emily Rekstis tried the technique for Self magazine and loved the results. Rekstits found reverse washing resulted in softer hair with increased volume at the roots. She continues to reverse wash about once a week. Emedihealth also suggests this once a week timetable, with a note of patience. If your hair cuticles are damaged, it may take time to experience the benefits of this hydrating hair technique.