How To Switch Up Your Makeup Routine For Veganuary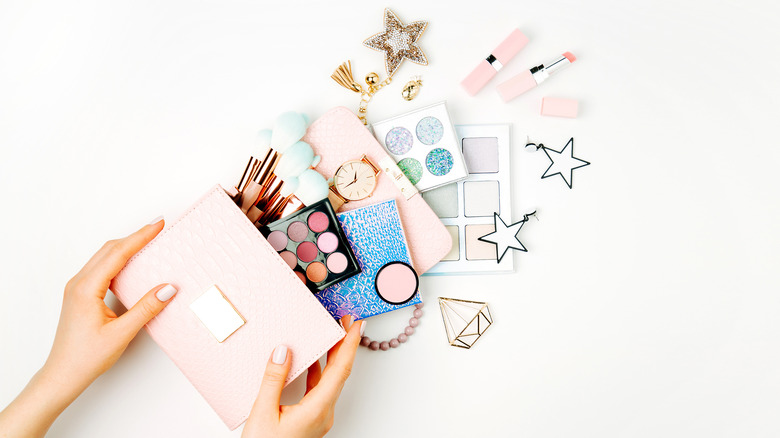 Igisheva Maria/Shutterstock
Once again, Veganuary is upon us, which means that if you're taking part in the month-long January vegan challenge, you've most likely already tried out lots of delicious vegan food. But going vegan is more than just what you put into your body. In addition to simply being a diet-based concept, veganism is also about the clothes you wear, the items you buy, and even the makeup you use.
Whether you're going vegan purely for Veganuary or you would like to make a permanent change, you might want to consider swapping out the contents of your makeup bag for some more vegan-friendly products. It's hard to imagine that there would be many animal-derived ingredients in makeup nowadays, but according to Dazed, there are actually plenty of nonvegan ingredients used in cosmetics.
Honey and beeswax are common ingredients, as are carmine, squalene, and lecithin (often found in lipsticks and balms, for instance), which are usually derived from insects, eggs, and even sharks. And if you're a fan of wearing fake eyelashes, you might be shocked to hear that many brands use mink and fox fur in their falsies (via Dazed).
Overhauling your makeup routine isn't as difficult or expensive as you might imagine, given that there are plenty of tips and tricks to make the process a little easier. Here's how you can switch up your makeup routine for Veganuary (and beyond)!
How to turn your makeup bag vegan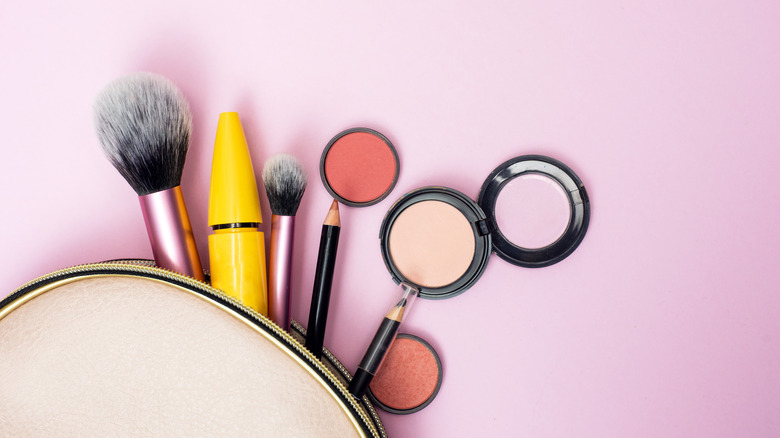 etonastenka/Shutterstock
Cosmopolitan recommends that you start by getting comfortable with ingredient checking. If you're going to fill your makeup bag with vegan products, you need to learn how to spot non-vegan ingredients. Once you know what ingredients you're looking for, this process becomes far easier. It's also worth taking the time to do some research and visit useful resources like The Vegan Society website to learn as much as you can about veganism and living a vegan lifestyle.
According to Dazed, it's not just about making sure the ingredients are vegan, it's also about making sure that the products aren't tested on animals. This is a common issue, as some vegan-formulated products are still tested on animals. When picking a new product, keep an eye out for the vegan stamp and the cruelty-free stamp.
Per Cosmopolitan, makeup artist Alison Ward from Bombshell Makeup UK recommends taking things slowly and not rushing the process. "You can't expect to change all your habits and products overnight," she says, "so there's no need to bin all your favorite products and waste good makeup. Even if initially you only swap one to two steps in your routine for vegan alternatives, you're still making an impact." Begin by replacing your makeup bag staples like foundation, mascara, and your go-to lipstick. Then, over time, replace some more items out of your makeup bag until you have a fully vegan makeup routine (via Cosmopolitan).
What are some of the best vegan makeup buys?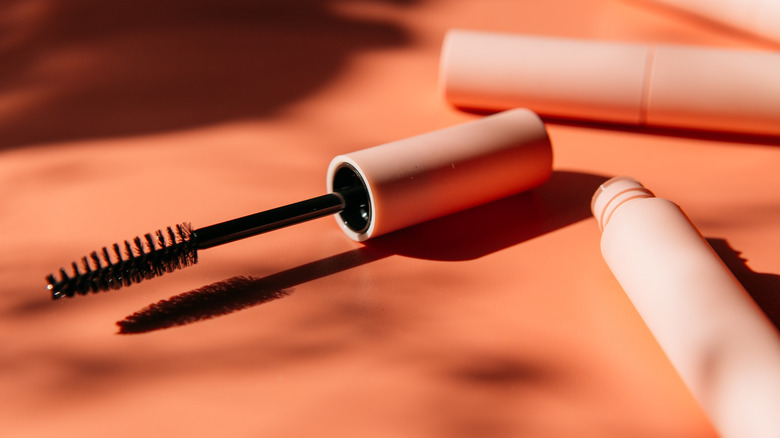 Alena Sadreeva/Shutterstock
According to Glamour, there are some incredible vegan makeup products to choose from, from high-end brands like KVD to drugstore products like e.l.f. If you're looking to create a more budget-friendly makeup routine, e.l.f. is an entirely vegan makeup brand with popular products such as their Jelly Pop Juicy Gloss to their BB Cream SPF 20 face base.
Glamour also recommends Pacifica, another vegan (and budget-friendly) makeup and beauty brand. The company is also eco-friendly and runs their own recycling program, making their products a great option if you're also keen to do your bit for the environment. The Pacifica Stellar Gaze Eyeshadow Palette is absolutely gorgeous (it features so many bright, bold hues), as is the Vegan Long Lasting Eyeliner Pencil.
Glamour also recommends products from Hourglass Cosmetics. While the brand isn't completely vegan, a number of its products are vegan-friendly. The Hourglass Cosmetics Ambient Lighting Palette is a great choice for a vegan highlighting palette, while the Confession Ultra Slim High Intensity Refillable Lipstick is a great choice for a vegan lip color.