The Real Reason Andy Cohen Would Never Date Anderson Cooper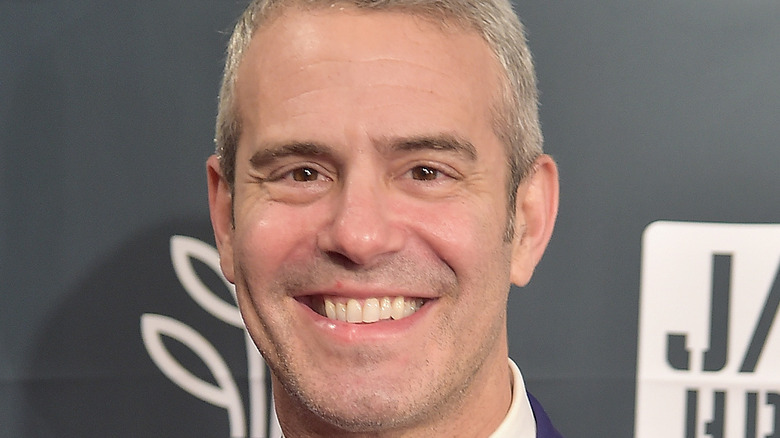 Theo Wargo/Getty Images
Andy Cohen and Anderson Cooper made New Year's Eve a night to remember once again with their hilariously unhinged 2021 live hosting gig. But the Bravo stalwart also drew widespread criticism for a tirade targeting former New York Mayor Bill DeBlasio, as reported by the New York Post. Although he initially downplayed the incident on Twitter, Cohen eventually acknowledged he went too far, having also targeted rival Ryan Seacrest. During a recent episode of "Andy Cohen Live," the TV personality shared, "The only thing that I regret ... is that I slammed the ABC broadcast, and I really like Ryan Seacrest, and he's a great guy," (via Radio Andy). 
"The "Real Housewives" reunion steward went on to admit that he just kept blabbing on and on without ever realizing he should probably shut up. Later, in reference to his DeBlasio comments, Cohen quipped, "What's done is done. I liked 'Sayonara sucker,' " (via Radio Andy). Even for those who took issue with Cohen's New Year's Eve performance, there was no denying his indelible chemistry with Cooper. Unfortunately, for those harboring hopes the two beloved TV stars might become a couple someday, Cohen made it clear that's never going to happen. 
Andy Cohen and Anderson Cooper are just friends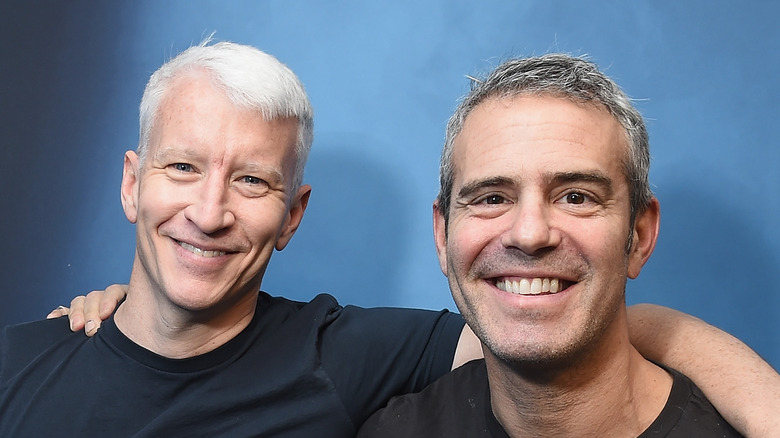 Michael Loccisano/Getty Images
They're two of the most famous and successful openly gay men on television, but Andy Cohen and Anderson Cooper are keeping things strictly platonic. As Entertainment Tonight notes, the "New Year's Eve Live" co-hosts have been best buddies forever, and although their irresistible rapport is what continues getting them booked to work together, there's nothing romantic between them — nor will there ever be. During a recent interview on "The Howard Stern Show," the conversation turned to Cohen's close relationship with the CNN legend. Shock jock Stern, who's known for his no-nonsense interview style, posed the question, "What is it about Anderson Cooper that keeps you from falling in love with him?"
A totally nonplussed Cohen responded, "Listen, that's just not what our relationship is based on. We're just friends. That's not a part of it." In fact, as far as the "Watch What Happens Live" host is concerned, even if there was potential for a romantic relationship there, it's long been squandered. "At this point, we know each other too well. We're not attracted to each other in that way," Cohen reasoned. He did acknowledge, however, that Cooper is a good-looking guy but, sadly, neither of them "are in that place." As for critics who believe he went too far on NYE, the Bravo executive and star has one final, definitive response: "I will not be shamed for having fun on New Year's Eve. That's why I'm there. That's why they bring me there," (via Entertainment Tonight).