Jon Stewart Calls Out Newsweek For Misquoting Him About JK Rowling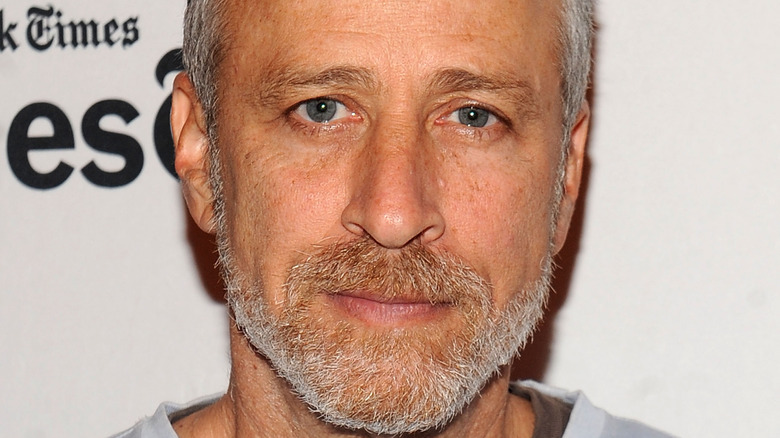 Brad Barket/Getty Images
Jon Stewart was widely praised online for taking a stand against J.K. Rowling's perceived anti-Semitism in the "Harry Potter" books. The only problem is that the beloved comedian claims he never said what's being attributed to him. 
Newsweek, alongside several other media outlets, reported that, during a recent episode of his hit podcast, "The Problem with Jon Stewart," the titular host, who is Jewish, railed against the Gringotts goblins who guard wizards' fortunes and arguably bear more than a passing resemblance to damaging caricatures of Jewish people. 
In particular, the infamous anti-Semitic text "Protocols of the Elders of Zion" was presented as a comparison.
Stewart posited that the goblins' likeness to anti-Semitic caricatures is obvious, but most people either don't notice it or don't care. He prefaced the conversation by stating it's an example of "how you know Jews are still where they are."  
"I just want to show you a caricature. And they're like, 'Oh, look at that, that's from 'Harry Potter'! And you're like, 'No, that's a caricature of a Jew from an anti-Semitic piece of literature,'" he said. "J.K. Rowling was like, 'Can we get these guys to run our bank?' And everybody was just like, 'Wizards.' It was so weird." 
Stewart wondered why, in a world where magic is possible, Jews still run the bank.
However, the comedian is fighting back against allegations that he branded Harry Potter author Rowling anti-Semitic, claiming that was never his intention.
Jon Stewart clarified his position on J.K. Rowling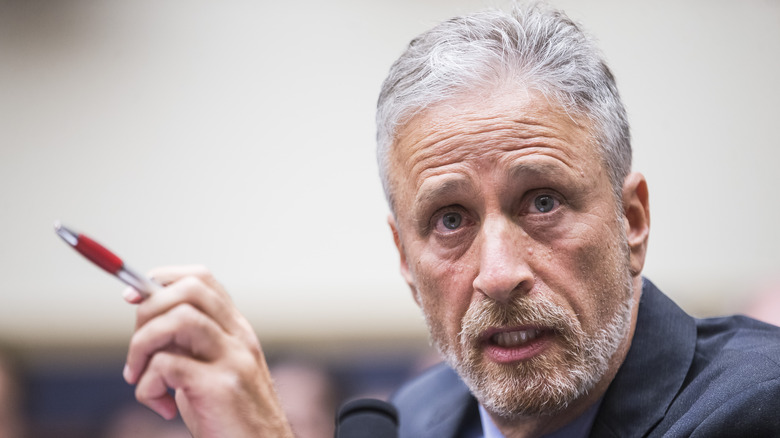 Zach Gibson/Getty Images
Jon Stewart took to Twitter to share a news report about how he, allegedly, called Harry Potter author J.K. Rowling anti-Semitic, writing simply, "No I didn't." 
The comedian followed up with a video, in which Stewart expressed shock over the coverage of his "light-hearted conversation" and stated firmly that he does not believe Rowling is anti-Semitic. 
"I cannot stress this enough: I am not accusing JK Rowling of being anti-Semitic," he said. "She need not answer to any of it. I don't want the 'Harry Potter' movies censored in any way." In fact, the former "Daily Show" stalwart professed to be a massive Potter fan.
As the Independent notes, the Campaign Against Antisemitism defended Rowling prior to Stewart's clarification. "The portrayal of the goblins in the 'Harry Potter' series is of a piece with their portrayal in Western literature as a whole," the organization stated. 
Regardless of its stance or Stewart's, this isn't the first time the Gringotts goblins have been criticized. In 2020, comedian Pete Davidson railed against the "little giant-nosed Jew goblins" who run the bank, quipping, "And I can say that because, as you can see, I'm half-goblin." 
However, just a couple years prior, Jewish publication "Hey Alma" credited Rowling for her staunch work fighting anti-Semitism online.
The author has fallen out of favor in recent years due to her transphobic views to the extent that she was almost completely missing from HBO's recent 20th-anniversary reunion show celebrating the Harry Potter film franchise, per the Los Angeles Times.