The Best Eyebrow Gels For An At-Home Lamination Look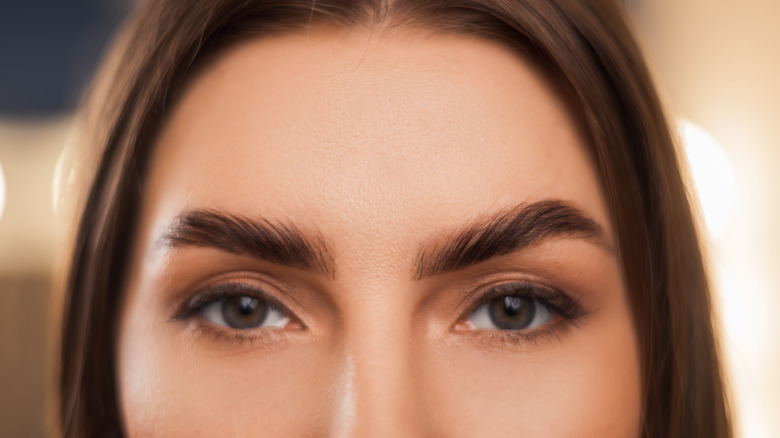 Pazyuk/Shutterstock
Eyebrows have grown from skinny to full over the past two decades. And although the sizes have ranged, well-groomed brows have always stayed in style. Traditionally, the eye pencil has been the brow tool of choice, but for most, it's super intimidating to use. Is it just us, or why does our faces never look symmetrical after using one? That's why brow gels are the better choice to groom and fill your eyebrows. Similar to mascara, they are incredibly easy to use, just swipe and voila, you have a full face-framing set that looks completely natural. Another bonus is that fortifying ingredients are infused into the formulas to both condition hair and encourage new growth.
For full-on drama, brow lamination has been the look of choice. Similar to a lash lift, lamination creates the feathery, lifted look you've likely seen on beauty influencers. Cosmetic chemist Ginger King explained to Allure how this salon treatment works. "It is like a perm process to straighten the brow and groom it, as it has three parts: Break the hair keratin bond, neutralize to prevent further breakage, then moisturize," King said. With the popularity of this beauty trend taking off, it's no surprise there are now products to help you replicate the look at home.
Read on to discover the best eyebrow gels for fuller brows and the $8 drugstore find that will give you an at-home lamination look.
Opt for these tried and true eyebrow gels for an at-home look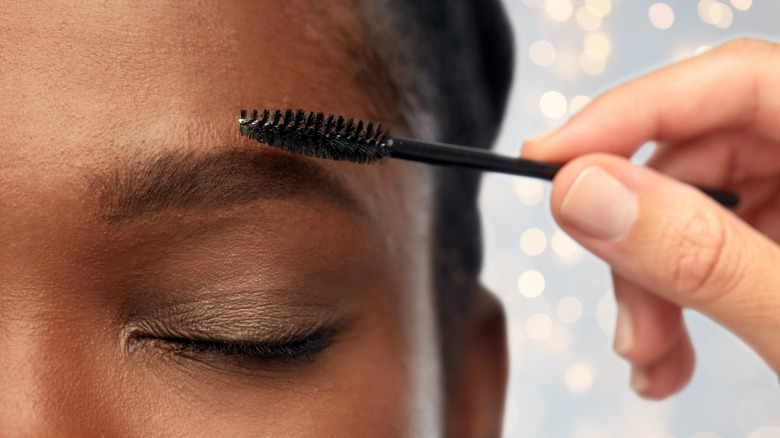 Syda Productions/Shutterstock
Brow lamination straightens your brows until they stay lifted, feathery, and fluffy. This semi-permanent salon treatment looks stunning, but at around $50 to $100 for a look that only lasts six to eight weeks, it's a bit of a luxury. In comes NYX's $8 wonder, The Brow Glue, which has quickly become a favorite on TikTok and of beauty connoisseurs. The Zoe Report says this clear brow gel has an extreme hold that instantly gives your brows and whole face an instant lift that is now coined the "clean girl" look.
If you're looking for shaping and a tint, we'd be remiss if we didn't mention Glossier's cult-favorite Boy Brow. The creamy wax formula is inspired by traditional hair pomade, giving brows a light hold and effortless look in one easy swipe.
For those who want to nourish and thicken their brows over time, Rose Inc's Brow Renew Enriched Clear Shaping Gel is a great option for you. Founder Rosie Huntington-Whiteley said, "It lifts the brow hairs and gives yourself that laminated brow effect." Even sparse eyebrows will become fuller with this buildable pomade-serum that contains squalene, pea sprout, and vitamins E and B5. After all, you can't have fluffy brows without having healthy brows.