Jen Psaki's Movie Endorsement Got Some Negative Responses, But Not For The Reason You Think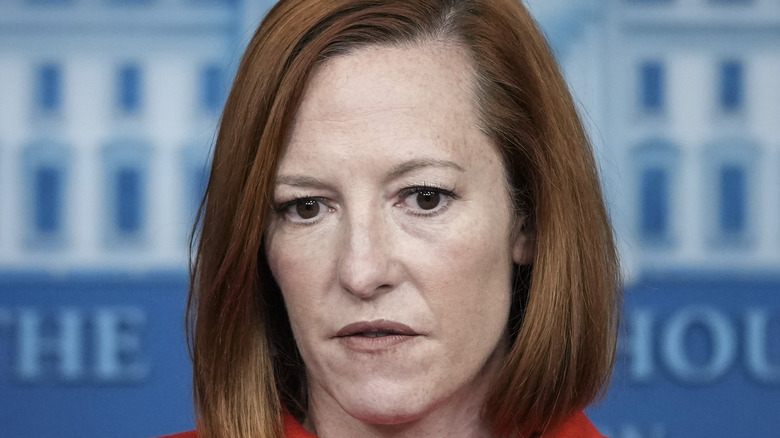 Drew Angerer/Getty Images
Some Americans wanted former president Donald Trump to handle the COVID-19 pandemic in a better manner, and now that responsibility has fallen into sitting President Joe Biden's lap, who even used the pandemic as part of his campaign platform in the 2020 election cycle (via NPR). However, as the pandemic worsens once more, now thanks to the omicron variant of the novel coronavirus, many are turning to the nation's leaders wondering why more isn't being done to combat it or help everyday Americans make it through. It's hard to get a COVID-19 test right now, for example, which means the nation is living in incredibly uncertain times.
A lot of this pressure falls on Jen Psaki, the Biden administration's press secretary. According to Vogue, Psaki was a breath of fresh air for many as she succeeded Kayleigh McEnany from the Trump administration. In fact, it's Psaki's to-the-point manner of delivering her briefings that people often appreciate. She brings forth the facts without being combative, but right now, as the pandemic worsens, that's not enough for some. Psaki's latest movie endorsement on Twitter has her followers divided because of this.
Some Twitter users want the U.S. government to do more than recommend children's films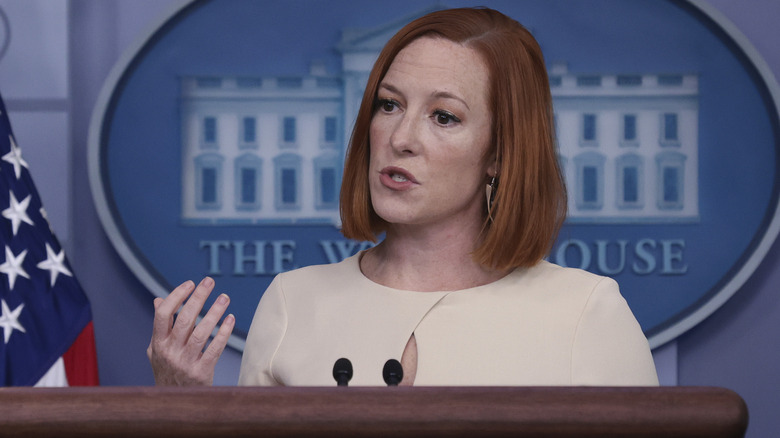 Win Mcnamee/Getty Images
We live in a time where the divide between socioeconomic classes is growing wider, and many don't feel represented in Washington. These notions especially arise in times of crisis, such as the COVID-19 pandemic, when everyday people are struggling and those in Washington don't appear to the nation to be handling matters as well as they could. Such is the case for Jen Psaki's ringing endorsement of "Sing 2" — the animated film released in December 2021 that features animals competing in a singing competition (via IMDb) — on Twitter.
The truth about Psaki's tweet is that she likely didn't mean it in a harmful way, but for those who are suffering, it looks like she's not doing her job. "Ok fellow parents of little kids who are inside and cold. 'Sing 2' is everything you hope it is including Bono as a recluse rock legend lion," the White House press secretary wrote (via Twitter).
Some immediately showed support. One user replied, "​​I have no idea how you do it. You have one of the most stressful jobs out there plus littles at home? I'd be a wreck! Great job!!" Meanwhile, others weren't so happy. Another user wrote, "Cool. Hey, how come we are being told to go to work with COVID if we have a record number of COVID hospitalizations today and 2,100 Americans died from it yesterday? Is this y'alls version of 'mild'?" Another critical user replied, "How about a vaccine for the littles, Jen? Or tests? Or competent pandemic management?"
How do you feel about Psaki's "Sing 2" endorsement among the worsening pandemic?