What Does Dwayne 'The Rock' Johnson Eat In A Day?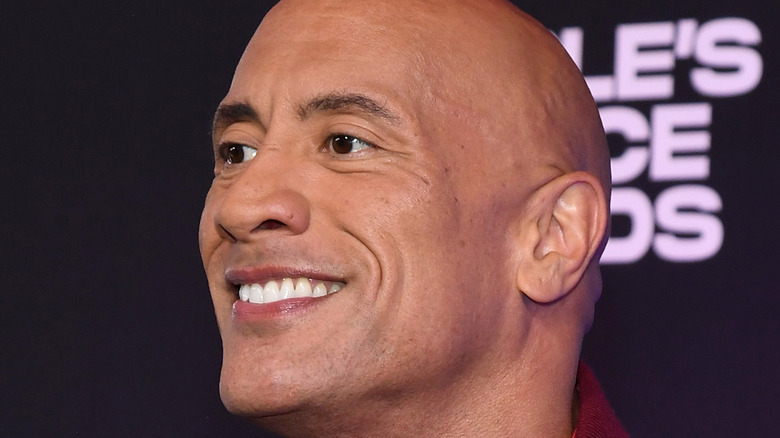 Kevin Mazur/Getty Images
Dwayne Douglas Johnson, better known by fans as "The Rock," claimed his place as a household name when his wrestling career began to take off in the late '90s and early 2000s. By 2001, Johnson had made the pivot toward acting and eventually went on to star in major motion pictures such as "The Other Guys," "Gridiron Gang," and "Race To Witch Mountain," (via Empire). He's known as a fitness icon with a heart of gold, and his commitment to both fitness and family often bewilders those who work with him.
Johnson's "Rampage" co-star, Jeffrey Dean Morgan, said of the actor's lifestyle, "He's a freak of nature. It seems like every month he's in a movie and making a killing. In the middle of shooting Rampage, he's off hosting SNL and doing ads for Apple and running for president and whatever else. He works out at 3:30 in the morning so he can get to set on time. I don't know how he does it. And the other thing is, he's a family dude, so not only is he juggling the 9 million things he's got on his plate for work, he's also raising kids and got a happy marriage" (via Rolling Stone). Johnson rarely misses a workout (unless his family needs him), and his extremely fit physique has fans wondering what, exactly, he eats in a day to maintain his massive muscles.
The Rock's food intake is pretty fishy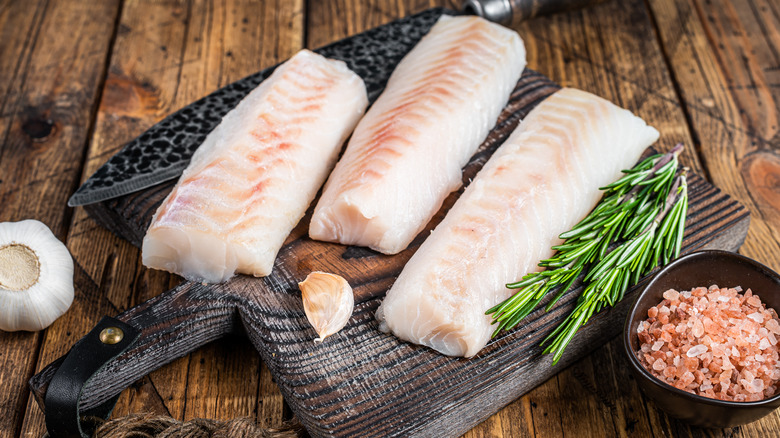 Mironov Vladimir/Shutterstock
Keeping fit like Dwayne "The Rock" Johnson's takes some major dedication. It should come as no surprise that Johnson sticks to a strict diet, and that diet includes large amounts of super healthy food. A staple of his diet is cod. Johnson begins each day with a meal consisting of 10 ounces of cod, two eggs, and two cups of oatmeal for a protein rich start to the day. When lunch time rolls around, Johnson consumes another 10 ounces of cod alongside sweet potatoes and veggies. Maintaining such a strong physique requires more than just your typical breakfast, lunch, and dinner, though. Johnson consumes seven full meals per day (via The Food Network).
For his 3rd daily meal, Johnson prepares 8 ounces of chicken alongside rice and veggies, holding off on cod until his 4th meal. When it's time for his 3rd serving of cod for the day, Johnson pairs the fish with rice, veggies, and a tablespoon of fish oil. For his 5th meal, Johnson indulges in 8 ounces of steak paired nicely with a spinach salad and a baked potato. He then enjoys a 6th meal consisting of more cod, rice, and veggies, then completes his day with a 7th meal — a 10 egg white omelet paired with a serving of protein, more veggies and another tablespoon of fish oil. Maintaining this diet takes tons of dedication, and, if you think it sounds like a lot, it is.
The Rock loves to indulge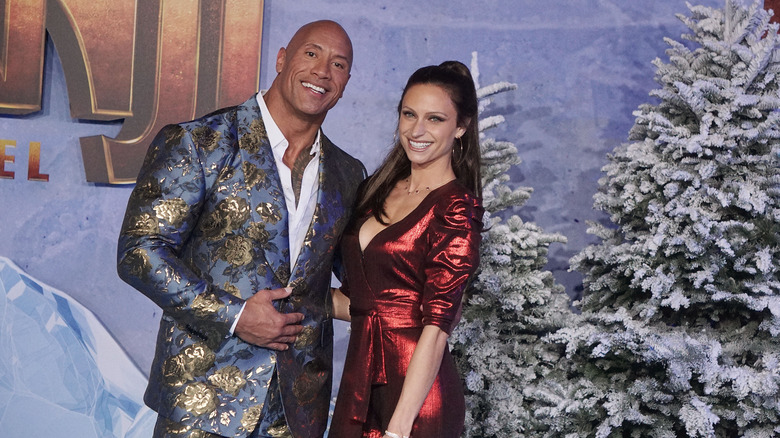 Tsuni-USA/Shutterstock
According to The Food Network, Dwayne "The Rock" Johnson takes in over 5,000 calories a day. With a caloric intake like that, it's safe to say that he's doing some pretty intense workouts. It's a rigorous routine, but the actor does claim to indulge in a cheat day once per week to maintain balance (via People). When he does indulge in a cheat day, Johnson enjoys the same massive quantities of food that he eats on a normal day. "It can't just can't be a normal, like, 'Hey, let's go have some burgers and fries, it's a nice cheat meal,' he says. His favorite indulgences include things like pancakes, homemade oatmeal chocolate chip cookies, and burgers and fries.
Johnson proves his normalcy by claiming that he loves to enjoy his large cheat meals while indulging in some true crime television shows, and often finds himself having overeaten the good stuff. Considering the shape he maintains, it's safe to say he's earned the right to pig out a little.