The Exact Lip Color Alicia Silverstone Wore As Cher In Clueless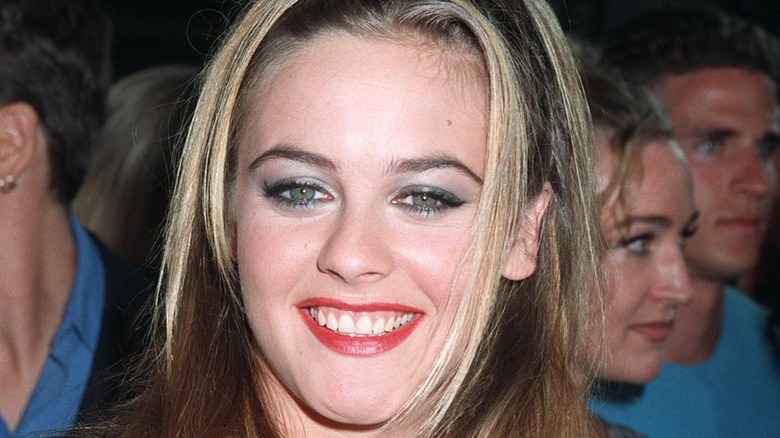 Featureflash Photo Agency/Shutterstock
"Clueless" fans unite! Close to three decades later, we're still obsessed with the classic '90s film — and we're in good company. As the New York Post reported on the movie's 20th anniversary, "Clueless" is a cult classic that gave the phrase "as if" a whole new meaning. Who could forget Cher Horowitz's (Alicia Silverstone's) signature white Jeep Wrangler, her yellow plaid skirt, Dionne's (Stacey Dash's) ah-mazing hats, or Tai's (Brittany Murphy's) ice-cold comebacks? After it played in the background of the film, the song "Rollin' With My Homies" by Coolio was on everyone's lips, via E! Online, much in the same way that fans couldn't stop talking about Tai's makeover, or Cher's slightly strange romance with her stepbrother Josh (Paul Rudd). 
Overall, this film is off-kilter, quirky, and hilarious — while somehow still managing to feature arguably one of the best on-screen dresses of all time: Cher's white Calvin Klein slip mini. While that dress and the matching see-through white button-down will live on in fashion history, the movie's makeup choices were just as good as the clothes. The makeup of the '90s is perhaps best exemplified by icy eyeshadow colors, sparkly pink blush, a good dose of black eyeliner, and lots and lots of nude lipstick and shiny bubblegum gloss. We might be "totally bugging" about the iconic makeup looks of "Clueless," but Cher's lipstick always caught our eye. Luckily, TikToker @britneykale uncovered exactly how to recreate the classic lip look.
Here's how to recreate a 'Clueless' lip look
Sure, Alicia Silverstone's character Cher is known for wearing over-the-top outfits throughout the movie — aka her iconic yellow plaid skirt suit and that bright red mini dress and feather coat she gets stranded in after a party. That being said, Cher is also known for a certain kind of '90s simplicity. Take for example, the black cardigan paired with a white shirt that she wears to class, or her adorable black beret, or her slew of cute T-shirts. Similarly, Cher keeps her beauty game simple throughout the movie, opting for stick-straight hair and natural makeup. Her pared-down nude lipstick is gorgeous, and now, thanks to TikTok, we finally know how it came to life!
As explained by TikTok user and makeup expert @britneykale, Cher's look is a combination of MAC's lip pencil in the nude shade "Raisin," coupled with the brand's lipstick in the brown-caramel hue "Malt." Unfortunately, the video also tells us that both shades have since been discontinued, which makes sense as the film was made nearly 30 years ago. So, what to do? The TikToker recommends opting for MAC's Lip Pencil in Spice ($19), since it is another iconic '90s lip liner. Per TikTok's recommendation, try pairing the liner with a creamy nude shade like MAC's Satin Lipstick in Bad 'n' Bare ($19) to totally nail Cher's go-to look.