This TikTok Hack Has People Running To Clean Their Hair Brushes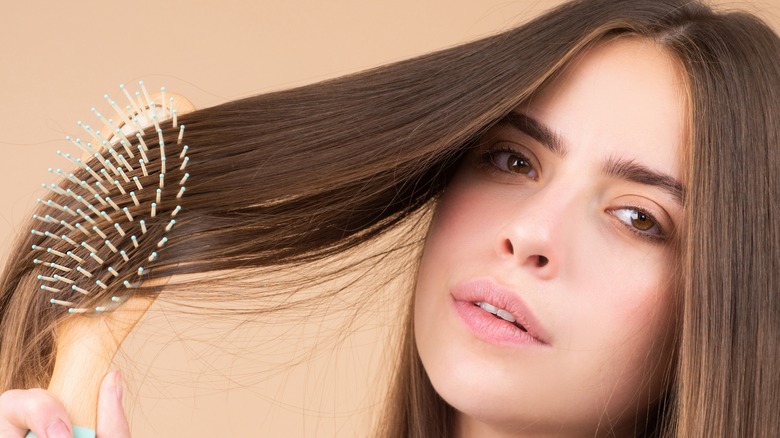 Volodymyr TVERDOKHLIB/Shutterstock
TikTok may be to blame for hours of the day lost to addictive scrolling. But what it takes, it makes up for in providing life-changing hacks and tricks that make day-to-day activities so much more efficient. It can teach you everything from how to make a delicious meal from simple leftovers to cleaning hacks (via Fox News). Users from all over the world offer up their own personal tips and tricks to make life a little easier, and every now and then one goes viral and suddenly we all know how to increase the volume of our iPhone (via Buzzfeed).
What TikTok also has a habit of doing is pointing out how you've actually been doing something the wrong way your entire life. The "I was today years old when I found out" trend exists for a reason after all (via Buzzfeed). Well, when it comes to cleaning your hairbrush, this TikTok user has a step-by-step technique that will leave your hairbrush looking brand new.
Why not use a brush to clean a brush?
Hairbrush TikTok is an entire corner of the app itself. Who could forget the viral TikTok shared by Jessica Haizman in early 2021 that was all about showing you what can happen when you don't wash your hairbrush (via TikTok). The gross-looking brown water her hairbrush left behind sent everyone into a panic and straight to their sinks to wash their own. Well, Jonathan Monroe has shared his own super helpful step-by-step technique on how to wash your hairbrush and give it a second life.
In the video, Monroe explains how he begins by using a rat-tail comb to weave through his hairbrush and remove all of the hair and product buildup (via TikTok). But that's not where you should leave things, he goes on to fill a bowl with warm water, apple cider vinegar, and baking soda to soak the hairbrush in before proceeding to use a toothbrush to really scrub deeply. Leave it to dry overnight and just like that you'll have a brand new hairbrush and avoid having your hair get greasier with every brush!