Gayle King Celebrates A Decade At CBS With This Meaningful Dress Choice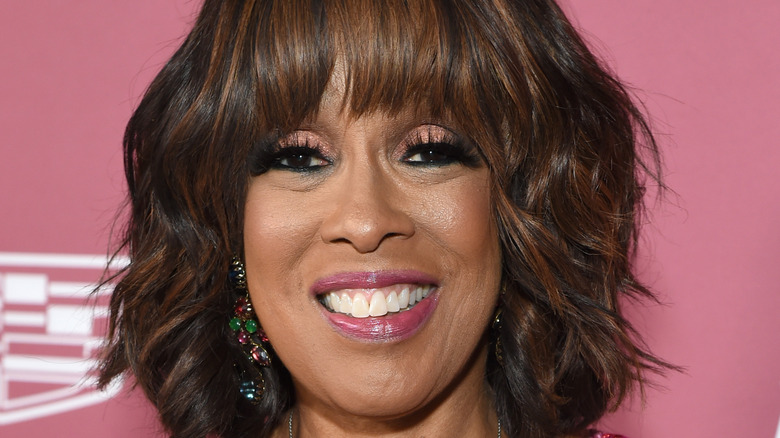 Michael Kovac/Getty Images
Gayle King has been with "CBS Mornings" for an entire decade, and she marked the occasion in a stunning yellow and white color block dress. If you're feeling a little déjà vu, it's no coincidence. In fact, the 67-year old journalist has worn the same anniversary dress each year for the past ten years.
During the January 10th show, King celebrated with co-hosts Tony Dokoupil and Nate Burleson (via YouTube). The iconic dress was, of course, a hot topic. When Dokoupil asks King why she selected yellow as her go-to color for her debut filming of the "CBS Mornings" show, she didn't skip a beat in saying, "Because yellow is my favorite color. Yellow is my happy place."
Looking back on her first day on set in 2012, she remarked that she was nervous — she wanted so badly to do a good job. In classic Gayle style, the yellow dress was a bold and decisive choice that helped her project confidence.
Gayle King celebrates her CBS Mornings anniversary with a bright yellow tradition
King spent time reminiscing with co-hosts Tony Dokoupil and Nate Burleson. The veteran television personality admitted that the debut show outfit was a big decision, and she put a lot of thought into it. She opted for a form-fitting Alex Kramer design that highlighted her favorite color. According to Haute Living, Kramer, who has roots in New York, has collaborated with designer Carlos Miele and has even styled Foxy Brown.
The sleeveless design is exceptionally flattering, especially with its curved off-white center column. King's choice of color is an excellent selection for on-camera personalities because it naturally commands attention, according to Color Matters. Echoing the energy of sunbeams aside, King joked with her colleagues during the anniversary episode. According to People, she took the time to give a wink and a chuckle to the fact that ten years is a long time. She joked that "I've aged a little bit, but I always wear this dress every anniversary." And the dress fits and looks fabulous!
Gayle's anniversary is definitely not the only time she rocks a yellow dress
A quick scroll through King's Instagram account is like a weekly forecast that features near-daily sunshine. The television host can be seen on and off camera in her favorite color. In fact, often in dresses specifically. King posted a series of celebratory photos of a gorgeous yellow tablescape and birthday cake, compliments of her bestie Oprah, friends, and family for her December birthday. In a fun video, she can be seen in a yellow and black striped dress as she celebrates.
King also wore a yellow dress for one of the most pivotal political days in recent history — the 2020 presidential elections. The veteran journalist was among many in the industry, covering the elections nearly round the clock. King was applauded for her dedication in an Inside Edition recap of the grueling schedules many journalists faced. There's even footage of her taking a 45-minute nap — in her bright yellow dress — in between broadcasts.
King has brightened viewers' screens with her signature color and commitment to excellence through the years. As she caps off a decade at "CBS Mornings," co-host Tony Dokoupil celebrates by telling her, "You are a trusted, authentic, hard-working journalist" (via YouTube).