The Best Moisturizer To Fix Dry Winter Skin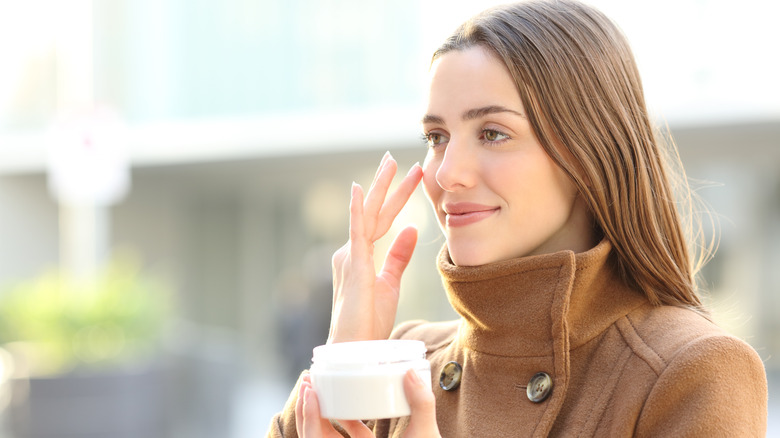 Antonio Guillem/Shutterstock
Sweater weather and sipping on warm lattes are the perks of winter, but what the weather can do to our skin can be brutal. Winter can be rough on your skin, especially if you have dry or sensitive skin. Whatever your skin type, it is crucial to keep your skin hydrated when the temperature drops. New York City-based medical esthetician Jordana Mattioli told Forbes, "Cold, dry air can actually make the outer-most skin cells shrink, which can lead to excessive dryness." Mattioli added that being inside with the heat and outside in the frigid cold can weaken your skin's lipid barrier that leads to moisture loss by creating cracks in your skin. The cold temperatures, blowing wind, and harsh sunrays are the most common causes of dry winter skin (via Style Craze).
Everyone needs an extra boost of hydration in the winter to keep their skin soft and supple. The best winter moisturizer hydrates your skin, but it is also infused with anti-aging and other protective ingredients to give you nourished and bright skin in the coldest winter months (via Byrdie). Dermatologist Kavita Mariwalla told Elle, "Products with a cream base tend to moisturize better in colder weather than lotions, and normal skin will be able to tolerate them without becoming oily." She added to not use gel-based moisturizers in winter as they may be more drying.
These moisturizers will save your dry and flaky skin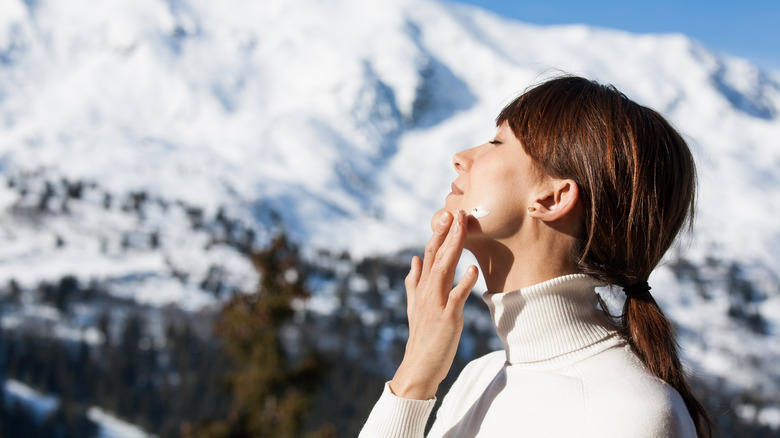 plprod/Shutterstock
The weather outside might be frightening, but that doesn't mean your skin has to show it. With these winter moisturizers, your skin can stay hydrated and healthy in the coldest months.
Byrdie is a fan of Augustinus Bader The Rich Cream because this formula is powered by their proprietary TFC8® that is used to heal burns. It revives and soothes dry skin by making it look visibly smoother, softer, and more supple so that you might not even need serums. Elle chooses L'Occitane en Provence Shea Light Comforting Face Cream for the winter because it has organic shea butter to nourish your skin and omega-3 fatty acids for the soothing effect. It also has glycerin to keep you moisturized.
If you have oily or acne-prone skin, you might be worried about using a heavy cream on your face in the winter. Forbes says CeraVe PM Facial Moisturizer is best because it is free of oils and has ceramides and hyaluronic acid to provide just the right amount of hydration without clogging your pores and causing breakouts. InStyle votes for Aveeno Ultra-Calming Moisturizer SPF 15 for sensitive skin because it is formulated with skin-calming botanicals and is free of parabens, formaldehyde, and fragrance — plus, sun protection. Allure recommends Olay Regenerist Retinol24 Max Night Hydrating Moisturizer because it has a powerful blend of peptides, retinol, and niacinamide to provide ultra-hydration while boosting collagen production and evening out your skin tone over time.