The Acting Head Of The FDA Just Made A Jaw-Dropping Claim About COVID-19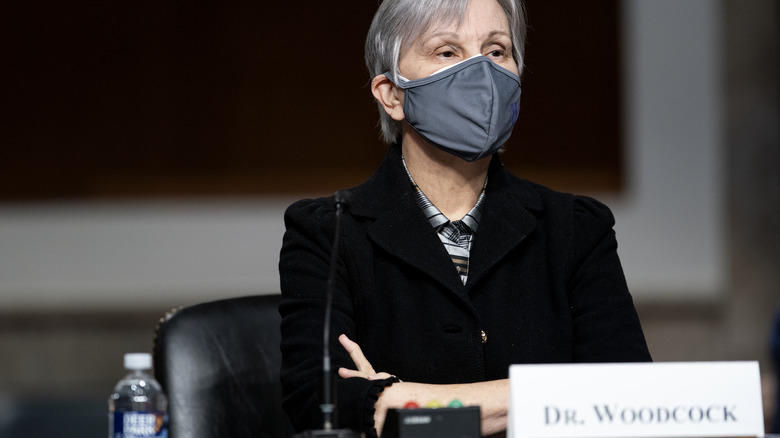 Pool/Getty Images
The Omicron variant of Covid-19 has been cutting a swath across the country, and the most current statistics from The New York Times show the U.S. is currently recording over 700,000 new cases every single day, more than at any other point during the pandemic. Even though this latest variant seems to be causing less severe illness overall than its predecessors, it is infecting so many people that it is still causing a huge jump in hospitalizations from the virus. In fact, hospitalizations of people with Covid have jumped 80 percent in just the last two weeks in the U.S.. 
 With these statistics in mind, businesses and individual cities and towns across the country have reinstated mask mandates and other precautions to try and slow the spread of the incredibly contagious Omicron. In the face of this, the current acting head of the FDA, Dr. Janet Woodcock, made a statement that is turning heads (via Business Insider).   
The head-turning prediction Dr. Woodcock gave to the committee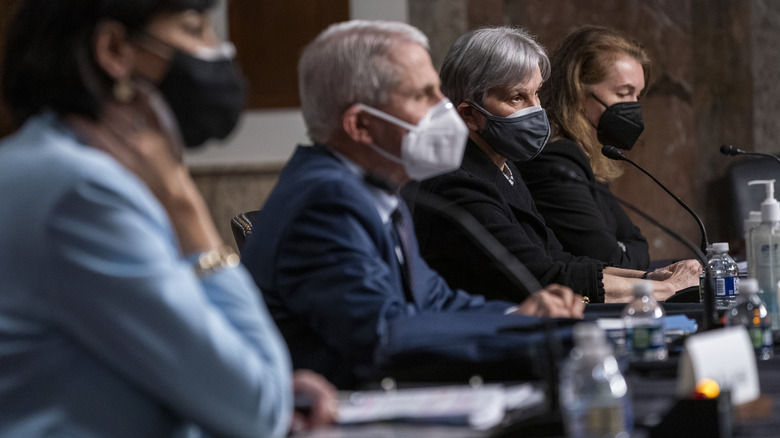 Pool/Getty Images
While the country may be hoping for a message of hope, Woodcock said to a Senate Health, Education, Labor, and Pensions Committee hearing: "It's hard to process what's actually happening with now, which is most people are going to get COVID" (via Business Insider). 
While such a statement may seem genuinely frightening, Woodcock seemed to feel that based on the current statistics, what she said simply reflects the difficult-to-swallow reality of the situation, which allows us as a nation to focus on what we can do to help keep our communities as safe as possible. Along those lines, she went on to say, "What we need to do is make sure that hospitals can still function, transportation, you know, other essential services are not disrupted while this happens." 
By taking measures to ensure that emergency services do not collapse under the increasing pressure, the hope is to provide uninterrupted help and services to those who need it most so that we, as a national community, can hope to come out the other side of this frightening period.