Cynthia Nixon Makes An Eyebrow-Raising Comparison Between COVID-19 And Squid Game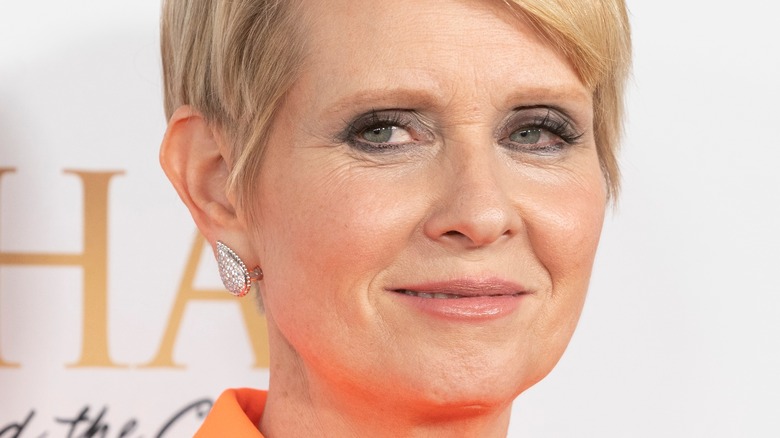 lev radin/Shutterstock
Fans of "And Just Like That..." actress Cynthia Nixon and New York residents will recall that the star ran for governor in 2018 (via Time). Although she didn't win, Nixon says she doesn't not regret trying, noting, "I ran to win. I hoped to win. I did everything I could to make that a possibility. But at the end of the day, I knew the most important thing about my running was to shed light on these issues."
Now, the "Sex and the City" alum is attempting to shed light on another issue, and making a very eyebrow-raising comparison in the process. Taking to Twitter, Nixon opined to her nearly 270,000 followers, "School drop-off every morning is like the Squid Game—every day fewer & fewer people & whoever is left gets herded into the cafeteria to play Russian roulette over lunch. The many quarantining students & teachers today were joined by our principal himself who tested +" (via Today).
The star has two grown children according to Hollywood Life, as well as an 11-year-old son named Max. Indeed, according to ABC 7, New York City's new mayor Eric Adams has insisted that schools stay open despite rising cases of COVID-19 in the state. Parents have had varying reactions to this decision, but the good news is that according to The New York Times, COVID-19 infections have finally leveled off in New York City, which is backed up by data on the New York City Health Department webpage.
Twitter weighs in on Cynthia Nixon's head-turning comparison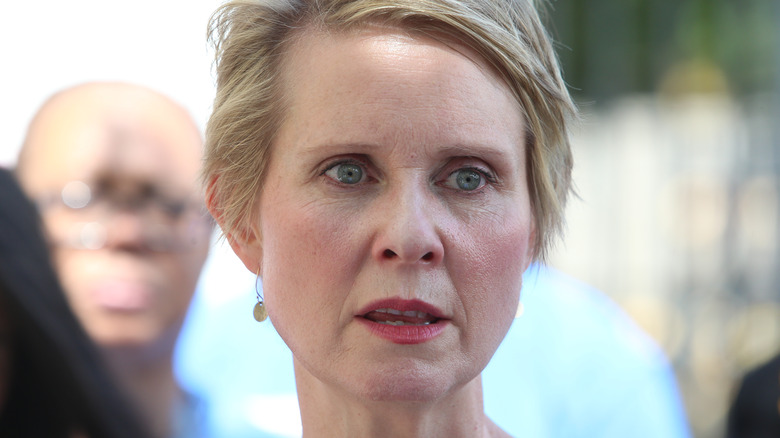 a katz/Shutterstock
In addition to the reversal of the trend of coronavirus cases increasing in NYC, it's also worth noting that the Mayo Clinic states that COVID-19 infections in kids are typically not as serious as in adults. Healthline adds that serious illness in kids who contract the Omicron strain happens infrequently.
As such, it won't be surprising that Nixon likening school drop-off to a game where people got shot in the head on the Netflix show "Squid Game" garnered mixed responses on Twitter. "Kids should be in school and want to be in school and are at very little risk from COVID. The mayor made the correct decision. Schools should be open if they are able to be," said one person. Another Twitter user who didn't agree with the star's point of view commented, "@CynthiaNixon needs to keep her mouth shut or we will all be living in a police state in nyc. Mandates will get tighter and more people will move out. The omicron is almost gone and kids are safely not getting too I'll. They're getting a damn cold."
Other folks agreed with Nixon, with one person declaring on Twitter, "Cynthia 4NYC Mayor!" More social media users weighed in, tweeting on both sides of the issue. While one person joked, "And just like that...her opinion just doesn't count with me," someone else said about her "Squid Game" comparison, "LOVE THIS!"