What Films Has Zahara Jolie-Pitt Appeared In?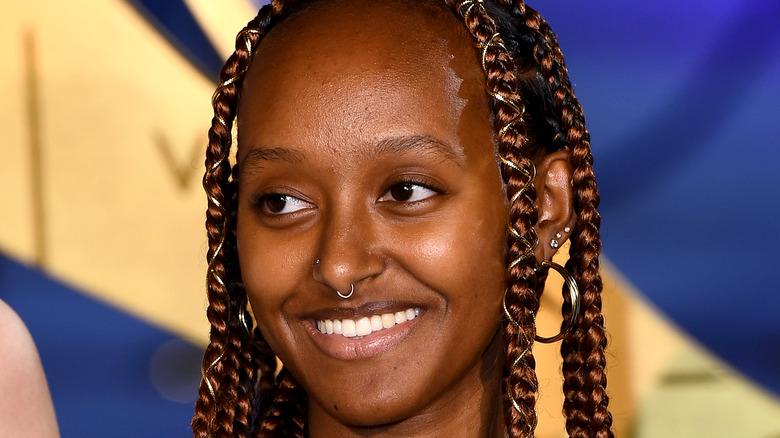 Dave J Hogan/Getty Images
Angelina Jolie and Brad Pitt's gaggle of children are growing up fast. The couple's oldest daughter, Zahara Jolie-Pitt, proved that she's already a bonafide fashionista by hitting the red carpet in vintage couture for the Marvel movie "Eternals," as USA Today reported. Zahara's Elie Saab gown featured a sheer bodice covered in stunning rhinestones. Per USA Today, it was previously worn by Angelina to the 2014 Oscars. In a chat with Entertainment Tonight, Angelina acknowledged that the family's looks for the event were "all mixed with vintage and in my old Oscars dress. We did all vintage and upcycled my old stuff."
Per Popsugar, Zahara is one of Angelina and Brad's three adopted children, whom Angelina adopted from Ethiopia in 2005. Angelina is known for her humanitarian efforts, and for choosing to adopt kids from different countries. "When I was growing up, I wanted to adopt, because I was aware there were kids that didn't have parents," the "Maleficent" actress told Vanity Fair. "It's not a humanitarian thing, because I don't see it as a sacrifice." Though she might be Mom to Zahara, Angelina admitted to learning "so much" from her daughter. "She is my family, but she is an extraordinary African woman and her connection to her country, her continent, is her own and it's something I only stand back in awe of," Angelina told USA Today. The mother-daughter duo is clearly very close, as evidenced by Zahara's move to follow in Angelina's footsteps.
Zahara Jolie-Pitt technically co-starred with her mom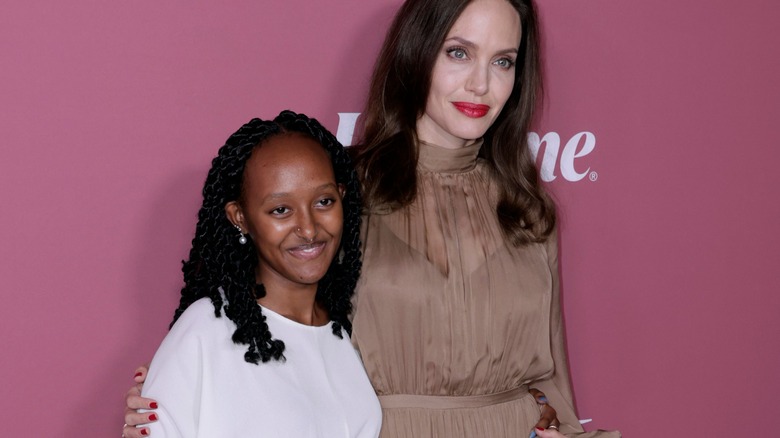 Frazer Harrison/Getty Images
In a 2019 chat with People, Oscar-winner Angelina Jolie admitted she'd "tried" to get her children involved in the Disney sequel "Maleficent: The Mistress of Evil," but they weren't interested. "None of my kids want to be actors," Angelina told the outlet. "[They're into] business, humanitarian affairs, things like that." That may be, but IMDb reports that Zahara Jolie-Pitt already has a few notable movie credits to her name. Like her mother, Zahara featured in "Maleficent," though her role was uncredited. A few years later, she voiced Meng Meng in "Kung Fu Panda 3." Likewise, Angelina plays Tigress in the popular animated series.
According to Hello! Magazine, Brad Pitt stated that he would support any of his children pursuing a career in Hollywood once they turned 18 years old. Judging by this, Zahara may need to wait a couple more years before fully getting into acting. However, Angelina could be right in saying that her children are more interested in humanitarian pursuits — as Zahara joined her mother in meeting Texas lawmakers to lobby for the renewal of the Violence Against Women Act in 2021, per W Magazine. Of her approach to parenting, Jolie opined in 2019 that, "I try to lead by example and be kind and gracious, as my mother was — and loving and tolerant. But when there's a fight that needs to be had, get in there."